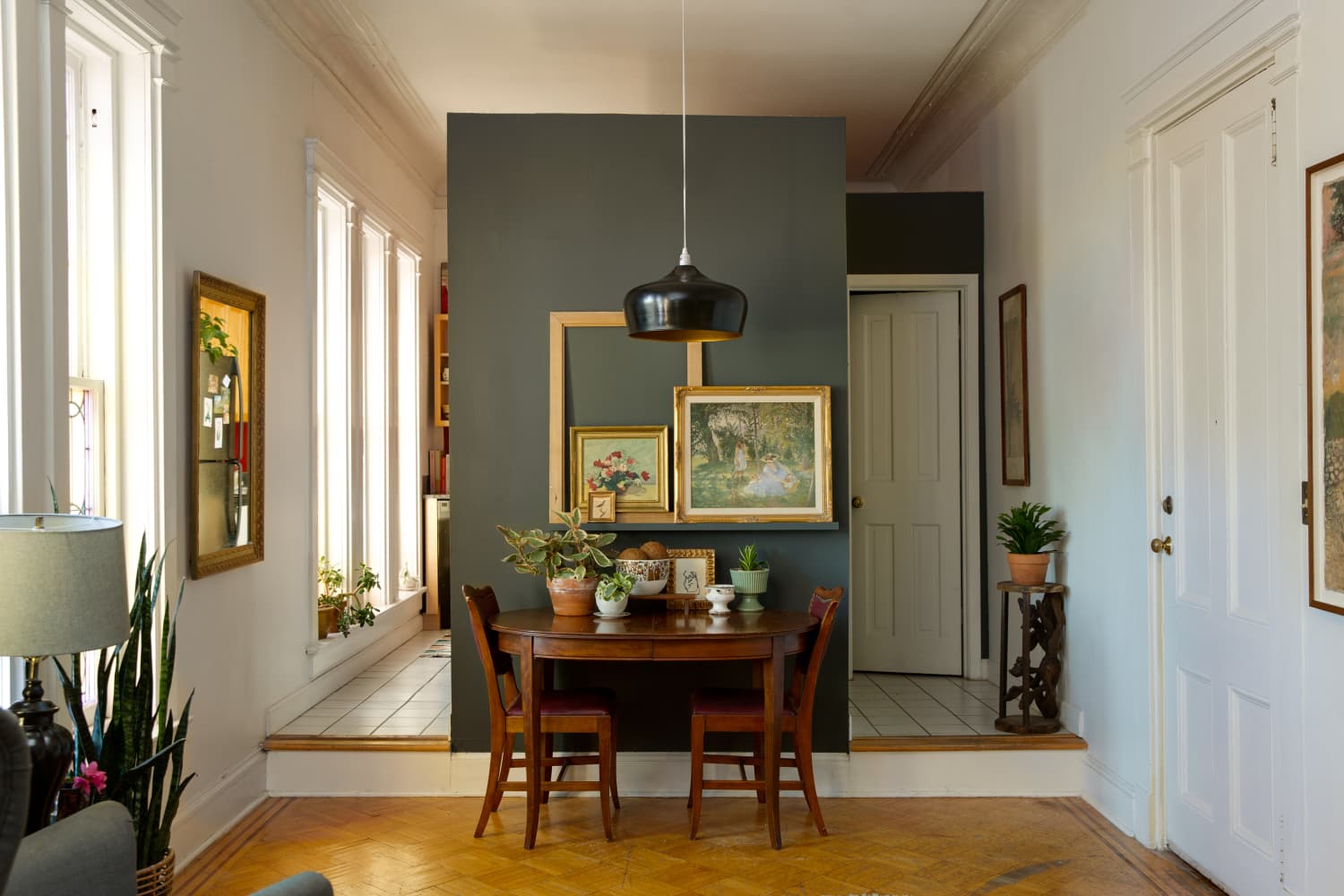 We independently select these products—if you buy from one of our links, we may earn a commission.
Name: CJ Lotz
Location: Charleston, South Carolina
Size: 425 square feet
Years lived in: Renting one year and I am sadly, but also excitedly, moving to my first house soon.
CJ Lotz, a writer and senior editor at Garden & Gun, lives in a downtown Charleston apartment with nine old stained glass windows and lots of light. It perches at the top of an old brick funeral parlor with a boxwood parterre garden in the courtyard below. The architectural details, coupled with her own smart style, create an absolutely dreamy small space, pretty good for the first place on her own since moving to Charleston to 2013 (and her third rental in downtown). She's filled the teeny space with things from her family, art, collections, and thrifted items. Perhaps most of all, she's filled her home with creativity.
"I made up an assignment for myself during quarantine: Change the art on the little shelf above your work-from-home-desk every day," writes CJ. "Highlight artists you love. Share it on Instagram. It started with the vibrant folk art of my friend and a true Charleston treasure, P-Nut. Then the shelf sprawled into entire-wall-decorating and got a little weird at times: one day, a postcard explosion; another an ode to Mexican Lucha Libre wrestling. The art arranging has been a fun distraction, and a reason to wake up and create something every morning—I post the art by 9 a.m., and then I sit down, coffee in hand, and start my work day."
Apartment Therapy Survey:
My Style: Eclectic, antique-y, colorful, layered, textured, cozy, silly
Inspiration: Travel, nature, folk art, natural textures like wood and linen
Favorite Element: My gray wall and the shelf where I rotate art, and the big glass lamp where I drop bits of ceramics, shells, and sea glass from walks in Charleston.
Biggest Challenge: The place is tiny, but I love that. True challenge would be the usual historic building quirks such as deciding what's really worth taking up or down three flights of stairs (no elevator).
What Friends Say: Everywhere you turn there's something interesting to look at (that was when friends could visit). But now, from Instagram, they're laughing because they don't understand how I'm hiding stacks of art and still keeping my place tidy. It's just as tidy as you can be when you collect every little bit of broken pottery you find on the ground.
Biggest Embarrassment: I can't keep the old parquet wood floors very clean… and I don't really try to. And I think I should have hung the mirror and portraits higher. My friend and director of museums at Historic Charleston Foundation, Lauren Northup, said I could have gone a little higher because of the tall ceilings. (She has tons of great ideas and is working on powerful projects in Charleston that are worth spending some time with.)
Proudest DIY: The gray wall and art shelf.
Biggest Indulgence: Framing those big old Haitian art portraits. I love Caribbean history and used to live in and report in Haiti. I worked with the museum-quality Artizom frames in Charleston to frame these. We kept the rough edge on the canvases so that they were framed like artifacts instead of stretched—and potentially further damaged—as paintings.
Best Advice: Trust your own sense of style and comfort. Keep what makes you happy when you look at it or touch it, and get rid of the rest.
Dream Sources: John Derian, Morris & Co, all my regular antiques shops and thrift stores—I miss them, and the kind people who run them, so much while everything is closed. And I miss thrifting with my buddy, the comedian and former Onion writer Joe Garden who has the best sense of fun around and runs a great little secondhand business in upstate New York.
tinyurl
is.gd
v.gd
v.ht
clck.ru
ulvis.net
shrtco.de
tny.im