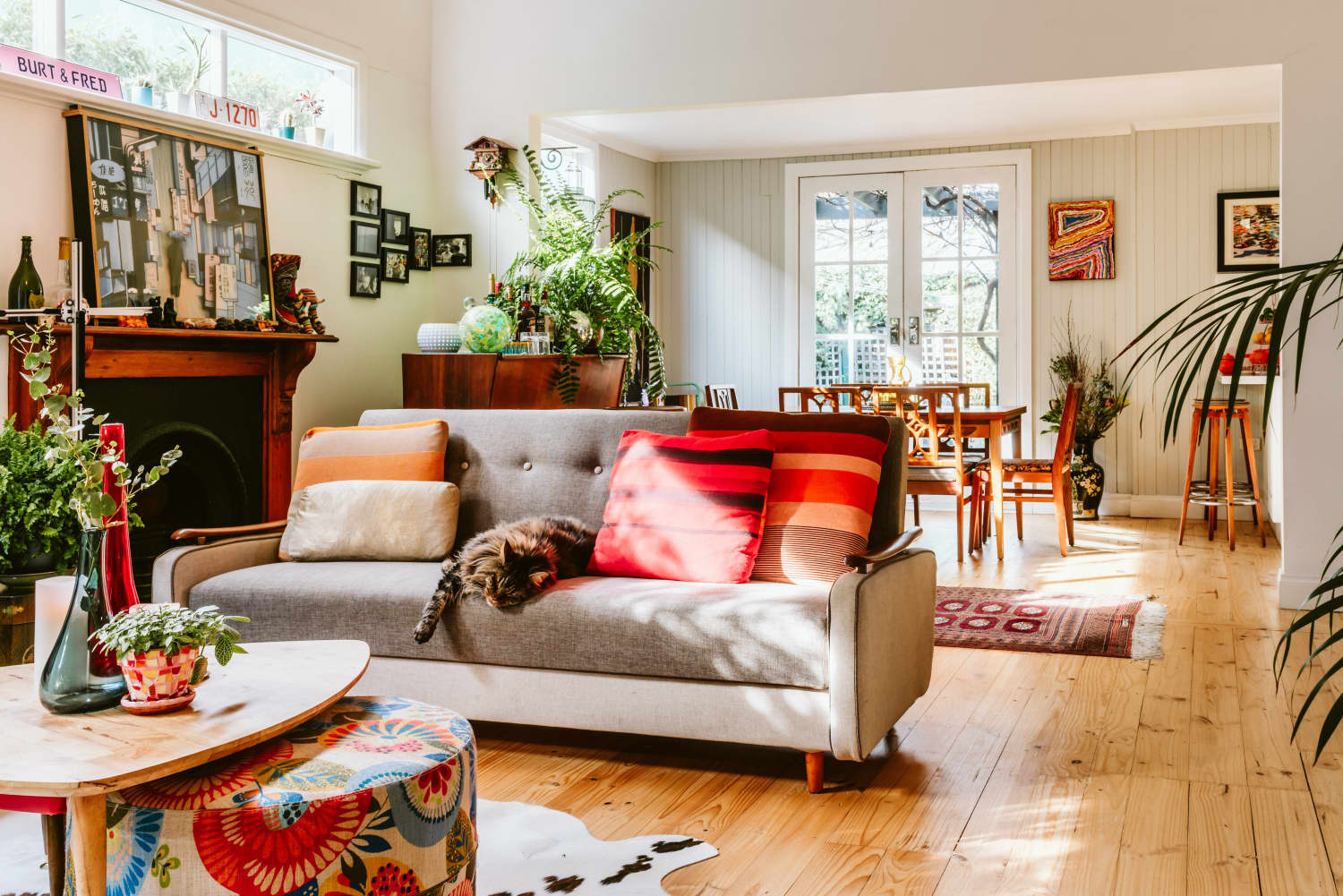 We independently select these products—if you buy from one of our links, we may earn a commission.
Name: Freddy Grant, with Burt, my husband, Grungle, our Jack Russell, and Totoro, our giant Maine Coon.
Location: Footscray, an inner-western suburb of Melbourne, Australia
Size: 1600 square feet
Years lived in: 2.5 years, owned
This house has been my latest outlet for my creativity; hunting for things and putting them together with your lifetime of mementos to make a space you love, full of memories and meaning. It's a bit like the ultimate installation artwork that tells the story of who lives there. I love houses that tell stories. Minimalism is overrated.
It's a typical double-fronted Melbourne weatherboard built in 1920, furnished with a mainly orange and brown color palette, adding to the retro feel. The renovated open plan living area has an abundance of natural light and is what drew us to buying the house in the first place. Melbourne houses are often very dark. It's perfect for hanging art, which is fortunate as we have an ever-growing art collection.
I work for Bluethumb, Australia's largest online art gallery. We have over 9,000 Australian artists using our platform to sell their art directly, setting their own prices and cutting out the middlemen, making original art affordable and accessible. I'm the longest running member of the team and have grown with the company. It's amazing what we've achieved and how we've evolved. It's the best job I've ever had and an exciting place to work. I obviously love art and being creative.
Everything in our house has a story behind it: a holiday, a home, a person, a nostalgic association. I could bore guests for hours, but promise I won't unless you ask.
Apartment Therapy Survey:
My Style: Pretty much everything we've bought for the house is secondhand, either from flea markets or charity shops (which is why I'm afraid I can't provide links to where to find them). I've always loved old things, but didn't realise I had such an affinity for mid-century design and teak until we started buying forever pieces for our home.
Inspiration: Finding the perfect space for the perfect thing is a great feeling. I think it's human instinct to collect and arrange things—most people do it in some way—so I guess that's why it gives you a rush and continues to be satisfying when you look at all the junk you've accumulated. My husband thinks I have a problem. I know we'll use all the bargains I find one day, especially my collection of old glass jars.
Favorite Element: I love everything in my home. I'm a big believer that you should only let things you adore through the front door—but possibly because of all the memories it holds, the mantelpiece above the fireplace has some of my favorite things. Surrounding Erin Nicholls Rainy Day in 3D, part of Bluethumb's charity collaboration Created With Care, are souvenirs from my life with Burt, as well as knitted pieces by mum, aka MadMonkeyKnits.
Biggest Challenge: Protecting the inside of the house! Not only was the house sinking when we moved in (a common problem with old wooden houses in Melbourne), the roof was a hundred years of rust and patch jobs and a lot of the wood needed replacing. We did it in order of importance: stop the leaks, stop the sinking, stop the rotting. The house now has a brand new roof and an amazing paint job that's brought it into the 21st century.
Proudest DIY: The room that took the longest to design and makes me the proudest is the living room. I spent weeks thinking about and experimenting with how to hang our art especially. I'm so happy with it though and feel like everything eventually found the place it was always meant to be.
Biggest Indulgence: I may work for Bluethumb, but I'm also one of our best customers. The majority of our art collection was bought using Bluethumb. It's exciting buying affordable artworks by big names like Kim Leutwyler and Jimmy Donegan, who've both won major Australian art prizes, but I'd buy their work anyway. They're amazing and still surprisingly affordable. That's what I love most about Bluethumb: it gives you access to the nation's art.
What's your best home secret? Buy secondhand! If it's already lasted 50 years, it will likely last another 50. Modern mass-produced furniture just isn't made to last the way things used to be. But buy new art to support living artists.