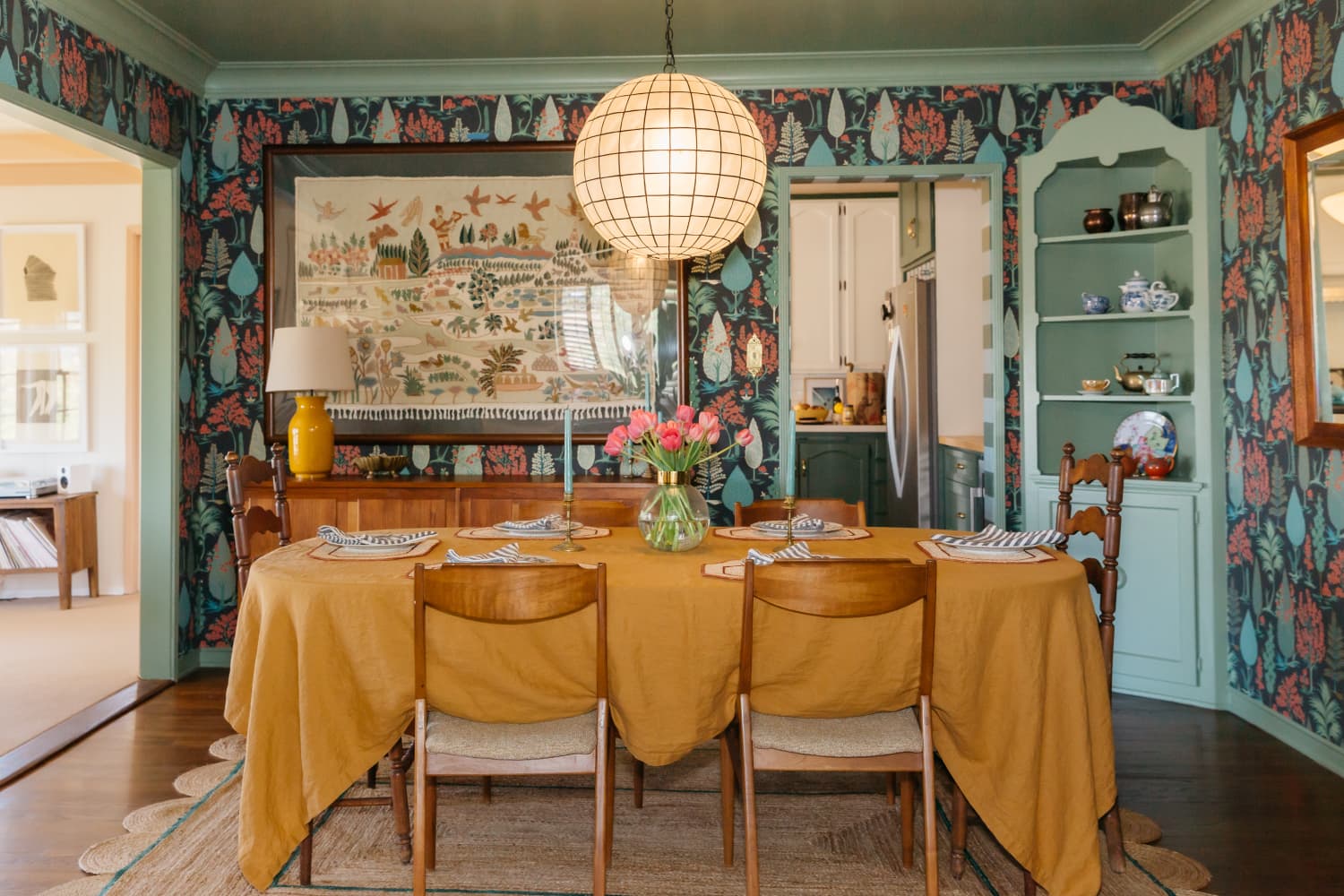 We independently select these products—if you buy from one of our links, we may earn a commission.
Name: Allison Pierce and husband Benjamin Mathes, and our little six pound blonde scraggly ball of fire pup, Goldie.
Location: Highland Park — Los Angeles, California
Size: 2250 square feet
Years lived in: 2.5 years, owned
When my (now) husband and I were ready to move in together, neither of us were excited by the idea of moving into the other's apartment. They were both lovely places, but we were afraid it wouldn't feel like "our home", that it would feel like we were just invading the other's space. We really wanted to create something new together. So, neither of us having been home owners before, we took the (what turned out to be) giant leap into buying a house together. It was a grueling and stressful process, but the rewards have turned out to be some of the greatest blessings of my life.
The house was in the same family since it was built in 1939. It was passed from mother to daughter, and luckily for us, they updated it with things like central heat and air, but they never did any major renovations, so the house and all its charm has remained intact for 80 years. We got lucky in many ways with this house. One being the six mature citrus trees on the property that were very well loved and cared for. Another being the adorable scalloped hood over the stove. Another is that, for some mysterious reason, the agents listed it as a two bedroom, though it has three full bedrooms, all with closets and lovely windows. We'll never know how or why that happened, but I think it made it easier for us to actually win the house in the crazy Los Angeles housing market, where every house can have dozens and dozens of bidders.
The house has an interesting circular layout where all the living and dining spaces flow into each other, so it feels open even though all the rooms are separate. The kitchen is the literal and figurative heart of the house and where I spend most of my time. The dining room, right off the kitchen, is really great for entertaining and one of our favorite things to do is throw a dinner party. The quarantine put a hard stop to those, and they are what I look forward to most when this is all over.
Apartment Therapy Survey:
Our Style: Vintage, eclectic, colorful, and comfortable
Inspiration: My original inspiration is my artist mother who lived to make her home beautiful. She would happily paint and repaint rooms herself, move furniture from one room to another as if it was nothing (somehow by herself). It was a common occurrence to come home from school and find that the living and dining rooms had changed places as if by magic. My youngest sister, Louisa, is one half of the brilliant design team, Pierce and Ward, and they inspire me on a daily basis, with their risky take on traditional and eclectic design. Thanks to Instagram and Pinterest, my daily life is filled with images from absolutely genius designers creating breathtaking interiors. There is no end to the inspiration. Reath Design continually blows my mind with their sophisticated exploration of color and space. Beata Heuman delights and surprises with her quirky and unusual choices. And Meta Coleman's use of the happiest colors and prints brings joy to my soul.
Favorite Home Element: See Biggest Indulgence
Biggest Challenge: The biggest challenge we came up against in this house was what to do with the bathrooms. We weren't ready to spend the large sum of money it would take to renovate them, so I was faced with somehow making dated baby blue tile in the main bath and very dated baby yellow tile in the guest bath work. We went with monochrome in the main, painting the walls and cabinet "Inchyra Blue" by Farrow and Ball, and red ticking stripe wallpaper in the yellow bath with "Red Earth" by Farrow and Ball on the moldings, and we are so happy with the results that I don't know if we will ever want to renovate them.
Proudest DIY: I think my proudest DIY is painting the stripes in the kitchen. During the most intense part of the quarantine, I kept myself sane by breaking out the paint brushes and painted a half wall in the eating nook and stripes around the windows and little shelf over the sink. I felt that the nook was a bit bland (I have a hard time with empty white walls, it's a compulsion), and that solved that problem!
Biggest Indulgence: Our biggest indulgence was the Schumacher "Citrus Garden" wallpaper in the laundry room. It doubles as the family entrance so I wanted it to be special. The wallpaper, designed by the great Josef Frank, is an unending source of happiness and has made that room my favorite in the whole house. I feel like if you make work spaces beautiful it makes the chore seem less like a chore.
What's your best home secret or advice? My advice for making a home that you love is to surround yourself with things you think are beautiful. Everywhere I look I want to see something that brings me joy. Maybe that's terribly obvious, but I think sometimes people forget or don't realize that loving your home can bring you into the present and create a peacefulness in a way that I wouldn't know how to achieve otherwise.
What do people most get wrong about using color in their home? There are SO many things that can go wrong with color. I find picking colors to be the most stressful and challenging part of design. You've got to be willing to try out as many as it takes to get it right, which means spending money on paint samples and lots of trips to the paint store. I've been brought near to tears many times trying to find the right color. Sometimes the perfect one will suddenly appear and you feel in your soul that you've found THE ONE, but sometimes you have to close your eyes, hold your breath and jump and just pray that you've made the right decision. Don't forget, as much as it sucks, you can always repaint!
What are the biggest tricks/secrets to using color in decor? The only trick I know is trying lots and lots until you find the one that makes your heart sing. Get all the swatches and the books and immerse yourself in them. And never ever ever paint a room without trying the color on every wall. Each color has a life of its own and changes in every light, on every wall. And make sure you see it at every time of day! A color can look surprisingly light or dull in darker light. You just have to be willing to try it all!
Favorite wall paint color of all time: Of all time?!? How could I ever choose? But if I must, I'll say "Setting Plaster" by Farrow and Ball. It's pink without being pink. My husband might not agree with that statement, but I've done my best to convince him he does not sleep in a pink bedroom…
tinyurl
is.gd
v.gd
v.ht
u.nu
clck.ru
ulvis.net
shrtco.de
tny.im