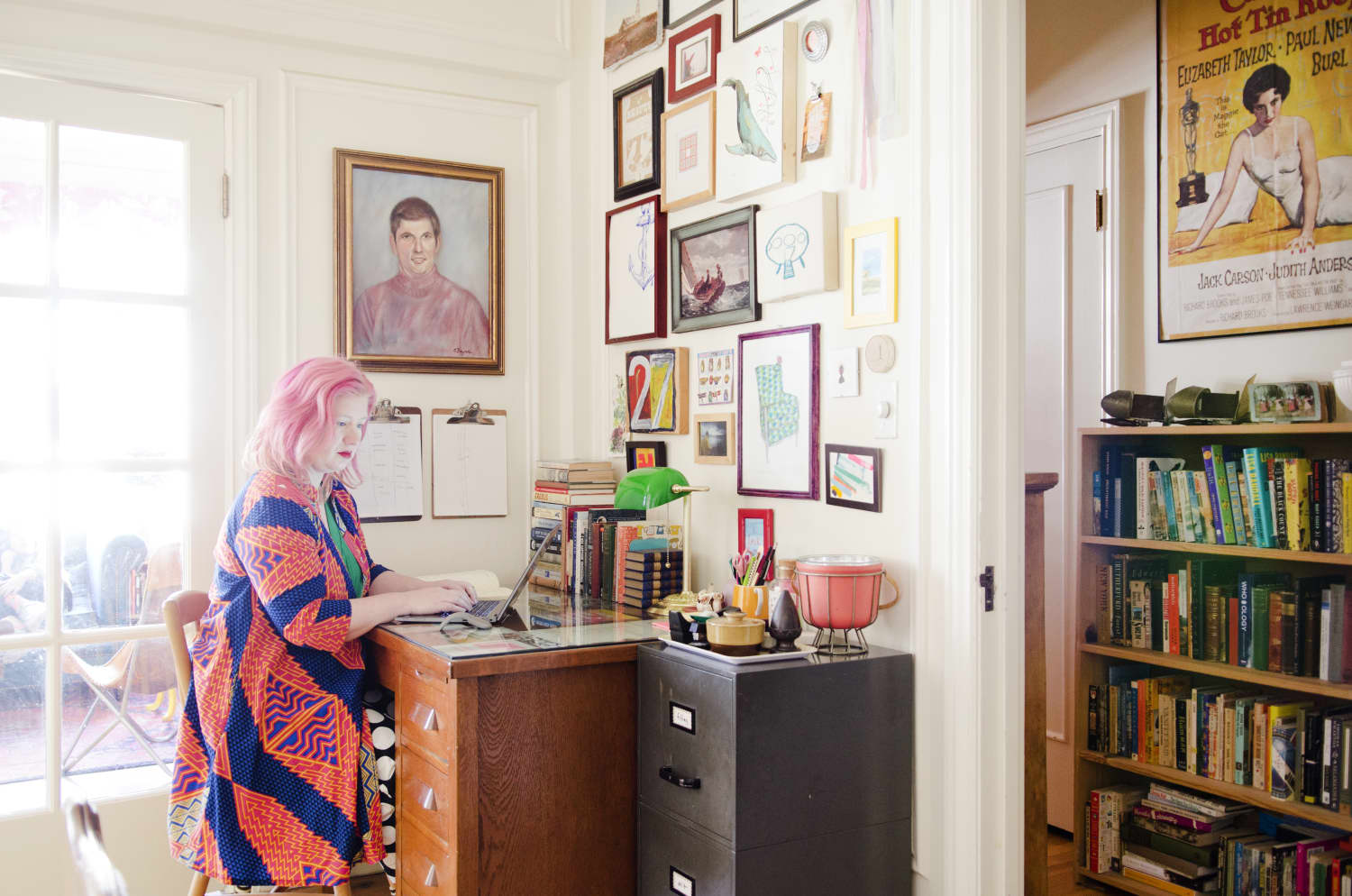 We independently select these products—if you buy from one of our links, we may earn a commission.
Name: Bridget, Bill, and Mabel Watson Payne
Location: Nob Hill/Tenderloin — San Francisco, California
Size: 650 square feet
Years lived in: 16 years, renting
A few years ago, Bridget and her husband Bill considered leaving their small apartment in the heart of San Francisco for more square footage elsewhere. But they couldn't leave the home that provided them with a ton of cherished memories. They moved in 16 years ago when they were only dating, and the space has since accommodated an addition to the family. Despite its small size, they've been able to design the home so that everyone has their own area. This apartment has provided the perfect backdrop for raising their daughter Mabel and displaying their enormous book collection.
"One look around will tell you that we love books, color, and art," Bridget says. "Those three things are probably the through-lines of our entire style, and they say a lot about us and our tastes." During their photo shoot, the family gathered in their bright living room as Bill gave a lively reading of the "Chronicles of Narnia." It's opportunities for those moments (plus the gorgeous windows!) that keep the family tied to the apartment. "We live here now as a family of three, and plan to for a long time to come."
Apartment Therapy Survey:
Our Style: We once read about a hotel in a travel guide described as "a hodge-podge of colors in quirky surroundings." Yes! We thought. That's our style, right there. We pack a lot of things in, but we also love a tidy, organized, curated look. Maximalist, but not chaotic.
Inspiration: Color! How do you work more color into an apartment with white walls? Also, how do you fit more books into an apartment with 20 bookshelves? These are the kinds of questions we find it fun and inspiring to challenge ourselves with.
Favorite Element: Art, books, each other. Oh, or maybe the closets! We are blessed with four closets, three of which are walk-in size. The extra storage space is really what makes it feasible for the three of us to live here so comfortably. Wait, no, the windows! When we first looked at the apartment, they were still doing some maintenance on it, with drop-cloths and tools scattered about. But the lovely original windows, with a gentle arch and central circle in each, shone through the disarray. We fell in love with our place then and there.
Biggest Challenge: When we first moved in, we were a bit dismayed by the fact that the kitchen was off the bedroom. We tried to think how we might "work around" that fact. But within a month of living here we'd adjusted. You can handily get a glass of water at night, and at this point we could probably navigate the path from the kitchen to the dining table blindfolded.
What Friends Say: The first thing people usually ask about is the book organization system. So here goes: We have four different main systems (plus some extra areas). Starting in one corner of the living room are the books Bridget has read, and Bill has not, arranged alphabetically. About halfway around the room start the books Bill has read and Bridget has not, extending into the hall. Interspersed among both systems are the books neither of us have read, stacked horizontally in their own alphabetical order. Finally, in the hall, extending to the bedroom, are the books both of us have read.
Biggest Embarrassment: It's an old building so we've got some of the usual things that go along with that—cantankerous plumbing, creaky floorboards, etc.—but really probably our biggest embarrassment is how terrible we are at keeping plants alive. Currently we have a bowl of succulents from the amazing plant store Utsuwa. Fingers crossed they last!
Proudest DIY: Painting furniture. Most all the colored bookcases in the hallway and our bedroom are just crummy old cheap things from IKEA or wherever, that we painted in colors we love.
Biggest Indulgence: Our sheets. Super-high thread count, and gorgeous colors. The first set was a Christmas present from Bill to Bridget, and after that we were hooked.
Best Advice: Work together on your home. When we first moved in, we each had a strong aesthetic and numerous collections. We found ways to integrate our styles.
Dream Sources: A lot of our best items come from secondhand stores or estate sales. Bill got our bed for $125 dollars in the Mission 20 years ago, and our teacher desk is from Belle Cose, a delightful vintage shop. We also love bookstores, or course, and art made by friends. A significant number of our books were obtained at the Big Book Sale, the annual event at Fort Mason where the public library sells off donations it can't use. It's the best day of the year.
ENTRY
Orion Nebula Photo — NASA
Neighborhood Poster — Ork posters
Three Colorful Prints — Mike Perry
Bookshelves — Fenton McLaren, IKEA (painted), Crate & Barrel, Pottery Barn Kids
LIVING ROOM
Glass Rack — The Container Store
"Read Instead" Print — Book/Shop
Albers Poster — Art.com
Sofa — Crate & Barrel
Butterfly Chair — CB2
Bookshelves — Fenton MacLaren
Ottoman — Wayfair
Yellow Table — Vintage
Curtains — Homemade with fabric from Britex
Tiny Seascape — Tjsai Owen
Lamp — Crate & Barrel
DINING ROOM
Blue Chair — CB2
Folding Chair — Crate & Barrel
Dining Room Pictures — Kid art
KITCHEN
Clock — Bai Design
Pantry — Vintage bookcase, painted yellow
Spice Racks — Vintage
Rooster Print — Abel Pineda, Creativity Explored
Frieze — Cook's Illustrated back covers
Big Abstracts — Kid art
BEDROOM
Yellow Bookshelf — Crate & Barrel
Blue Art — Daniel Garzi
Squirrel Plate — Isabelle Samaras
Blue Bookshelf — IKEA
Forest Painting — Lesley McClintock
Bed Frame — Vintage
Desk — Vintage
Green Lamp — Living Accents
Bedside Bookshelf — Vintage
Lamp — Crate & Barrel
Sheep Art over Bed — Jennifer Kulbeck
Dresser — vintage
Stitched Squares Art — Jessica Dacher
Sailboat Kite — Haptic Lab
Portrait of Bill's Dad — Charlotte Payne
Voice Bubble — Andrea D'Aquino
Colored Squares — Leah Rosenberg
Needlepoint Square — Vanessa Walden
Whale — Lisa Congdon
Stuffed Animal Photo — Bridget Watson Payne
Sheep Stamp — Molly Rausch
Tiny Person — Courtney Cerruti
Stripes of Color — Jen Garrido
Chair — Lisa Congdon
"I Love You" — Bridget Watson Payne
Canoeing Photo — Bill Watson Payne
Bug Pins — Vintage
27 — Benjamin Watson
Ferns — Alicia Dornadic
Pink Blob —S am Schonzeit
New Yorker Cover — Kadir Nelson
California Coast photo — Dawn Mayher
Blue Leaves — Christine Buckton Tillman
Blue and White Animals — Alice Wu
Girl by Lake — Cyndi Monaghan
Martha's Vineyard Map — Archie's Press
Abstract Birds — Emily Neuburger
Retouched Photograph — Amy Friend
Mabel's room:
Peony — Tiffanie Turner
San Francisco Phone Poles — Jorge Colombo
Octopus Photo — Misha Aston Moore
Photo of Lake Tahoe — Thom Bachand
San Francisco Objects Print — Lisa Congdon
Pink Painting — Jenny Vorwaller
Flower Drawing — Julia Rothman
Houses — Matte Stephens
Peony Print — Vintage
Celebration Chain — Kristen Wheelis Eksouzian
Thanks, Bridget, Bill & Mabel!
tinyurlis.gdv.gdv.htu.nuclck.ruulvis.netshrtco.detny.im
آموزش سئو