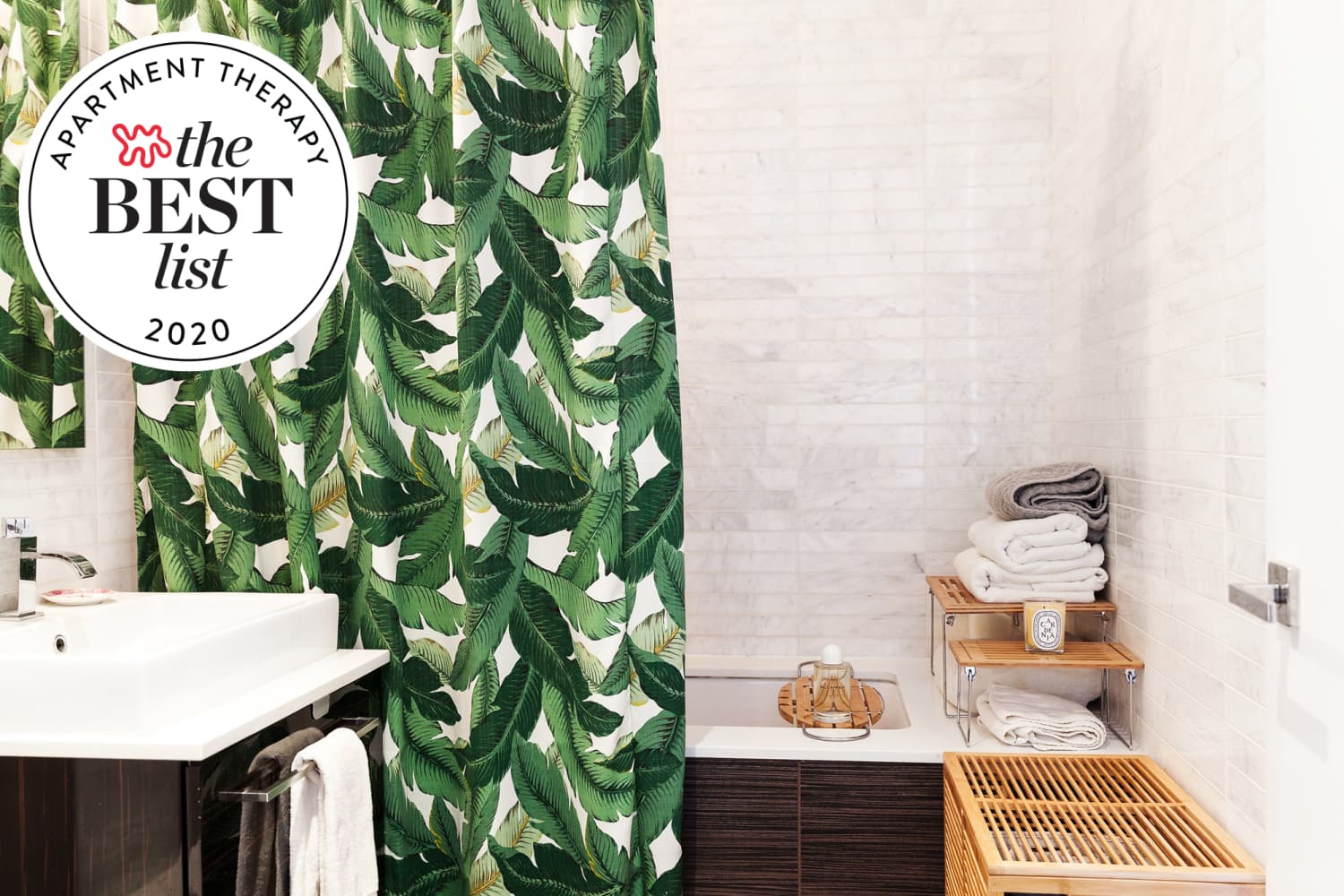 We independently select these products—if you buy from one of our links, we may earn a commission.
Bathroom storage (in general) and shower space (in particular) are hard to come by, especially if you're renting a small apartment in the city. Throw in a roommate (or two), and you've got a major overcrowding issue on your hands. One instant, easy solution to your cramped space is the classic shower organizer. With a variety of upgraded caddies hitting the market, we tested out the best for every space and style. With picks ranging from compact to large, affordable to pricey, and steel to wood, we've found exactly what you need to declutter your shower and save your space.
What to Consider Before Buying a Shower Organizer
So you've realized you need a shower organizer. How should you start the search for the perfect one for your bathroom? While there are tons of options out there, it's easy to narrow them down once you consider these three factors: type, function, and material.
Hanging: These are the caddies that hang from the shower head with a hook and suction cups, and they're probably the most common. Easy and versatile, hanging organizers come in just about any size but typically have two shelves and a soap dish. On the downside, they aren't recommended if you have a detachable shower head. Pro tip: If you find that the hook is falling down the shower head, just use a cable tie to keep it in place!
Tension: If you have a detachable shower head or just don't like the look of a hanging organizer, consider a tension caddy. These freestanding organizers sit in the corner of your shower and act like a tension rod, giving you ample space to store all your toiletries. They're great for bigger households but are definitely on the more expensive side.
Corner: If you just need a little extra storage space, consider a small corner shelf. These caddies are great for holding a bottle or two and make sense if you already have storage but need to take care of some overflow.
Over door: None of these make sense for your space? Check out over-door organizers, which are great if you, well, have a shower door. These types are similar in appearance to the typical hanging organizers but are placed over the shower door instead of the shower head.
Metal: The most common option, metal caddies are durable but prone to rusting over time. Many options are finished with a rust-proof coating to take care of this issue, but still require some maintenance to prevent buildup.
Stainless steel: Aside from being strong and durable, stainless steel is fairly resistant to stains and rust, making it a good option for shower organizers. Just make sure you clean it every so often to get rid of buildup and keep it looking nice and clean.
Plastic: Inexpensive and lightweight, plastic organizers are an attractive option—but beware that they can quickly become breeding grounds for bacteria if not taken care of properly.
Teak: Teak wood is naturally water- and mold-resistant, not to mention very stylish, making it a great choice for bathroom accessories. Teak is also super easy to take care of and is known for its durability, so it'll look good for a long time.
What We Look for in a Shower Organizer
We tested a wide range of organizers for our list, judging them on the following criteria:
OXO is, unsurprisingly, the go-to source for shower organizers, and their 3-Tier Aluminum Caddy is the best of the best. It's a tad bigger than similar hanging organizers but isn't so bulky that you can't hang it in smaller showers. OXO truly thought of everything when they designed this caddy, from the rust-proof aluminum construction to the pop-out tray that's perfect for storing soap or another razor. Another feature worth mentioning: the thick wires around the baskets, which prevent bottles from slipping out and falling to the floor. It's not the cheapest option, but it will last for years and work well in pretty much any shower.
Who It's Best For: Honestly… everyone!
Good to Know: Two of the side hooks can be used together to store a razor.
This little organizer is simple and straightforward, with no bells or whistles but plenty of functionality. It's on the small side and is an ideal choice if you live alone or just have a small amount of toiletries to store, plus gets points for actually looking kind of cute (check out that chrome finish). It also has those open spouts for storing bottles upside down when they're almost empty, a small but nice feature to have. Is it something to show off to guests when they visit? Probably not, but it'll do the job just fine.
Who It's Best For: Those with a small number of shower supplies; those looking for something budget friendly.
Love the look of the OXO 3-Tier Caddy but don't need quite that much storage? This compact version is for you. It's basically the same as our top pick but minus one tier, making it perfect for single-person households or those who just need a little extra space. Made of rust-proof anodized aluminum, it'll last a long time, plus it has a lifetime warranty so you can be rest assured you won't be replacing it every year. Finished off with a removable soap tray and three hooks, this is a small but super efficient piece that'll totally elevate your shower storage game.
Who It's Best For: Those with smaller showers; those with a small number of shower supplies.
Good to Know: It's small, but holds up to 10 lbs.
I was definitely skeptical when I first heard about simplehuman's Tension Shower Caddy, but from the first day I brought it home, it was true love. This heavy-duty option holds everything, making it perfect for larger households (I shared it with two roommates). The shelves are surprisingly roomy and able to hold a variety of toiletries, while the four hooks (two up top and two attached to the shelves) are a smart and functional addition. The best part, though, is that all the shelves and hooks are adjustable, so you can shift things around until you have the perfect setup for your space.
Who It's Best For: Those with tubs; those with shower heads that are not compatible with hooked organizers; those who share a bathroom with multiple people.
How cool is this organizer from Umbra? Made of a combination of plastic and silicone with rubber handles, it's a smart, attractive option that you won't mind looking at. The two tiers are nice and roomy, and can squeeze in even more, thanks to the stretchy sides. Four discreet hooks on the sides won't stick out if you opt not to use them, plus there's room to store four razors/toothbrushes/whatever. The only downside is that there's no soap dish, but that's no problem if you prefer body wash over bars of soap.
Who It's Best For: Those with a small number of shower supplies; those who want a pop of color.
Teak is a luxe-looking option for bathroom decor since it's naturally water resistant, and this oval organizer gets top points for style. While the shape is definitely attractive, it slightly minimizes the amount of space, so you're better off buying this one if you live alone or don't have a whole lot of toiletries to store. Also take note that there's not a whole lot of clearance between the shower head and the top shelf, so be sure to measure before buying to make sure you'll have enough room. Otherwise, this is a solid choice that'll last a long time and keep looking good.
Who It's Best For: Those who want something stylish.
Yup, it's another OXO caddy! Suction organizers can be tricky because their functionality is completely dependent on how good the suction is, but this one passes with flying colors. It includes two large suction cups that are tightened with a lever, keeping the entire basket safe and secure. It's also surprisingly roomy, with plenty of space for shampoo, conditioner, and another bottle or two, so it's useful whether you're using it on its own or in addition to a larger caddy.
Who It's Best For: Those who need just a little extra storage; those with limited space.
tinyurl
is.gd
v.gd
v.ht
u.nu
clck.ru
ulvis.net
shrtco.de
tny.im