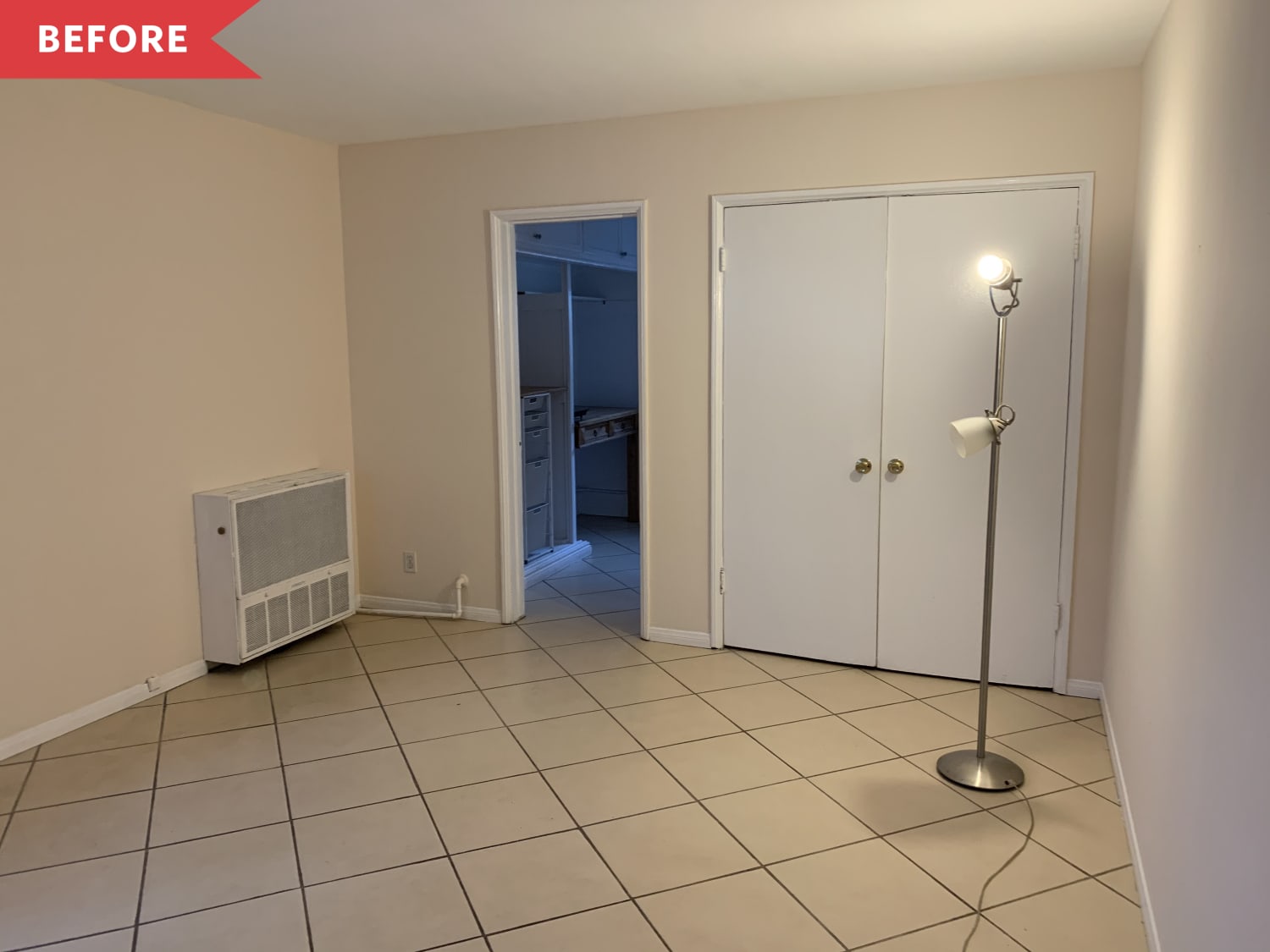 While there's certainly joy in looking at beautiful finished spaces, there's nothing like the thrill of seeing what they looked like before—especially when that peek into the past shows a seriously big transformation.
The best before and after reveals feature a strong attention to detail and plenty of creative thinking. This year has brought a ton of great makeovers—from bathrooms to kitchens to patio spaces and more—but a few have stood out among the rest. Here, we've put together a list of our favorite renovations of the year so far, from sparkling sunrooms, to dazzling decks, luxe living rooms, and beautiful bathrooms—all utterly unrecognizable from their original state.
1. This New Bathroom Is Straight Out of a Fancy Hotel
The upstairs bathroom in Alli Devlin's home felt cramped and featureless, until she enlisted an architecturally-minded cousin to help revamp the space. Enter a custom, natural wood vanity and soothing dark tiling that perfectly sets off the gold fixtures, for a spa vibe that's so palpable, all that's missing is a fluffy robe and the scent of eucalyptus.
2. This Influencer's Now-Colorful Living Room Makes Her Feel Like She's in Disneyland
Content creator Melanie Sutrathada's Instagram was full of bright, joyful images, but her living space didn't match that same energy. So she hired the design firm Dean & Dahl, who introduced eclectic pops of pink and coral—check out the flamingo-patterned accent wall—scattered among cream and gold neutrals.
3. This Gray-Cabinetted Kitchen Is About to Get WAY More Fun
Tina Bousu had just redone her kitchen four years prior to this redo, but the gray cabinetry was weighing her down. She and her husband chose a new pale pink shade, and injected a dose of whimsy to match. They wallpapered the ceiling with a leafy mural and the kitchen island with faux hedge panels for a jaw-dropping result that's straight out of a fairytale.
4. This Bold $100 Floor Redo Will Stop You In Your Tracks
Clover Lane design blogger Sadie was hoping she'd pull up the carpets in her 1880s house to find immaculate wood flooring. But when she discovered multiple plywood patches in her entryway, she got creative, painting a black-and-white checkerboard over the slats. The bold result is not only breathtaking in its own right, but draws together the black, white, and natural woods present in the rest of the stately home.
5. $200 Made this Living Room Window Seat a Dramatic Focal Point
When Jessalyn Thompson of the.after.project first moved into her 1977 home, it had very little character—so she decided to add her own. She mounted two gold lamps, and turned to MDF strips for texture, setting off natural wood against dark black in a funky pattern that makes the cozy window seat the focal point of the living room.
6. An All-New Bathroom Perfectly Suits Its 130-Year Old Home
Jordan and Barry of The Brownstone Boys loved their spacious Brooklyn home, but when they found themselves a bathroom short, they improvised. The pair ran plumbing through a former bedroom and installed vintage-inspired fixtures like hexagonal black and white tiles, natural wood privacy shutters, and a stunning clawfoot tub. By the time they were done, the room looked as though it had always been a part of the 130-year old brownstone.
7. A $75 Makeover Takes This Staircase from Sad to Show-Stopping
It's incredible how much of a difference a tiny budget and a vision can make, and no one knows that better than Amanda Walker of @dwellaware. She knew that behind sad stairs carpeted in drab beige waited a minimalist floating staircase, and she set about revealing it. Just five days and $75 later, she'd uncovered her favorite feature of her newly-modern home.
8. A $1000 Refresh Gives This Early 2000s Bathroom Boho Vibes
When Heather Barnes of Our Barnes Yard first moved into her new home, she clocked the clunky 2000s bathroom as a must-reno. But without the budget for a full remodel, she had to choose her updates carefully. She selected creamy white and dove gray paint shades, and spray-painted the fixtures gold, before flooding the space with plants and breezy, boho art pieces. The result? Absolutely unrecognizable.
9. A Tiny Blah Beige Studio Goes Tropic-Glam for $1500
Making a rental your own can be a real stumper, which is why we're all the more impressed by Mary Kenny's efforts in her Los Angeles studio. She installed renter-friendly peel-and-stick flooring and wallpaper, contrasting dark wood with a moody, jungle cat pattern that makes the space feel much bigger. She finished the look with tropical-inspired pieces like a jewel-toned velvet sofa, cane furniture, and monstera leaves, and naturally, a disco ball.
10. A Dark, Muddy Storage Area Becomes a Dreamy Backyard Escape
Back when you were a kid, imagining the house you'd live in as an adult, you might have dreamed of something similar to the outdoor escape at Tabitha Sewer's house. The area started out as a dank, throwaway space under the deck, but over a period of ten weeks she transformed it into a welcoming wonderland featuring string lights, an artificial boxwood wall, and even a swing.
tinyurl
is.gd
v.gd
v.ht
u.nu
clck.ru
ulvis.net
shrtco.de
tny.im