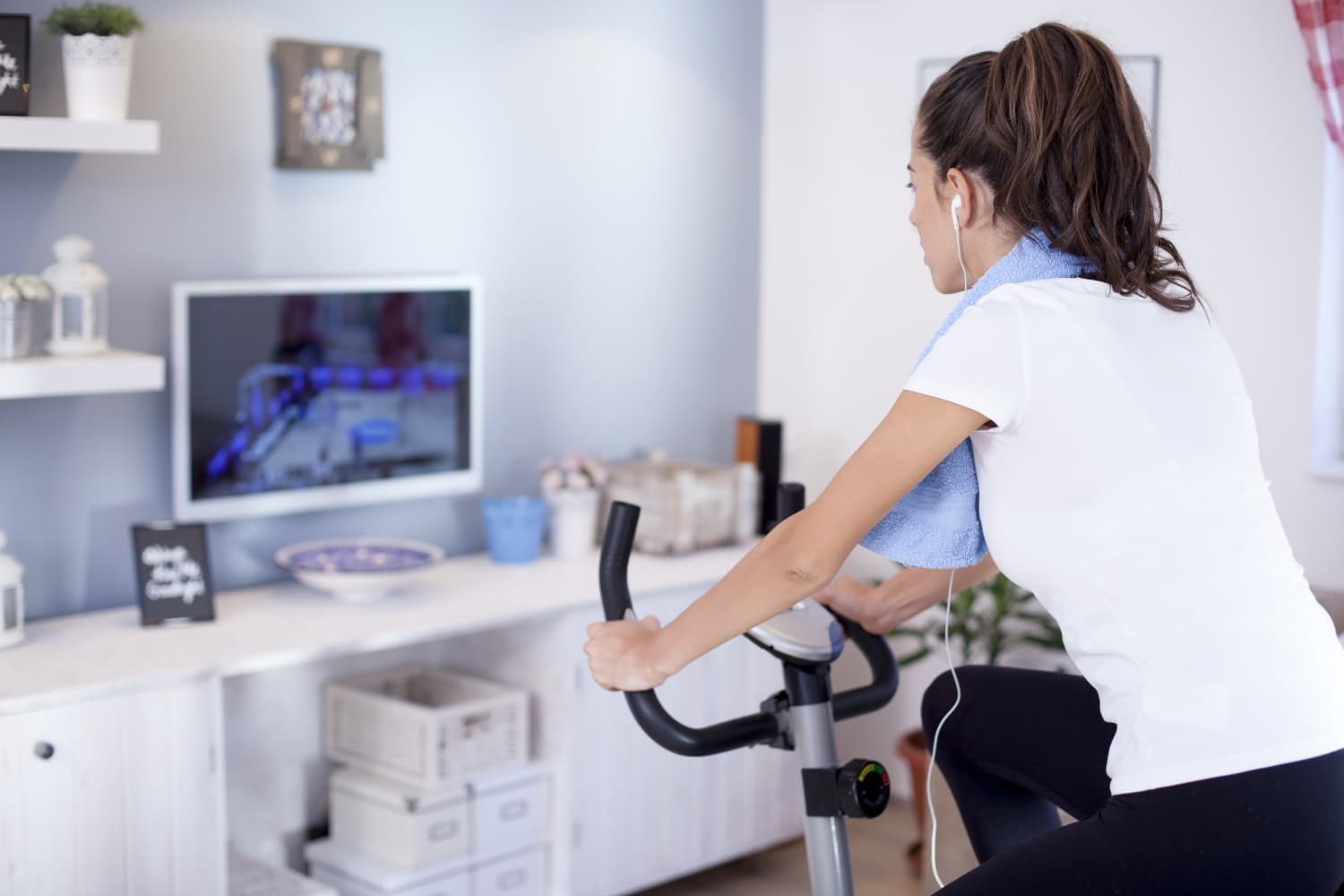 We independently select these products—if you buy from one of our links, we may earn a commission.
Whether you're a seasoned regular at your local spin studio, or you're looking for a low-impact way to stay active in the era of social distancing, an at-home spin bike might feel like the best solution for your home and wellness goals. (Raise your hand if you Googled "best spin bikes" weeks into quarantine. Yeah, me too.) While the Peloton bike has certainly generated its fair share of buzz, the four-figure price tag might be a bit much for your wallet or your commitment level. What's a would-be stationary cyclist to do?
Enter (you guessed it) Amazon, who recently partnered up with Echelon to launch its first-ever "connected" stationary bicycle, CNN Business reports. The bike retails for $499.99, and comes with a complimentary 30-day trial to Echelon's roster of classes, which starts at $19.99 a month (at publish time, the $499 appeared to be sold out, with the least expensive option available going for $999, so… keep checking, if you suddenly have spinning bike wheels in your eyes).
While the black frame and sturdy construction may seem similar to the now-iconic Peloton, there is one key difference: The EX-Prime model, otherwise known as the Prime Bike, doesn't feature a built-in screen to stream classes, so you'll have to hook up a tablet or laptop nearby if you'd like a guided workout experience.
This is far from the only bike option you'll find on Amazon. The company sells everything from stationary pedals that fit under your desk so you can multitask during your next work call, to exercise bikes and the old-school bicycle—you know, the kind that will get you from point A to point B—as well as helmets, bike racks, and other accessories to optimize your cycling experience. You can also easily set up your own DIY spin studio, with an unconnected bike like the Sunny Indoor Cycling Bike, a tablet mount, and your phone or tablet. Even if you add a candle, like this invigorating dupe for SoulCycle's signature scent, you'll likely come under $500.
But what really makes a piece of exercise equipment is whether you use it regularly, and if you enjoy doing so. Smart bikes provide built-in features that are proven to keep yourself motivated to work out, from allowing you to interact with friends on the service to creating friendly competition between yourself and other class-takers. You might not be able to get your hands on weights or dumbbells right now, but the Prime Bike could be a solid option for those looking for a socially-distanced alternative to whichever IRL class you miss most, especially as the weather starts to turn.