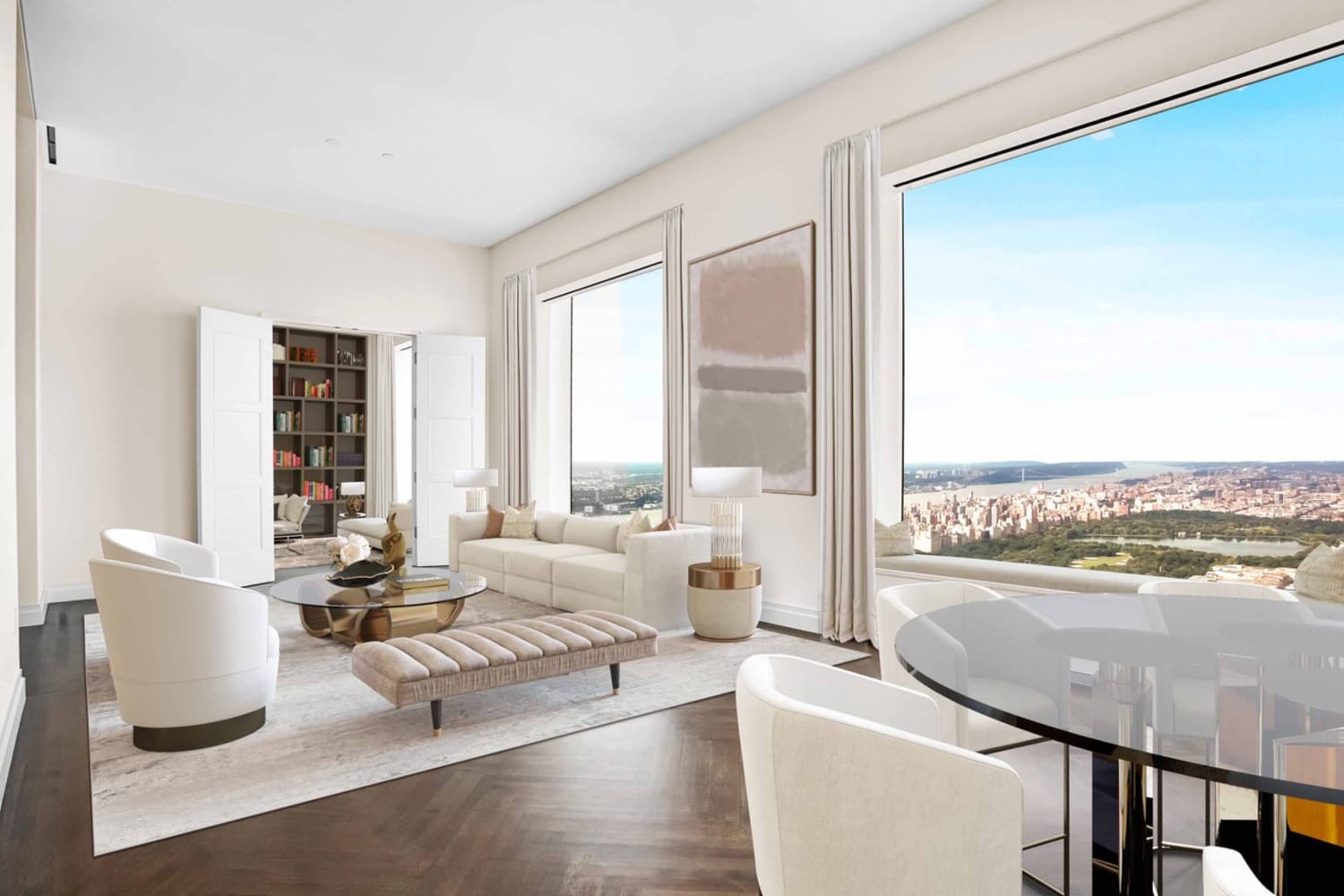 You've probably seen them: those couches in real estate photos that don't look quite right, or an impeccably modern dining set inside an older home. Sometimes they're easy to spot and other times they're downright stealthy, but virtually staged home photos are here to stay.
Professional stager Ilaria Barion, who started doing virtual staging work in New York City in 2010, says the majority of listings she sees on the market today show some element of virtual staging. And while it may seem newfangled—especially during a time when virtual tours of properties are increasingly popular—the business has been around for quite some time.
Of course, virtual home staging has advanced since the early 2000s. Technology has made it possible to fill an empty room with beautiful computer-generated furniture—and for it to look 99 percent real. (Still, there's always the potential for it to go horribly wrong, like this apartment that went viral on Twitter.)
To answer all my questions about how virtual staging actually works—and how it's affecting the real estate industry at large—I chatted with Barion about the biz.
Apartment Therapy: How does the virtual staging process work, exactly?
Ilaria Barion: We start with asking questions like 'Where is the property located? What's the price point? What kind of target demographic are we trying to appeal to?' Then we check out the competition in the area. Once all of that is done, we can come up with a staging design. And then, eventually, we render the furniture and accessories. To do that, you need different kinds of software and different kinds of expertise. I'll say that there is no single software where you can do it all with the click of a mouse.
Virtual staging is not just for empty properties, either. In 2010, I came up with this idea—and I was a pioneer for it—to do virtual restyling or virtual furniture replacement. We can wipe out everything from the photos and show buyers what it could be with different wall color, light fixtures, and furniture.
I'm sure you're wondering: what happens when people walk into the room and the room is empty or has the kids' toys everywhere or has grandma furniture? We did a lot of research over the years—and the results showed something like 90 percent of agents saying that having the home buyer going around with a brochure of what the room could look like helped enormously.
AT: Are there any tell-tale signs of a virtually staged home?
IB: Usually you can tell by looking at soft items, like the pillows and the blankets. There is something about fabric that is very hard to render. These items are supposed to have a certain kind of movement that is very hard to achieve digitally. I think for someone who has never seen virtual staging before, they can tell from a bedroom.
AT: What are the advantages of virtually staging versus physically staging a property?
IB: With physical staging, you pay for the staging and the stager. Plus, if the property is on the market for six months, every month you pay for the furniture rental. So, it's not a one-time fee. Virtual staging is a flat fee. You hire a virtual staging company, they provide you with the pictures, and then you can use those pictures for as long as you need in your marketing.
We can do things digitally like bringing in a baby grand piano or a pool table. We can change window treatments and light fixtures, we can change the floor, we can strip down the wallpaper. All of these things in real-life staging would cost a lot of money. What we do is comparable to the $100,000 stager.
AT: What effect has COVID-19 had on the virtual home staging business?
IB: COVID-19 has brought virtual staging to the attention of more agents. They try it and three months later, we're doing the tenth project for that agent.
AT: Do you think physical home staging still has a place in the industry?
IB: I think that physical staging will eventually be limited to the new developments—a model unit or penthouse or trophy property. But as a widespread practice, I don't think so.
AT: How do you expect the business to change and grow as the real estate industry becomes increasingly digitized?
IB: The cost of physical staging has skyrocketed. And virtual staging has become more beautiful and photo realistic. So, I see virtual staging growing and growing and growing.
I don't know where the real estate market will go either. I remember traveling the world and booking my trip going into a travel agency. Now, there are no travel agencies. How people will buy real estate five years from now or 10 years from now? We don't really know, but it seems to be pretty clear that with technology and access to technology so widespread, that is the direction the industry will go.
These answers have been edited and condensed for clarity.
tinyurl
is.gd
v.gd
v.ht
u.nu
clck.ru
ulvis.net
shrtco.de
tny.im