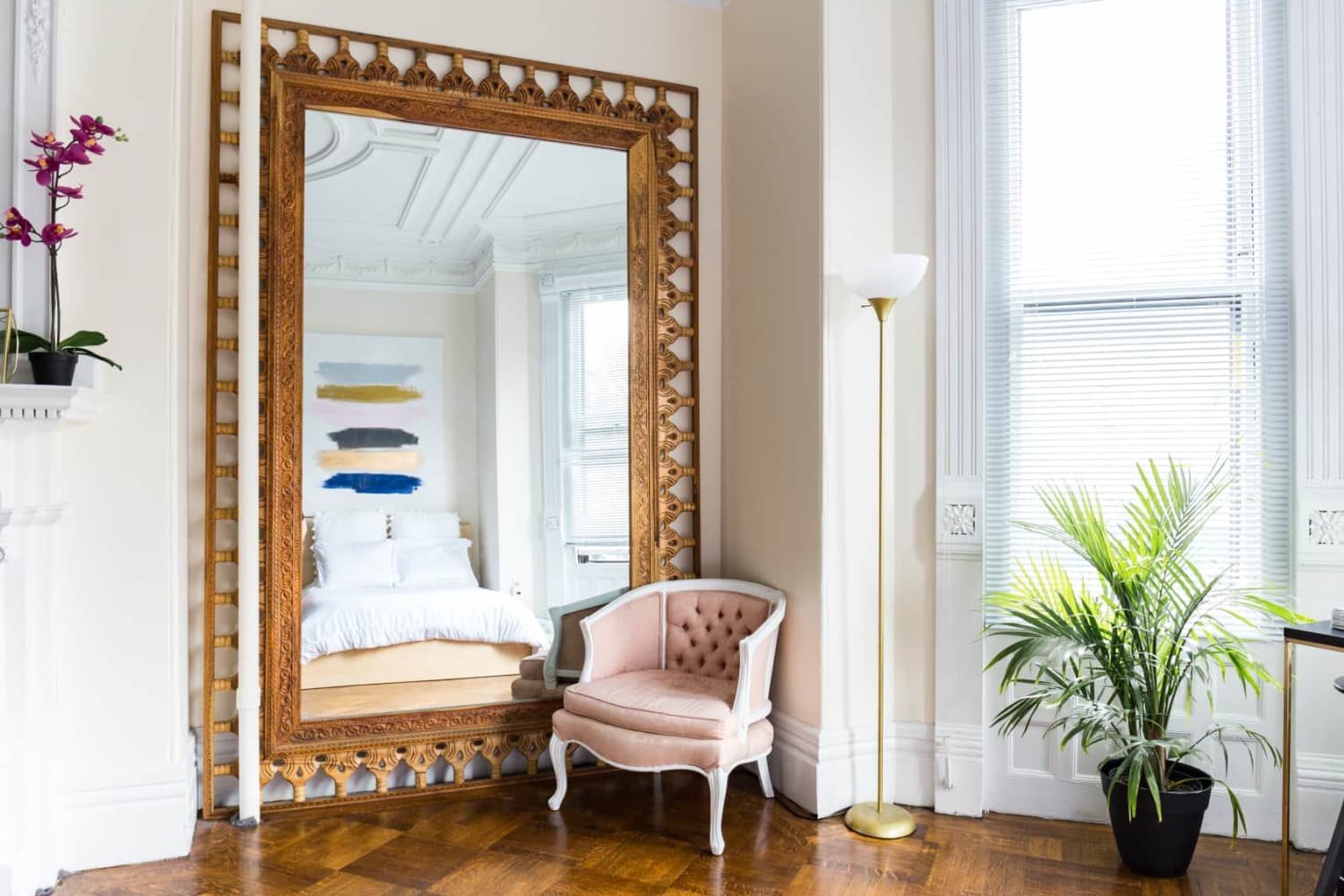 We independently select these products—if you buy from one of our links, we may earn a commission.
Everyone knows a mirror make a room appear bigger than it really is, but when it comes to actually hanging one in your home, it can be tough to make the right mounting moves. "Yes, they're the cheapest way to brighten up a dark room or give the sense of more square footage, but you really have to know how to use them if you're trying to achieve these goals," says design pro and HGTV host Vern Yip, author of "Vacation at Home" and "Design Wise".
"Many folks make the mistake of using a mirror that's too small or thinking they can get these effects with a grouping of small mirrors, for example, but a single large one is the best way to do it." All that aside, you're probably still wondering which shape is best and the answers to some other key questions: What kind of frame? Where exactly do you hang a mirror to max out its decorative potential? Here four decorating pros reveal their tried and true secrets for making mirror magic.
Think big (but go small with the frame)
An oversized mirror (the larger, the better) is a cure-all for cramped quarters since it expands the sense of visual space—so long as you stick with a fairly simple frame. "An ornate one can hamper your goal of making the place feel bigger," says Yip. His go-to? Anything from the Infinity Mirror collection at CB2. "They're super-affordable and come in both round and rectangular shapes," he adds.
Unless you're hanging a mirror over a headboard or a mantle, the sweet spot for placement is at the average person's eye level: roughly 60 inches from the floor to the center of the mirror. This goes for artwork, too; a common hanging height can become a thread of continuity that will tie your space together, says Yip. In other words, when your wall art and mirrors are hung at a fairly uniform height, your whole place will feel roomier. Leave a little breathing room on the wall, too. "A mirror looks best if you have a minimum of a 2-inch border from edge of frame to edge of wall or ceiling," Yip suggests.
Pair a mirror with a light source
This reflection trick boosts brightness in a room and adds atmosphere and dimension, says Will Taylor, design pro and creator of the Bright Bazaar blog. His favorite combo is Anthropologie's Instagram famous Primrose wall mirror in front of a table lamp. "The ornate surround serves as a visual frame to the lamp itself," he notes. It's not just lighting fixtures that go well with mirrors; candles and mirrors are an ideal combo, too. "I have this antiqued glass mirrored candle holder on the wall in my bathroom and at night, I love how the light flickers around the room," says Taylor.
It may sound silly, says designer Vanessa de Vargas, but leaning a big mirror on your patio or balcony can make your outdoor area appear larger in the same way it would indoors. Just choose a mirror that's rustic enough to withstand the elements. "You want one that will still look good with a little water damage because it definitely won't stay perfect," she says.
Buy: Linhurst Garden Wall Mirror, $82.99 from Wayfair
Find a design that does double duty
Another trick Belt used in her bedroom? Setting a mirror up directly opposite of a window, as is the case with her vanity mirror above. You can go bolder and moodier with your wall color when you have enough light bouncing around your space, and this placement tip will certainly enhance that brightening effect.
Mirror a wall (yes, the whole wall)
Got a teensy hallway? Designer Elaine Griffin suggests combating "the tunnel effect" by mirroring the wall on one side. "The side you don't typically see first when approaching your hall should be the one that gets mirrored," she says.
If you're not into the fully mirrored look, an oversize wall mirror works, too. "My favorites are steel-wrapped 'infinity' mirrors," she says. "IKEA has the most versatile and best priced one called the HOVET, which clocks in at 31 inches by 7 inches."
Buy: HOVET Mirror, $129 from IKEA
Pair one (or more) with a painting
Wall art that's too small can make your whole space feel puny, so Griffin likes adding mirrors as an easy fix. "Starburst mirrors work brilliantly for this," she says. Just hang one on either side of the art and—voilà!—a visually proportionate setup and more light bouncing around the room. Sun and starburst mirrors can also stand in for art themselves, if they're sizable enough, as evidenced by the above dining nook.
tinyurl
is.gd
v.gd
v.ht
u.nu
clck.ru
ulvis.net
shrtco.de
tny.im