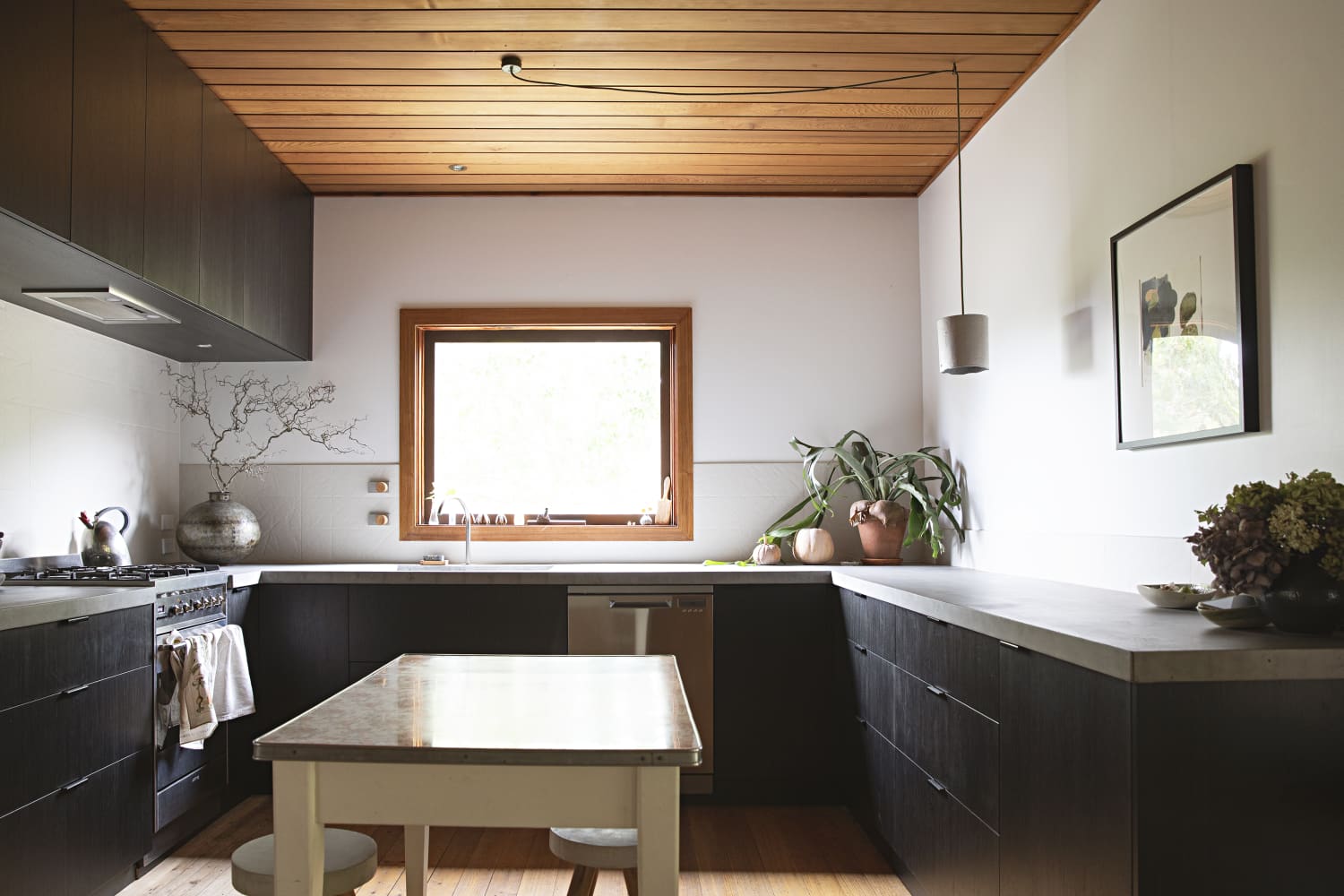 We independently select these products—if you buy from one of our links, we may earn a commission.
All-white kitchens might be popular, but lately, kitchens featuring black cabinetry have been a hot home trend. Considering the gorgeous examples in this black kitchen cabinet roundup, it's easy to see why. Black cabinets add drama to a kitchen, they can modernize a dated space, and they complement nearly every design style you can dream of. One of the most common concerns with black cabinetry is that a kitchen might look too dark, but don't worry. Black is an incredibly versatile color and you can always pair dark cabinets with marble, other lighter paint colors, and more to achieve just the look you want.
Another great perk of black cabinets? Since the hue is timeless, you won't have to worry about repainting anytime soon! Black and white color palettes in particular are a classic look that will add elegance to any kitchen. But if you are looking to add trendier touches to your kitchen, you can do so in the form of open shelving, removable wallpaper, bright kitchenware, and much, much more, all of which look great when paired with black cabinets.
Most importantly, no matter if your style leans sleek or sweet, black cabinets are bound to look stunning in your home. Whether you absolutely love the color black on its own or are just looking for a way to balance out busier design elements, you'll be inspired by the kitchens below. Here are 22 reasons why you might want to choose black cabinets for your kitchen!
1. Mixing black and white creates the ultimate contrast
Black cabinets make for a chic contrast to the expansive marble island we see in this Australian home. Mixing black and marble is a popular choice for a reason—the end result always looks so classic and stylish. As a result, there is little need for additional decorative accents, making this combo an excellent choice for those who prefer a more minimal look.
2. Black cabinets are the ticket to a minimal and modern kitchen
Here we see black and marble together once again, this time in a modern California home. Black hardware on top of black cabinets makes for a sleek composition, and the minimal furnishings creates an ultra modern space. If you're trying to push your kitchen into a more contemporary direction, black cabinetry is a great place to start.
3. Black cabinets can kick off a dramatic kitchen
The two kitchens above had a balanced mix of black and white, but that's not the only way to feature black in your kitchen. The small space in this London apartment features dark black kitchen cabinets, white countertops, and a mostly black/speckled backsplash. The overall look is dramatic.
4. You can 'modernize' beige elements with black cabinets
One of the best things about black kitchen cabinetry is it can modernize a dated space, particularly if you don't have a ton of money to renovate your space just the way you'd like. In this Austin kitchen, matte black bottom cabinets and a black countertop make this mostly beige kitchen look modern. A woven rug warms up the space, while open shelving allows favorite cooking tools and trinkets to shine.
5. You can have black cabinets even if you're on a budget
Apartment Therapy's own Maxwell Ryan used black cabinetry in his Hamptons house. His cabinets are actually from IKEA and he added solid black doors to complete the look; we love this budget-friendly hack!
6. Black cabinets CAN work with a colorful or plant-filled vibe
Just because your cabinets are black doesn't mean you can't brighten up a space in the form of plants, plants, and more plants—or whatever other colorful accents are calling your name! This kitchen in Argentina feels nice and bright thanks to strategic greenery and decor.
7. Black cabinets look great in modern kitchens, vintage kitchens, and styles in between
Pairing black cabinets with blue and yellow tile isn't the most common choice, but here it works beautifully! It goes to show that if you can't decide whether to go in a more modern or vintage direction when designing your kitchen, take a cue from this UK home and implement a mix of both styles. Black cabinets here tie it all together.
8. Black cabinets are a natural choice for industrial and farmhouse style kitchens
This kitchen proves that industrial touches can look charming, particularly when mixed with black wood cabinets! Open wood shelving pairs nicely with black cabinets (which can hide more unsightly kitchen supplies) in this light-filled New York state home.
9. You can balance busier decor elements with black cabinetry
This Boston kitchen (belonging to AT's News & Culture Editor Tara Bellucci!) is already full of character thanks to the exposed brick wall, but delightful wallpaper takes the charm up another notch. If you know you're looking to incorporate busy paper in a space, solid black paint on your cabinets may be the way to go! The black color here grounds the small area, allowing all the energetic elements to work together beautifully.
10. Black is a great base for your boho kitchen, too
This bohemian-style Dallas kitchen is small but beautiful thanks to thoughtful details (hello, succulents!) and well-placed shelving. And the large brass drawer pulls add a luxe touch to the plain black cabinets.
11. Small spaces can benefit from black kitchen cabinets
If the space adjoining your kitchen is filled with pops of color, you may wish to stick to black in your cooking area to balance things out, particularly if your home is small. Using black cabinets in this way can almost make the kitchen blend into the background, allowing the rest of the home to be a visual statement. This New York apartment shows us how it's done—would you look at those stunning pink chairs?
12. If you have a lot of silver accents, black will make your kitchen feel modern
Create a sleek space by sticking solely to blacks and silvers (and adding a black and white art piece for some personality!). This Chicago apartment's kitchen is a modern minimalist's dream.
13. Black cabinets can keep your space minimal if you have a tiny or alternative home
Even the tiniest of homes—like this Portland, Oregon, yurt—still manage to weave in black cabinetry somehow! Black is perfect for minimalists and thus fits into this small space wonderfully. Using black to highlight some architectural elements in this home (like the ceiling beams and the kitchen) and keeping other elements white (like the wall supports) helps the space feel expansive, despite its small size.
14. Pairing black cabinets with dark flooring creates a cozy room
Black cabinets pair well with a black and white backsplash and gray counters, as exemplified by the kitchen in the California home above. Though on the smaller side, this room feels cozy thanks to the black cabinetry. And helping that feeling is the choice of dark flooring.
15. You can mix as many design trends as you want when you have black to tie it all together
Black cabinets, a farmhouse sink, and subway tile? This Philadelphia kitchen successfully mixes three major trends (and will have you swooning over cute open shelving). Because of the color black's power to modernize, the entire kitchen feels cohesive despite several trends present.
16. Color pops even more when your kitchen is mostly black
This Chicago kitchen is simple yet stylish, and shows how to make a big impact with a little bit of color. If you're decorating with mostly black and metal tones, you may want to copy these homeowners and add a few pops of color in the form of decorative bowls or glassware; in the space above, such pieces truly shine.
17. Black cabinets can make a rustic space feel contemporary
This Australian country house boasts a rustic-looking kitchen that's made contemporary with the pops of black paint you see on all of the cabinetry. Black can make the richness of wood tones stand out even more than they would alone.
18. For a retro look, paint the cabinet doors and drawers a different color
Hello, retro! This California kitchen features mint green and black cabinets and checkered floors that take us back to vintage times. This is a great idea to try in your kitchen if you're interested in black cabinetry but not quite ready to commit fully.
19. Black cabinets can absolutely support your quirky DIY ideas
Black cabinets with white accents add off-beat charm to this NYC kitchen. If you're looking to recreate the look in your own space, this would be easy to replicate with some stencils and the paint color of your choosing. The possibilities are limitless!
20. Black cabinets go well with literally any color
The best part about the color black is that it plays nicely with almost any other hue. We love seeing it paired with red in this Australian kitchen; the bold shade adds an unexpected pop!
21. Black cabinets look awesome in pretty much every kitchen
We love how the palm leaf print used in this Brooklyn dining space is juxtaposed with simpler colors in the cooking area. But no matter what your home's architecture style is or what kind of cabinets you have, consider black for a sleek, dramatic addition to your kitchen!
tinyurlis.gdv.gdv.htu.nuclck.ruulvis.netshrtco.detny.im
آموزش سئو