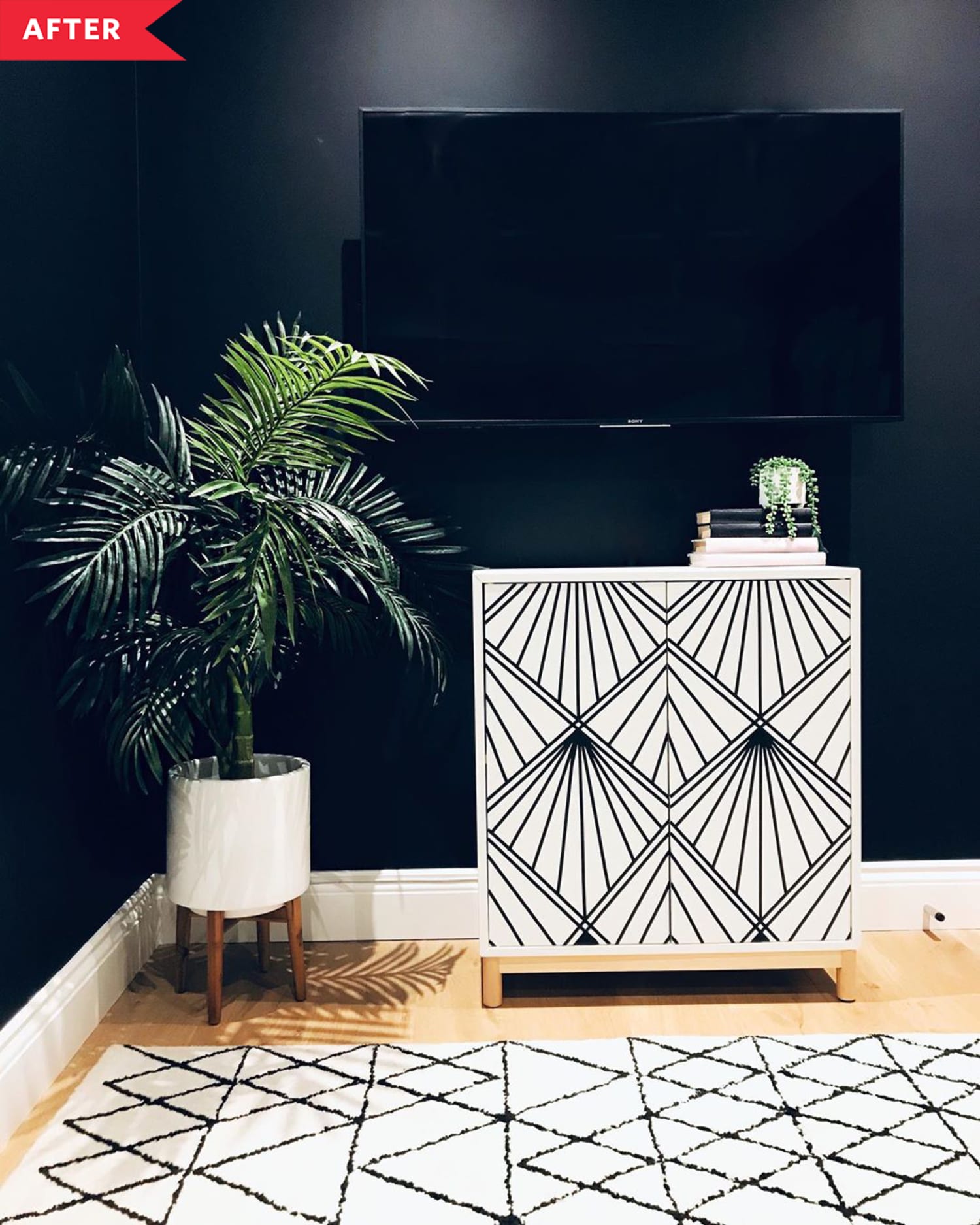 We independently select these products—if you buy from one of our links, we may earn a commission.
The EKET series from IKEA offers an ideal base for hacks, with a simple boxy shape, flat cabinet fronts, and a versatile under-30-inch height. And since the cabinets can be stacked or wall-mounted, the options for customization are long and varied. The best part: With plenty of space behind those doors, these cabinets are ultra functional, too.
Tons of DIYers have turned the humble EKET cabinet into a custom masterpiece—and with a little creativity, you can, too. Need some inspiration? Here are 11 smart hacks for the EKET cabinets that can suit nearly every room of your home.
A floating vanity might be easier than you think. After mounting two sets of EKET cabinets, Ashley Rose of Sugar and Cloth added a new table top of solid wood cut to size for a sleek and modern look. To finish, she attached gold half-moon cabinet pulls.
For her daughter's room, Instagram user @myhomedecordays turned the EKET boxes into steps for a bunk bed. Each step doubles as book storage for a smart space-saving hack.
3. Credenza-Style Cabinet
Inspired by a cane-front cabinet she saw on Pinterest, Gaby of @casa.de.hollis and her husband created a sideboard with two EKET cabinets. They kept the boxes, but replaced the doors with ones made of plywood with cane detail.
4. Tall Multi-Use Cabinet
If you're short on floor space for storage, consider going up. DIYer Gemma did just that with the space in her playroom. Using a combination of cabinet doors and compartments from the EKET dark grey range, she built a storage unit perfect for her space. Doors on the bottom hold bigger items, while the baskets in the top part can corral smaller ones.
6. Embellished Cabinet Doors
Small changes often make a big difference. After sensing something was missing from her EKET cabinets, Cajsa decided to give them a lift with traditional picture-frame molding.
7. Mid-Century-Style Tapered Legs
Kids' rooms can never have enough storage. To punch up the EKET cabinets her daughters use as storage for books and toys, Sara of @greynestdesign added mid-century-style tapered wood legs in a pale yellow color.
To create a TV stand for her living space, Agnès of @princesse_in_versailles used wood cut to size to create levels between rows of three EKET boxes each. She propped it all on white hairpin legs.
Gloribell of Know How She Does It needed an area to store all her seasonal decor, but the sideboards she liked weren't budget-friendly. To make three side-by-side EKET cabinets look like one unit, she and her husband cut a board to size to make the top; hollowing out half an inch from the inside helps it sit snugly on top of the cabinets' existing frames.
10. Plaid-Patterned Statement Piece
A couple cube-shaped EKETS stacked on each other are the perfect height for a bedside table or bar cart. Add wheels for extra mobility—and pattern and color for extra charm.
tinyurl
is.gd
v.gd
v.ht
u.nu
clck.ru
ulvis.net
shrtco.de
tny.im