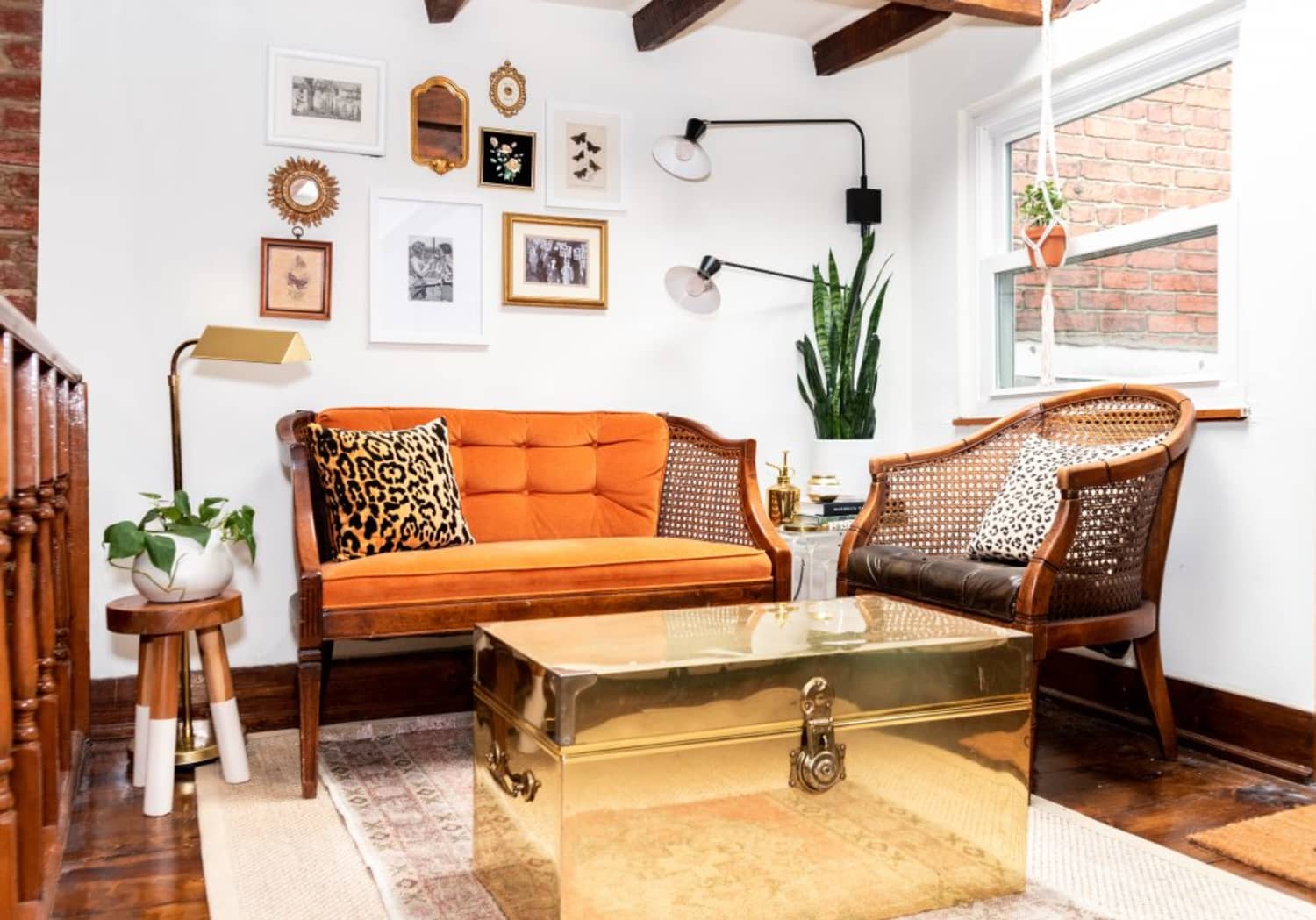 We independently select these products—if you buy from one of our links, we may earn a commission.
I've lived in rental apartments in New York City for 20 years, and the one decorating decision my husband and I clash over isn't something you might expect, like a sectional sofa or a flatscreen TV. It's lighting solutions. Rentals (at least New York City rentals, that is) seem to never come with enough lighting, so you have to bring in tons of your own. With rewiring out of the question, you're limited to rental-friendly plug-ins, which aren't always the chicest options, and because space is tight, you often don't want table lamps that take up additional surface area.
That's where floor lamps come in. Personally, I can't stand the dated look of those towering torchieres, or the torch style lamps that everyone—including myself—seems to have. They remind me of dorm rooms, but then, as my husband points out, "What else gives off that kind of light?"
He's right: All of the other floor lamps we've tried have literally dimmed in comparison. Desperate to replace our torchieres with something that doesn't look like a relic from college, I turned to the pros and got five high-wattage picks that'll be at home in any adult space.
The vast amount of options out there might make you feel like lighting is something you should save on, but that's a mistake, according to HGTV host Vern Yip, author of "Vacation at Home" and "Design Wise". "Nine times out of 10, when someone walks into a space and comments on how nice it feels, it's usually attributable to great lighting," he says. So lamps, it seems, are worth the occasional splurge. Yip's solution to a lack of ceiling light, which is a common rental problem, is the George Nelson Saucer Wall Sconce. "It's a classic that pairs beautifully with almost any interior style, and the plastic polymer shade produces a beautiful glow from a single LED bulb," says Yip.
Since this fixture has a 12-foot long cord, you don't have to worry about wiring, and you can use industrial strength velcro to mount the walnut wall plate, if need be. For warm-colored lighting "similar to what we loved from the old incandescent bulbs," says Yip, pair this kind of light with a 2400 to 2700 Kelvin LED bulb.
Buy: George Nelson Saucer Wall Sconce, $495.00 from DWR
For designer Will Taylor, creator of the Bright Bazaar blog, a floor lamp that houses more than one bulb is your best bet. Instead of defaulting to the torchiere-like Medusa style lamp you might have had back in school, look for a solution with a little bit sleeker of a silhouette. "This stylish retro design from Rivet at Amazon Home has three light sources in one," he says. "You get a lot of brightness if you shine two at one spot like your workspace and the third onto the ceiling to bounce additional light into the room."
Buy: Rivet 3-Arm Floor Lamp, $134.46 from Amazon
Hands down, one of the best floor lamps to light an entire room is the Buster Floor Lamp by Robert Abbey, says Angela Belt, a designer based in West Hartford, CT. "It can light an entire space with a 200-watt bulb," says Belt. "It's over 6 feet tall, so when you turn it on, it towers over most of the other furniture pieces in the room, illuminating them all. Plus, the design is elegant and it comes in a ton of finishes."
With specs like the Buster lamp has, you're getting a lot of light for the money, and you probably only need one to really illuminate your living room or bedroom. Even better, you'll certainly be able to find a version to match your decor for years to come, since there are different shade options available, too.
Buy: Buster Floor Lamp, $492.20 from Lumens
Designer Vanessa De Vargas of Turquoise Interior Design suggests plug-in sconces that amplify your lighting without taking up a single inch of floor or nightstand space. "I love this pair because they swivel and move up and down to give off the best direct light, and they're dimmable for ambiance," she says.
The sconces aren't just for a bedroom either; De Vargas mounts them above sofas as well. "They're a better option than a bulky floor lamp that's in the way and only directing the light up," she says.
Buy: 360Lighting Modern Wall Lamp Plug In, $139.99 for Set of 2 from Target
Adjustable pharmacy floor lamps with pivoting heads are a sleeker alternative to the torchiere, says Elaine Griffin, a designer in coastal Georgia. The good news is this style is also easy to find in every finish and price point. Griffin's favorite? The Jenson Modern Pharmacy Floor Lamp, which "takes on the design style of wherever it lands," she says.
For extra brightness, Griffin always installs this bulb with more than 2600 lumens and switches up the positioning of the shades, too. "The lamps are typically shown with them facing down, but you don't have to use it that way," says Griffin. "Simply turn the heads toward the ceiling and—poof—so much light!"
Buy: Jenson Modern Pharmacy Floor Lamp, $89.95 from Amazon
tinyurlis.gdv.gdv.htu.nuclck.ruulvis.netshrtco.detny.im
آموزش سئو