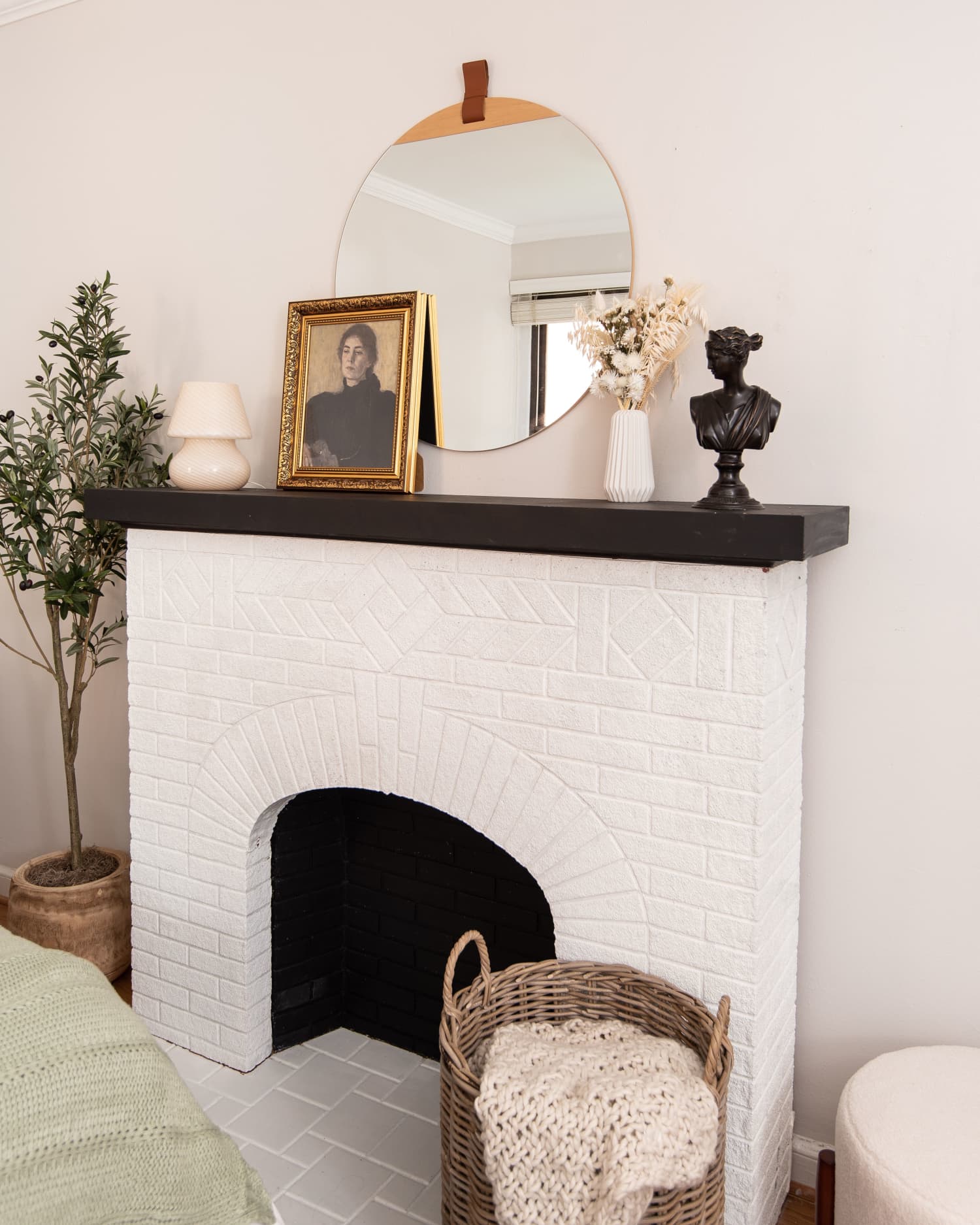 We independently select these products—if you buy from one of our links, we may earn a commission.
Design transformations aren't always about buying new pieces, bringing in more textures, or even introducing extra shades to a color palette. Sometimes, the secret to refreshing your spaces is subtraction—not addition. Similar to Coco Chanel's philosophy for dressing and accessorizing ("Before you leave the house, look in the mirror and take one thing off."), interiors can often benefit from a little bit of editing, too. Over-styling a room can actually lead to overstimulation, making it difficult for the eye to find a focal point. As a result, a space can feel stilted, cluttered, and unfocused. I don't know about you, but with all the time I've been spending home, I don't want my rooms to feel that way.
If you think you've overdone it in a room or area of your home, the good news is that it's totally fixable. While there's no set formula for styling a vignette, less can be more (within reason), and you should always be conscious of how your furnishings' heights, shapes, and materials interact with one another. I'm going to walk you through three key spaces in my home—the entry, my bedroom dresser, and a fireplace mantel—and explain how I've made each area better than before with the teeniest of tiny tweaks that you can also apply to your home. Think of it as a makeunder—as opposed to a makeover—because understated interiors will never be overrated.
I've always liked my entryway to make a statement—after all, it's the first area of my home that people see when walking in the door. I'm a major rattan lover, so I knew that my oversized Balboa mirror from Serena & Lily would stay in place no matter what, and I wanted to keep that fun lamp there, too, since I love its unique shape and size. I'm also attached to the ship paintings I scored for just $6 at a church rummage sale and wanted to allow them to truly shine. As a result, I needed to think about what items I was willing to cut to pare down the space a bit.
The first move I made was taking that vase of greenery off of the stack of books; it was actually blocking the rattan mirror, and the whole point of a mirror is to be able to see into it—and allow it to throw as much extra light around a space as possible. Placing the vase at the opposite end of the table from the tall lamp also helped to better balance out this area height-wise, so all of the taller objects aren't cramped on one side. This creates a nice eye path of discovery around the whole entry table when you are looking at it.
As much as I love a good bust sculpture, I figured that guy could go, as could the framed photo behind him. They were kind of getting lost in the composition anyway. I moved my glass dish atop the stack of books, so now it's available for holding keys, loose change, and the like. When your entry table is small to begin, simplifying the tableau makes a big difference.
I recently purchased this large West Elm dresser secondhand via Facebook Marketplace for a major steal. When it came to styling it out though, I was a bit stumped. As a result, I kind of went overboard placing too many pieces—both decorative and functional—on its tabletop surface. Even though I had the best of intentions, the setup wasn't the most practical. My perfume bottles were on top of the boxes that hold my necklaces, which looked nice but proved to be a pain when getting ready. I also had a little glass jar holding smaller jewelry that ended up looking more cluttered than cute. Again, on the whole, it's not like this piece was an eyesore, but it could certainly benefit from a few more deliberate design decisions.
First, I edited my jewelry collection down and placed all of my baubles into my actual jewelry box, where they belong. This allowed me to move the crystal dish to my nightstand, so I'd have a place to put my everyday pieces at bedtime. I then decided to turn my framed abstract painting from Artfully Walls so that it stood horizontally, which made a world of difference. This simple swap has allowed the piece to truly shine, since the vertical lines of its frame no longer echo the silhouette of my World Market mirror (which is my favorite lower-priced dupe for the Anthropologie mirror that's all over Instagram). Sometimes you want to style two pieces that have like shapes, but in this case, the scale of the pieces when both were oriented vertically was just too similar for them to jibe here. Flipping the artwork allowed me to create a sense of different levels in my layering.
Finally, I made my collection of perfumes look intentional by corralling them on a circular marble slab and away went the excess boxes and decor. The main lesson learned here? When in doubt, consolidate!
I love using the faux mantel in my bedroom to display my favorite things, but it was getting crowded, and I realized I needed to scale the decor back a bit. Truthfully, displaying real and faux arrangements in this spot also felt like a bit much, and I figured that I probably had too many picture frames propped up here, too.
I decided to highlight only my absolute favorite pieces, including this adorable petite mushroom lamp from Urban Outfitters, one of my favorite small bust sculptures that I scored while antiquing last year, and a dried floral bouquet from Urban Stems. The neutral hues in these items best complemented the white mantel and wood tones in my mirror without distracting from the overall setup. Luckily, the green stems looked fabulous in my entryway above, so that subtraction was a win-win. I kept just one framed picture—isn't that portrait so fun and quirky?
The groupings on each side of the mantel created a nice sense of balance without being totally symmetrical. Moreover, it's always good to throw something darker in the mix with a group of mostly light-colored furnishings; this can add a bit of drama and contrast to a setup. The bust plays that role here, and it was getting a little lost in the earlier mantel iteration. In this new configuration, the piece has more of a pride of place and is in direct visual dialogue, at least color and subject-wise, with the portrait.
It's also worth noting that I kept my large woven basket from Target below the fireplace, which I use to hold throw blankets. I think it helps to reinforce the mantel display above and my ultimate decor goal here: a cozy yet still chic setup.
So what area in your home could benefit from a makeunder? The other unintended but wonderful perk of taking decorative things away from your vignettes—and moving them around your home—is that you see them with fresh eyes in their new contexts. That's such a nice feeling, so with any makeunder you attempt, my best piece of advice is to start with what you already have.
tinyurlis.gdv.gdv.htu.nuclck.ruulvis.netshrtco.detny.im
آموزش سئو