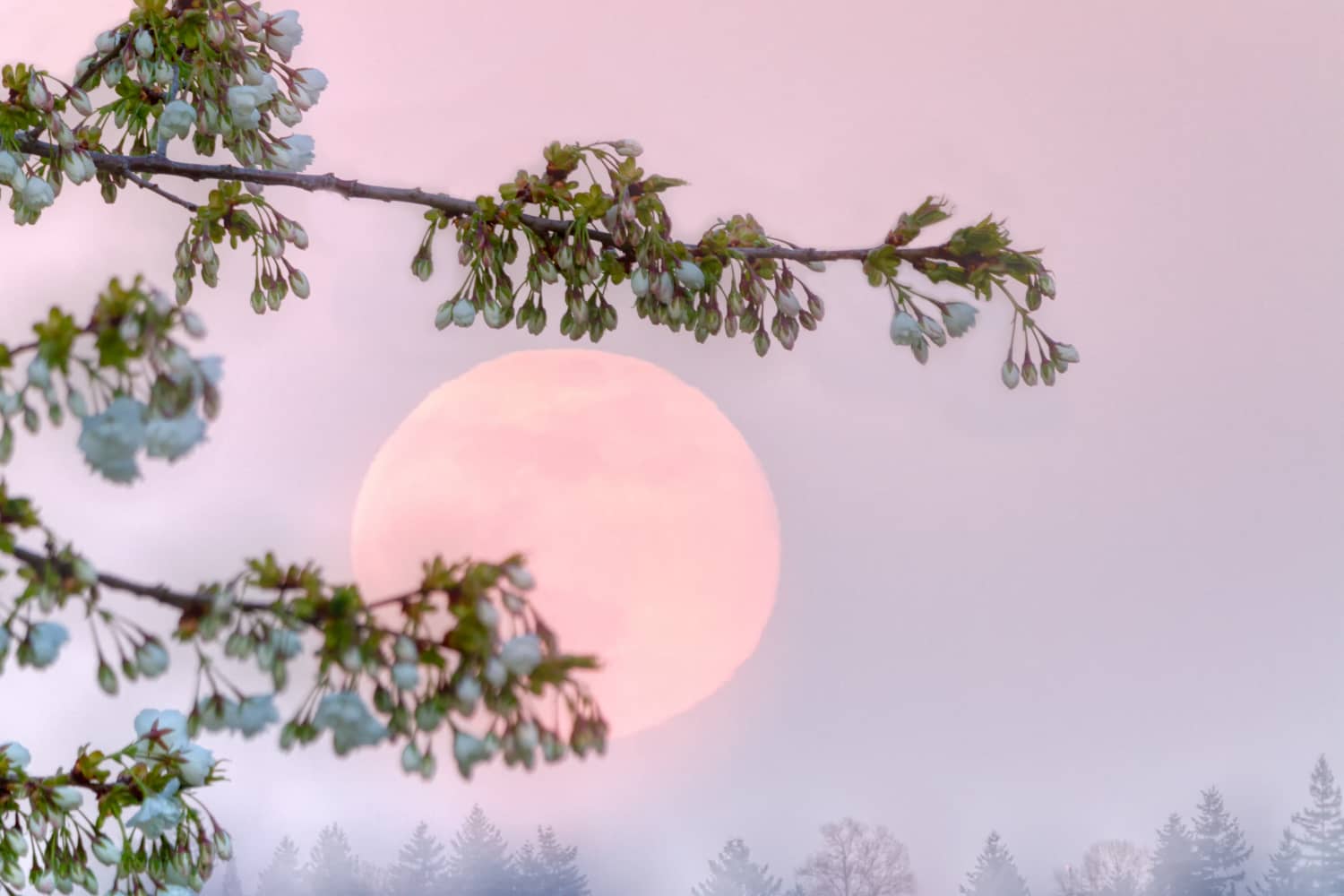 Sure, there's plenty of live events to watch at home right now, but there's nothing like some in-person entertainment. And in the month of May, the sky is jam-packed with astronomical happenings. Time to dust off your lawn chairs!
This month, the universe has an impressive lineup for onlookers around the globe, from meteor showers to catching a good glimpse at Venus. May's full moon is also known as the Flower Moon, named after the late spring blossoms in the northern hemisphere, so a Full Flower supermoon is coming your way, too.
Mary your calendars for these starry moments that you don't want to miss. Plus, who doesn't want another reason to get outdoors?
May 5-6: Eta Aquariids Meteor Shower
While the meteor shower is happening April 19 through May 28, according to In-The-Sky.org, the meteors are expected to hit peak quantity on Tuesday, May 5 (at 4 p.m. EDT, to be precise). During this time, the rate is supposed to be 40 meteors per hour, so the chances of you seeing one are highest then.
Meteor showers happen when a comet gets so close to the sun that some of its icy surfaces boils off, resulting in debris that Earth encounters when it comes into its orbit. That's when you're able to see what is also known as "shooting stars."
May 7: Full Flower Supermoon
May 8: Lyrid Meteor Shower
If you read about the Eta Aquariids meteor shower and thought, "darn, I won't be around to see it those nights," you're in luck. Another meteor shower that goes by the name of Lyrid is coming your way, this time of the constellation Lyra.
However, keep in mind that this meteor shower—which peaks at around 6 a.m. EDT—is expected to have a rate of only three meteors per hour, so the chances of seeing one is less than Eta Aquariids.
May 12: Moon and Jupiter Meeting
The moon and Jupiter will reach close proximity to one another in the sky, which is also known as an appulse, on the morning of Tuesday, May 12. While binoculars will enhance your viewing capability, the meeting will be visible to the naked eye.
May 14: Moon and Mars Meeting
This time around, it's Mars coming to greet the Moon. On Thursday, May 14, the Moon and Mars will be in close proximity to one another in the sky. You'll have to wake up extra early, depending on your location, to grab the views before dawn—but it sounds like it might be worth it.
May 18: Jupiter and Saturn Meeting
A meeting of the planets. Jupiter and Saturn will be getting close and cozy during the early hours of Monday, May 18. If you're located on the east coast, you might as well just stay up to see the plants come together. Otherwise, your wake-up call would be a little past midnight.
May 22: Venus and Mercury Meeting
The two planets will meet in the sky but at a very low altitude, so this one might be a bit more difficult to see than the others. Venus and Mercury will make a brief appearance together as dusk settles in, then disappearing shortly after the sun does.
May 23: The Moon and Venus Meeting
Similar to Venus and Mercury, the gathering of the moon and Venus will be more difficult than usual to view due to the low altitude. Still, set a reminder for around dusk to go outside and watch the sky, where they will be visible for 1 hour and 30 minutes after sunset.
May 24: The Moon and Mercury Meeting
The moon and Mercury will be making an appearance near each other the night of Sunday, May 24. The meeting will take place at a low altitude, so keep a close watch during dawn and an hour or so after sunset.
May 31: Mars and Ceres Meeting
Marking the last meeting of the month, Mars and Ceres will be coming together in the early hours of Sunday, May 31. Ceres is the only dwarf planet located in the inner solar system and is the largest object in the asteroid belt. Mars and Ceres will rise in the sky a few hours after midnight and fade as dusk approaches.
All Month Long: Venus Evening Views
This month marks the last full month of the year when you'll be able to spot Venus in the evening. Currently, Venus stays visible for over three hours after sunset at mid-northern altitudes, two and a half hours at the equator, and one and three fourths hours in the Southern hemisphere, according to EarthSky.
As of June 3, Venus will start to swing between Earth and the sun, transitioning over into the morning sky until it's fully behind the sun in March of 2021. From there, it will go back to its evening schedule.