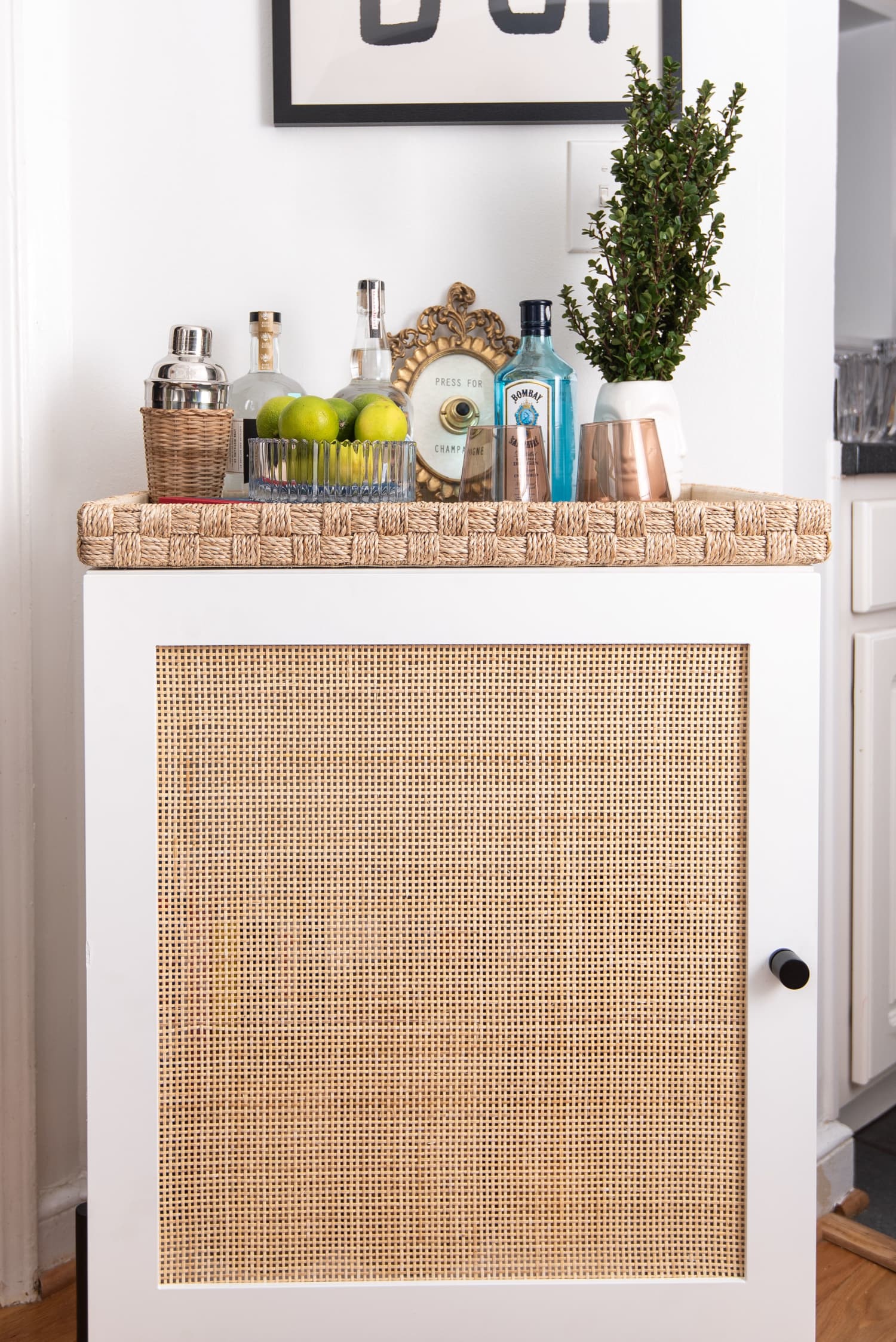 We independently select these products—if you buy from one of our links, we may earn a commission.
While I wish I was a DIY extraordinaire that could master every single IKEA hack I laid my eyes on, unfortunately, that isn't my reality. That said, I'm all for giving basic IKEA pieces a little extra love and personality. That's why I was thrilled to find out about the company Norse Interiors. This online retailer sells a wide range of accessories for IKEA products that are compatible with IKEA's popular MALM and BESTA series. Their selection includes drawer fronts, doors, legs, knobs, and more, making it possible to majorly upgrade a piece with any of these stylish readymade designs. Most importantly, if you're a cane and rattan addict like me, you'll be thrilled to know that the company recently began selling a whole line of cane doors to pair with BESTA pieces.
I happened to discover Norse at the perfect time. Over the summer, I stumbled upon a whole slew of DIYs that involving glueing or staple-gunning cane or rattan weaving to IKEA furniture to majorly transform various pieces. Of course, I was immediately awestruck at what a little rattan can do to take a piece to the next level, but I was unsure as to whether I would be able to master such a makeover on my own. Norse's offerings helped me fulfill my IKEA hack dreams without having to spend hours of time on each step of the customization process. Not to mention, I didn't need to make a single trip to the hardware store.
I ordered a petite $50 BESTA cabinet like the one shown right above, which shipped to my home for just $10, with plans to pair it with this cane door. I knew I wanted to use the cabinet for beverages—namely either a bar cart or coffee and tea station in my dining nook (I actually ended up styling it both ways because I couldn't decide which setup I liked best). As a result, I knew I needed to add a bit of height to the piece, as well as a knob to make it more functional. I ended up opting for these sleek black legs and a corresponding black knob, all of which arrived to my apartment in just a couple of weeks' time.
After assembling the IKEA piece (luckily the basic BESTA wasn't too tricky!), it was time for the exciting part—attaching the cane doors, legs, and knob. Norse provides instructions on how to do all of this, so the process was speedy and straightforward, and I was able to complete the whole thing with the basic tools I have on hand in my apartment. Then came the styling. My favorite oversized tray from Dear Keaton was a must to play up the woven theme—I can't get enough rattan! It's the perfect size for this piece, so it almost looks like it's a built-in part or feature of my BESTA. I rounded out my bar setup with a favorite set of chinoiserie napkins I found on Etsy via Porte Cochere Home.
Inside of the cabinet, I've been stashing cookbooks, tall vases, and other entertaining essentials. Even though I'm staying home more than ever, my collection of such items is constantly growing, and these goodies desperately needed a home.
When I want to change things up, I sometimes style this piece as a coffee/tea cart. For this setup, I chose to display my retro SMEG kettle and another favorite set of cocktail napkins. Having worked from home for the past six months, often sitting at my dining table, I figured my everyday coffee setup could use a little pizzazz, even if I'm the only one who will see it for now. Opting for cute napkins and an appliance that's functional but also looks pretty darn adorable did the trick.
It's been a few weeks, and I've been absolutely loving the stylish flair this cabinet adds to my dining nook as well as its storage capabilities and small footprint. If you're looking to complete an IKEA hack that doesn't require too much prep or legwork, this is it. Norse Interiors products aren't exactly cheap, but when you think of the low cost of the MALM and BESTA pieces—and the high-end look Norse's add-ons give them, you're still saving in the long run. If you want something a little more budget-friendly when it comes to cane, IKEA now actually sells cane doors for certain systems like IVAR, so be sure to check out their offerings when scouting options, too.