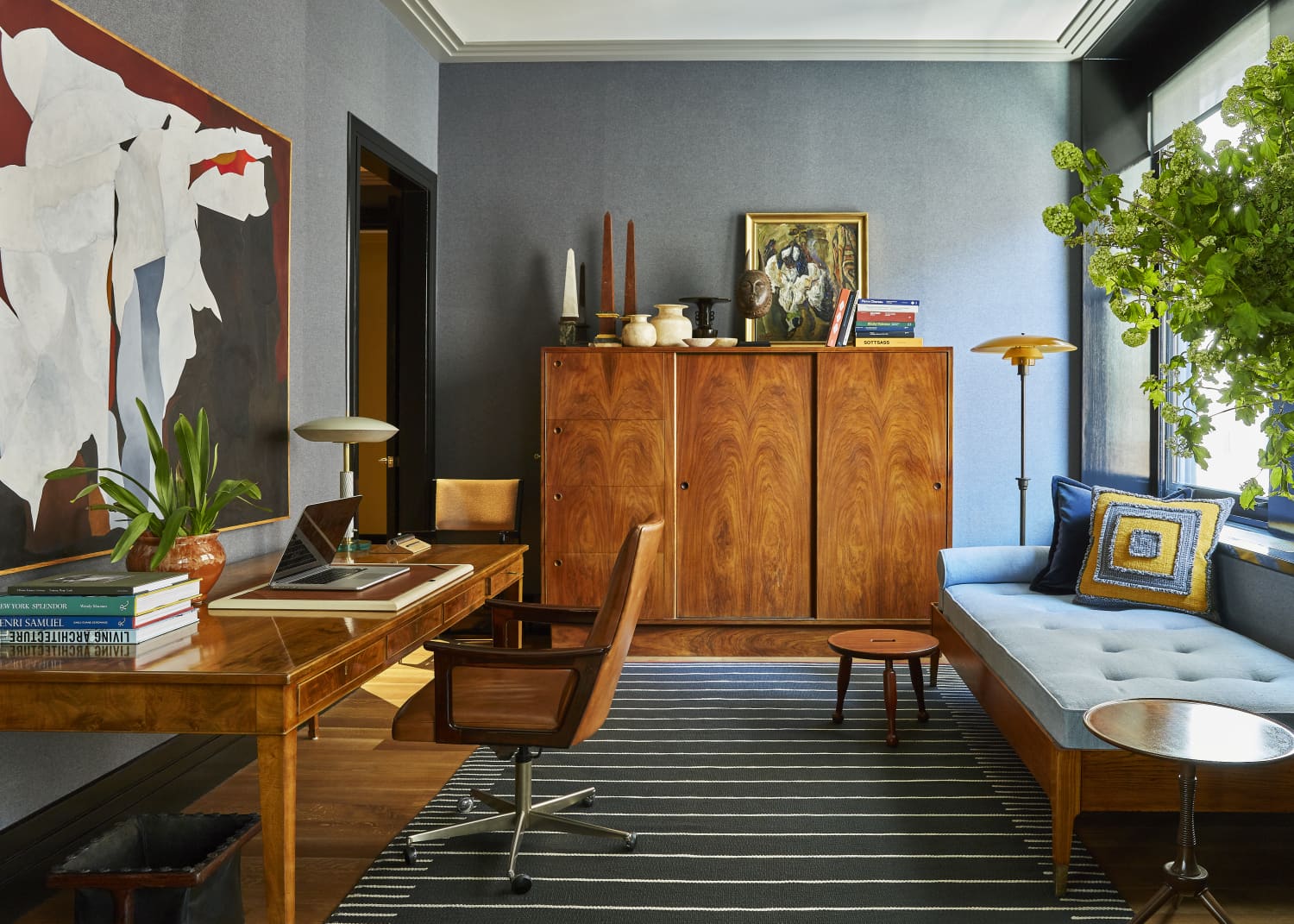 Old wooden furniture—to know it is to (probably) not love it. I'm not talking heirloom spindle chairs or classic farmhouse style tables, but rather those generic wooden pieces that seem a little chunky and clunky, and that you can't quite place stylistically. Craigslist, garage sales, and flea markets are full of these pieces. Sometimes they're hand-me-downs that you may be not super excited about, other times they're the piece that you bought when you needed something but couldn't find your forever solution fast enough. Here's the thing though: Study enough images of rooms with that certain je ne sais quoi, and you'll probably notice a great majority of them have something in common—you guessed it, old wooden furniture.
Hear me out: Old, plain, wooden furniture might actually be the underdog of the decorating world. What a lot of people overlook is the truly transformational power it can bring to room. Added character and soul? Check. Instant warmth? Double check. I'm here to say that these pieces are actually the ticket to a well-rounded room. Don't take just my word for it though. I reached out to a few designers—Liz Caan, Kevin Dumais of Dumais, and Alexander Doherty—for their take on why at least one piece of chunky, almost clunky plain wooden furniture should be in your modern-day home, and here's why.
Old wooden pieces bring warmth to cool spaces
Gray and white have been the prevailing colors in interiors for the last decade, and while beige may be back on the rise now, so many homes have cooler color schemes that can sometimes feel a little stark when taken in altogether. "In a very light gray and white interior, brown furniture can look spectacular and can make the space warmer and more inviting," says Caan. "The piece should support the room in one way or another and should not look like a forced piece of furniture."
For Caan, finish is key. "If a room is all new, I like to add a vintage piece that has a beautiful patina," she says. Moreover, plain is better than precious for whatever piece you do choose. It's totally fine if the piece doesn't have graceful curves or perfectly angular mid-century lines—just try to avoid something that's overly stylized with fancy flourishes, since that kind of thing can look out of place in a more contemporary space.
Old wooden pieces bring variety and depth to a design scheme
Dumais says the key to a well-appointed room is to never have pieces with all the same wood tones in one room. So even if you've splurged on, say, golden oak bookcases or committed to Scandi-inspired blonde ashes, there's always room for another wooden finish in your space. "Mixing wood species and finishes, just like metals, will help the space feel unique, as if you curated everything over time," he says.
Yes, you can have too much of a good thing when it comes to different wood tones. Doherty says it's often best to stick to one or two outlier items within a space. What kind of outliers work best? Dumais suggests looking for a plain old wooden desk or a secretary. "Desks are a great way to introduce wooden furniture into a more modern aesthetic," says Dumais. "There is something about sitting at a substantial wood desk that feels empowering and academic."
If you want to go smaller, Dumais says side tables are another option, since they can act as an accessory piece that pulls the room together.
Old wooden pieces can be updated for more modern settings
The beauty of solid wood furniture is that, unlike veneer, you can give it new life time and time again by restraining or repainting it in a fun, zingy shade. Caan actually recommends stripping an older wooden piece and just putting a nice wax finish over it. "Changing hardware is another way to give something with great lines a new look," she adds. Dumais agrees, adding that whatever you choose should work with the lines of the piece, so pay attention to scale and style when updating this feature.
If you have an old piece that's looking a little lackluster but you don't want to go through the trouble of drastically changing it, Dumais says you can perk up the dullness with a little Danish Oil and a soft cloth. "The oil will give some moisture to the wood and bring out the richness of the original color," he says.
If you need any more convincing, let me walk you through examples that show these gems expertly used in more contemporary rooms.
First off, is, well, my very own dining room. Yes, I'm biased. However, that brown server on the right was exactly what this room needed to keep it from looking too stiff or catalog-like. It's a Thomasville buffet I found at a Habitat for Humanity ReStore for about $60, and to me, it balances the modernity of the dining set and lighting.
This dining space in this Charleston studio apartment is in a similar vein. The key is that modern pendant light—it keeps things looking fresh and not overly retro.
There is absolutely nothing dour or austere about this punchy workspace. The gilded brown secretary desk grounds the animal print and chrome desk chair as well as the modern ceiling light, while helping the room to lean perfectly eclectic and character-filled. This same space with a modern desk would have an entirely different vibe.
This room in a beautiful Virginia home is a perfect example of traditional architecture freshened up with mostly clean-lined, modern furnishings and lighting. The wooden sideboard marries the two genres to round out and ground the design.
Here's a very similar piece to the sideboard from the previous space, just painted a satiny black. This is actually in the same Virginia home, and while some people wouldn't dare touch a solid wood furnishing for fear of ruining it, you shouldn't be afraid to tweak it to fit your style or home. This is a traditional piece that feels a bit more modern in a sleek but warm living space.
Older, plain wooden furniture is not the enemy. If you don't already have one of these pieces in your arsenal, look for something made from rosewood, walnut, teak, or mahogany the next time you are furniture shopping. If you do already have a piece like this, and it's collecting dust in your basement, bring it out of retirement. You won't be sorry!