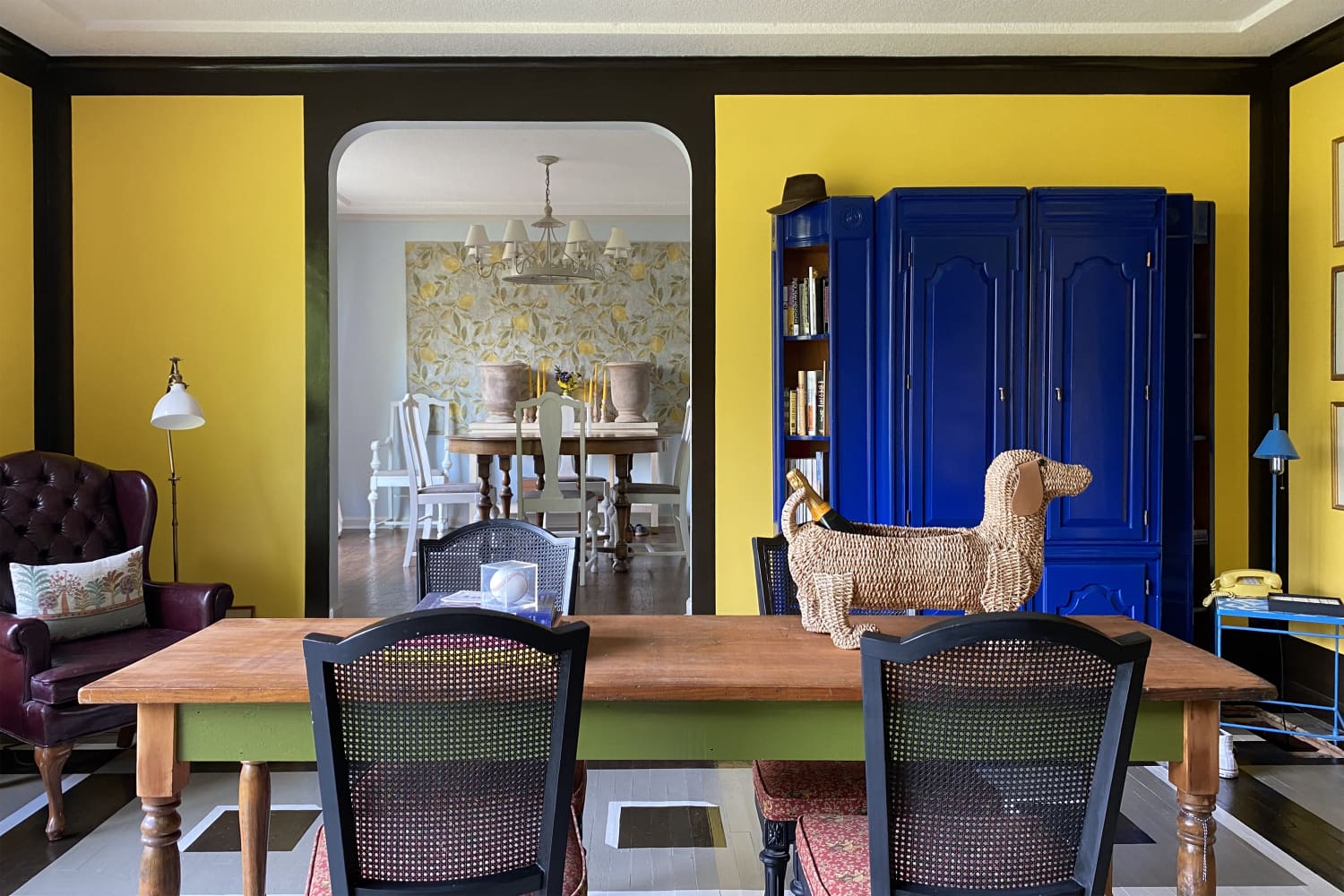 We independently select these products—if you buy from one of our links, we may earn a commission.
Name: Peter Spalding, Kevin Fadden, and Toby (puggle)
Location: Portland, Oregon
Size: 2,200 square feet
Years lived in: 1 year, owned
My husband Kevin and I love our 1940s colonial house… now. When it first went up for sale, it was more than we could afford and we thought it was really boring. Then the price dropped $100k and we thought we could probably make it work. Just as we became interested, it went into foreclosure. But Kevin is very persistent—he hounded people everyday until the house was ours. We moved in on Jan. 1 and learned there was no heat. Then we met our neighbors and found the place had previously been inherited by a heroin addict, which explained its dilapidated state.
The redeeming thing about the house: huge rooms that are nicely related to one another. It's really easy to have a big party here. Last Christmas we had a 1950s themed party—an appropriate theme for us since we aren't great cooks and no one expects a Jello salad to taste good. Our 60 best friends came in cocktail dresses and tuxedos and everyone had a place to sit and a spot for their drink.
Apartment Therapy Survey:
My Style: Punchy Americana. I like traditional things that feel new again through interesting use of color or material.
Inspiration: The great decorators of the 20th century, especially Albert Hadley, Sister Parish, and Oliver Messel—all of them seemed to be able to design for glamour and function alike.
Favorite Element: I love our living room because we have made it seem a little glamorous and comfortable at once and we've done it all with paint.
Biggest Challenge: The kitchen was uninhabitable when we moved in. There was water damage that was causing an asbestos-filled linoleum floor to buckle and crack underfoot. We took it out right away, and washed all our dishes in the guest bathroom. We paid for cabinets as we could afford them so it took about six months until we had a working kitchen. When I washed a dish in the kitchen for the first time, it was euphoric. Even still, we did not have a food pantry, so we went to IKEA and bought a $300 metal cabinet with sliding glass doors that I backpainted so you couldn't see the mess inside. Now we have a freestanding pantry for a tenth the cost of a built-in one.
Proudest DIY: We redid the floors throughout the house right away, but the living room floor had a lot of water damage and we knew we couldn't spend what it required to make it right. I came up with the idea to paint a pattern on the floor instead of having it replaced. It took a lot of convincing for Kevin to agree, and I have new aches in all my joints, but now it's the first thing people notice when they walk into the house.
Biggest Indulgence: Our appliances. We bought a Hallman range and a Fisher Paykel refrigerator because they look slick and it would have been a bummer to invest all that elbow grease only to put in cheap appliances.
Best Advice: Figure out what is going to make the biggest impact and focus all of your energy there.
What's your best home secret? Rooms that accommodate lots of activities are used the most. I like rooms full of furniture and lots of seating groups and drink tables so people feel comfortable. It's easy to host if the room does half the work for you. Minimalism isn't all it's cracked up to be.
tinyurlis.gdv.gdv.htu.nuclck.rushrtco.detny.im
آموزش سئو