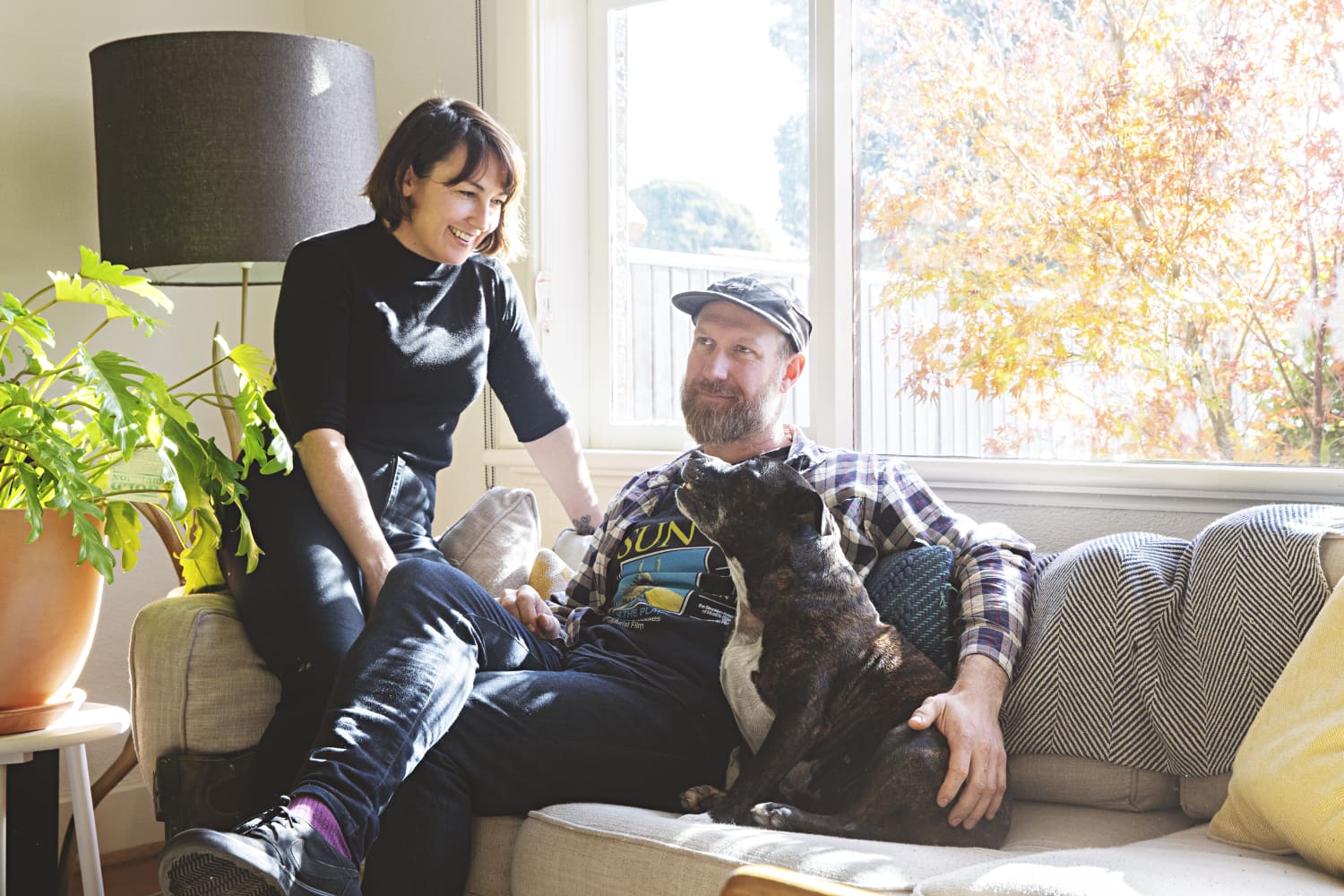 We independently select these products—if you buy from one of our links, we may earn a commission.
Name: Katie Bowman and Steve Harris and a staffy, Hank.
Location: Coburg — Victoria, Australia
Size: Approx 700 square feet
Years lived in: 2 years
What do you get when a ceramic artist and a furniture maker live together? This semi-detached home that Katie, Steve, and their dog Hank have been living in for the past two years. Katie sells her ceramic wares under the brand name Made by Bowie, and she makes the earthy colored pieces of functional art in her home studio, which is housed in a separate backyard shed. Steve works in the arts, and in his spare time is also a talented furniture maker. Their home is filled with their own creations, along with an enviable collection of artwork, ceramics from local makers, and a growing array of indoor plants.
Apartment Therapy Survey:
My Style: Warm, welcoming, messy, handmade, up-cycled, DIY, works by friends and local makers, and of course, plants. Lots of plants.
Inspiration: The space itself is the inspiration. Our old house was tiny, so many of these pieces were bought or made specifically to suit this house and its Deco touches.
Favorite Element: Definitely our little dining nook. Essentially just a white box that was too small for entertaining, I found a cheap, natural shelving unit and filled it with a collection of ceramics, plants, and cookbooks.
Biggest Challenge: Our home is semi-detached and we only get a few hours of quality natural light each day. This means that our plant selection had to be very carefully curated.
What Friends Say: "When can I order one of those?" It's a nice feeling when pals visit and spy a piece we've made, wanting it for their own home.
Proudest DIY: I'm a potter and Steve's an arts worker and furniture maker, so we're big on DIY. Every room has at least a few objects we've designed and built ourselves. We're always pushing ourselves to make new and innovative pieces that complement our space that aren't readily available. Hank's snazzy new dog bed and kurinuki lamp in the bedroom are great examples, and there can't be many functioning turntables around that double as a zen garden.
Biggest Indulgence: For us it's our records and plants. Anyone who obsessively collects will understand.
Best Advice: Fill your house with things that make you happy. That's been particularly important recently, as lockdown has meant that we're confined to these four walls—anything that doesn't make you feel good can't be ignored.
Thanks Katie, Steve, and Hank!