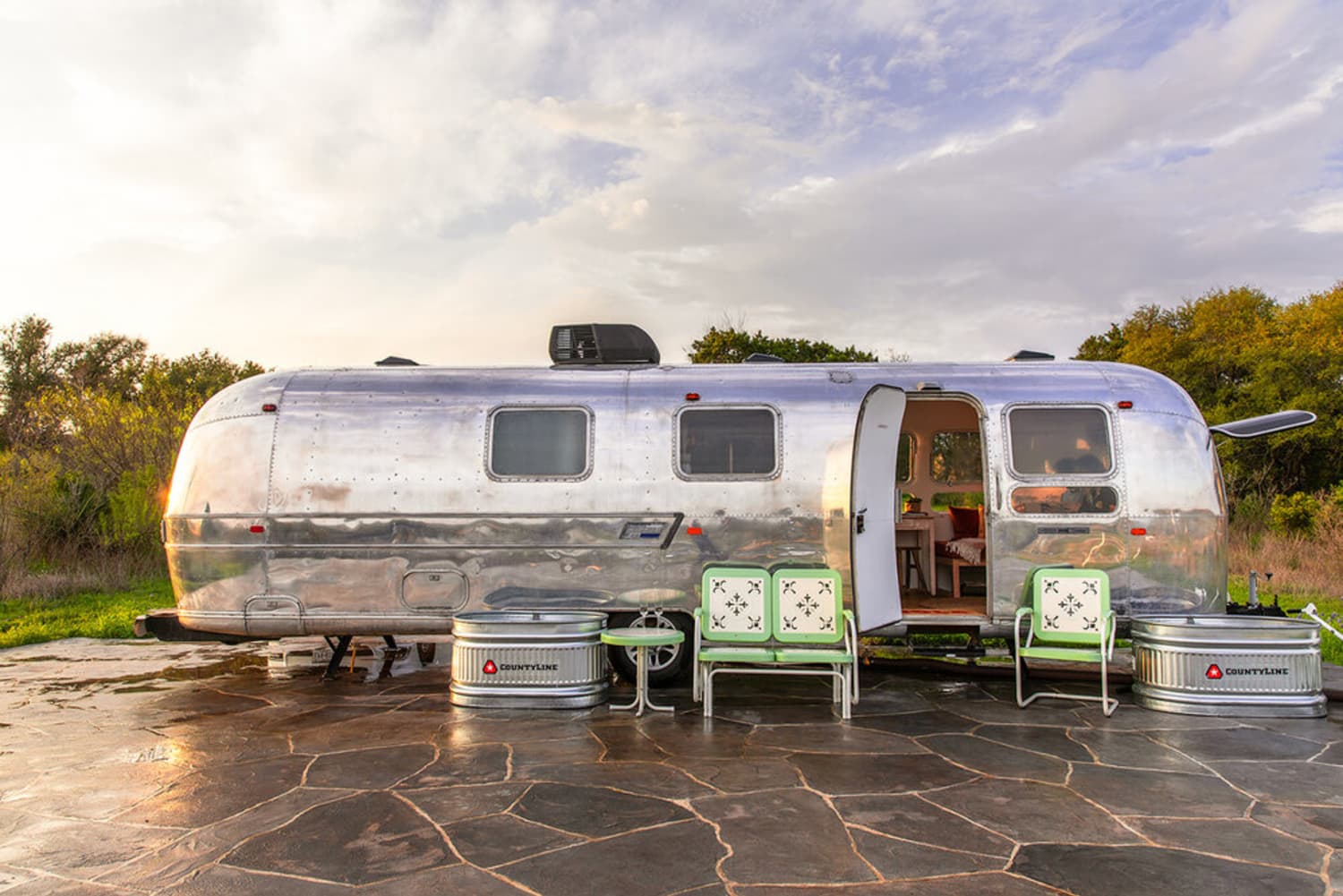 We independently select these products—if you buy from one of our links, we may earn a commission.
When Nick Vukmaravich purchased his 1972 31-foot Airstream Sovereign, it wasn't in the best shape. "It was being used for disaster relief for Hurricane Harvey—the people who owned it bought it to fix it up, but the project got away from them," he says. After tackling new electrical and plumbing, Vukmaravich realized he would need help decorating to really make the space come to life. So he enlisted designer Kim Lewis, who is known in for her tiny home projects in Austin, TX.
Lewis definitely rose to the challenge, infusing the space with handmade tile and peach-painted cabinetry that give it a unique desert vibe. Renovating a small space doesn't mean you have to sacrifice style, and Lewis found a way to work seven different trendy design ideas into this space seamlessly. Here's how she did it—and even saved some cash on the project—with clever hacks that you can steal for your own home no matter its size.
Embrace Imperfections with Zellige Tile
Vintage airstreams and old homes often lack perfectly straight lines, which is one of the hardest design challenges for installing wall coverings. But Lewis embraced that imperfection by choosing to dry stack clay zellige tile from Zia Tile along the kitchen backsplash. The nice thing about this kind of tile is that it's handmade—each piece is slightly unique. So even if the walls were without any unevenness, you'd still get a little bit of movement or variation in the final installation.
Vukmaravich ended up placing the tile himself using construction adhesive, and the stunning color set the scene for the entire space. Inspired by photography of Oaxaca, Lewis chose the tile's striking green shade to reference the cacti that grow in this region. The lesson here: Nature is often a great place to look for color cues, so use your favorite landscape or place as a jumping off point for your home's palette.
Take a Chance on Colored Cabinets
When Lewis started the project, the cabinetry was army green—a paint color Vukmaravich had left over from his home. It wasn't translating in the Airstream and made the interior feel darker and even more cramped. But white paint isn't always the answer. Instead Lewis chose Sherwin-Williams' Peach Fuzz, which is still bright and airy but infuses a little more energy and personality into the space. Light colors can often reflect as much natural light as white, so don't be afraid to go for something a with a bit of pigment.
There's a reason rattan and wicker lights are so popular these days—they're visually quiet but pretty, and they throw a lot of functional light around a space. For those reasons, Lewis wanted to use one as a focal point in the bedroom. She found the Moroccan woven lamp shade on Etsy for under $50. "We wanted something overhead in the bedroom area, but in case someone bumped their head, it was important that it was a soft fixture," she says.
Make Your Sofa Work Harder for You
Because of the odd dimensions of the Airstream, Lewis knew she'd need to hire a carpenter to build a custom sofa. Instead of going the safe route with a neutral color, she doubled down with an L-shaped sectional in a rust shade that subtly references a sunset. "The L-shape acts as a built-in chaise, so you can lay your legs out while watching TV or working," she says. Because this piece is bigger than a traditional twin bed, it's also a very comfortable option for an afternoon nap or an extra bed if you need it.
Custom sofas can be pricy. So you if you're not working with a space that requires a built-in couch with super specific dimensions, you can get the same kind of comfort of an L-shaped sectional with a regular sofa and ottoman combination. One the whole, using these two pieces together will often be a more flexible, cheaper solution.
Hanging artwork in an Airstream can be dicey because curved walls often mean nothing will lay straight. In lieu of a gallery wall, Lewis chose to dress up the space using wall hangings and tapestries without precise edges. She saved by skipping frames and using velcro instead of hardware for hanging them, which makes it easy to change pieces in and out. Another added bonus of using pieces of fabric as art? They also help absorb sound and cut down on noise in a space.
Colored Grout is Fun and Functional
The bathroom was another area where Lewis let her creativity run wild. She went with penny tile for a clean, geometric look and used sea foam-colored grout for an added surprise. Colored grout is not only unexpected design-wise, it's also a little lower maintenance than bright white. So this is one trend that definitely has a practical payoff.
No Wall is Too Small for a Mural
Even a tiny stretch of blank wall can get a decorative boost from a painted mural. Lewis hired artist Linda Pappa to create an on-theme piece depicting a howling coyote—the finished Airstream was dubbed "Casita Coyote," after all (though the project was technically named after coyote agave, which is said to relieve stress). If abstract shape mural designs are more your speed, know that they're easy enough to execute and can also look just as good in small doses as they do on full sized walls.
tinyurlis.gdv.gdv.htu.nuclck.ruulvis.netshrtco.detny.im
آموزش سئو