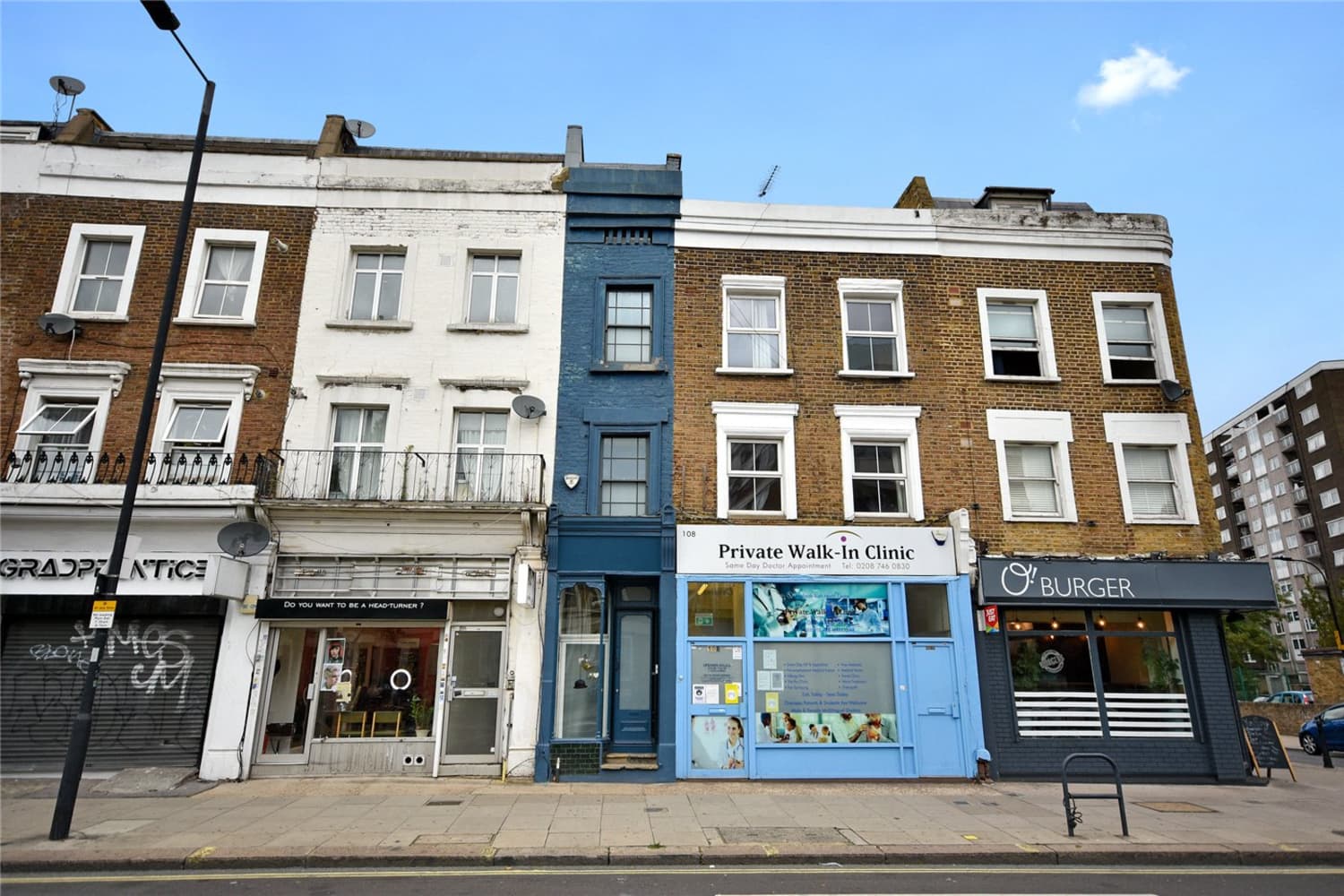 This home for sale may be skinny, but it certainly doesn't skimp on style.
Tucked away on a picturesque street in London, the one-of-a-kind house measures just six feet wide. But what it lacks in width, it makes up for in height, as the cornflower-blue building spans five floors. Listed at £950,000, or about $1.2 million U.S. dollars, this dreamy home spreads its incredible character to every level with impeccable design and carefully curated finishes.
Throughout the two-bedroom, 1,034-square-foot property, stunning period parquet floors lend cohesiveness to the place. On the ground floor, a stylish foyer area welcomes guests, and juts out into a comfy nook for curling up with a good book. Head downstairs to the galley-style kitchen, where there's plenty of counter space despite the room's narrow layout. This floor is also home to the dining area, where double full-height glass doors lead out to the private patio and garden, an idyllic little escape from city life.
The home offers two living spaces, each with fireplaces and plenty of space for gathering with friends. The main bedroom is good-sized with crisp white walls and plenty of sunlight, as well as a small study area for working from home. The smaller bedroom features a built-in bed with a sunny window of its own overlooking the city.
In the bathroom, an original bathtub provides an ideal spot for soaking the day away in a sunny atmosphere. The cherry on top is a rooftop terrace that makes the perfect spot for kicking back with a cup of tea (or avoiding your coworkers on Zoom) all with the incredible skyline of London to gaze at.
Every inch of the space is carefully considered, providing the home's next owners with any amenity they might desire in a comfortable—yet untraditional—space. And with a prime location near public transit, there's a good chance it'll check all the boxes for potential buyers.
While there's limited information on the origins of the property, it'd be interesting to see if this skinny house fits the bill as a "spite house," or one that's been built either to annoy a neighbor, block a view, out-do a relative, or challenge a zoning law. There are some other incredible ones in London, as well a few stateside, in places like Mamaroneck, New York, and Boston. No matter the source of this stunning property, it's safe to say whoever designed it has put a tremendous amount of time and consideration into making it picture-perfect.