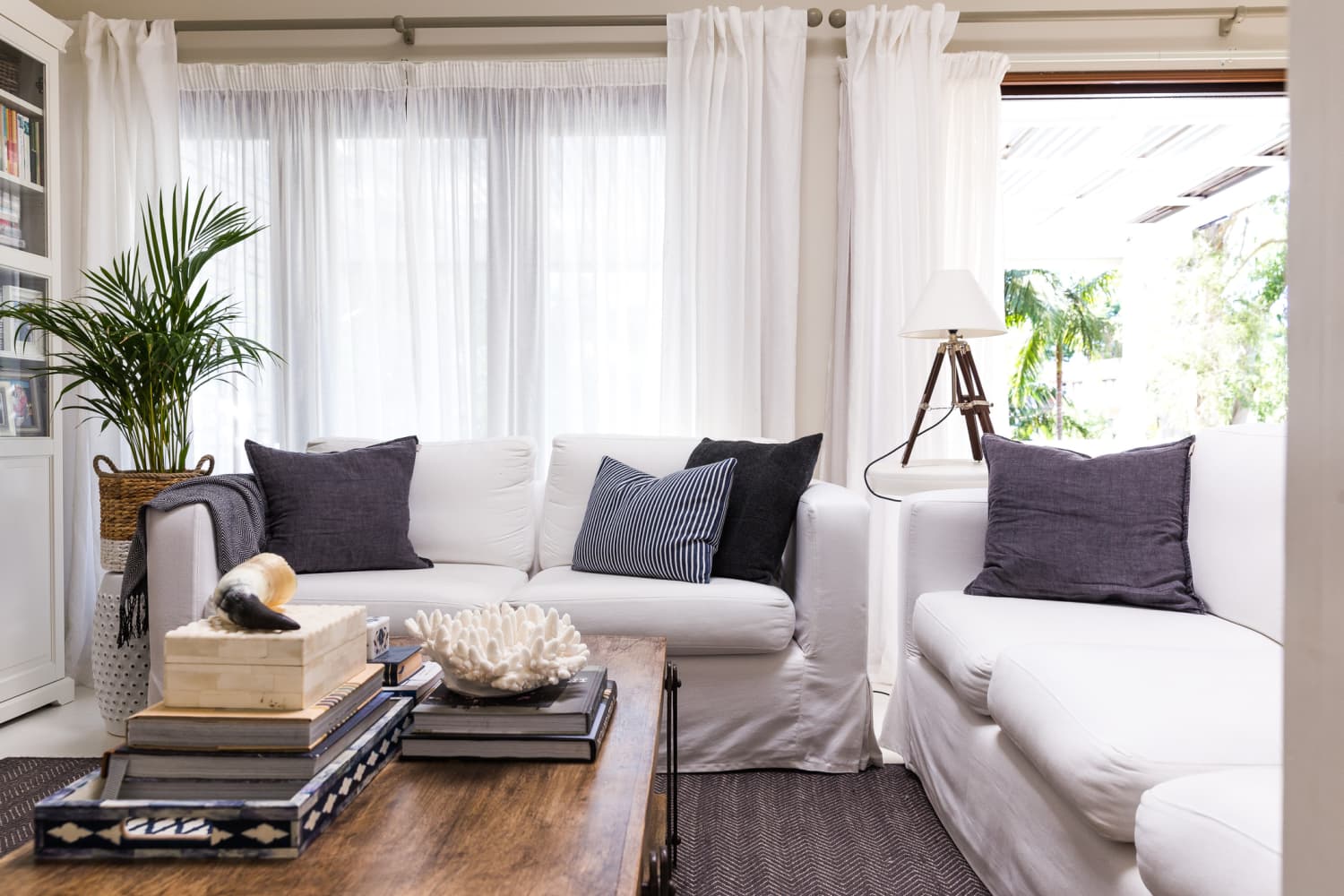 There's nothing worse than spending a lot of time and money on designing and decorating your home only to realize that the choices you've made are completely impractical for your lifestyle. What may look great in magazines and on social media may not actually be conducive to your everyday life. Moreover, everyone is different, so what may work for you might not for your neighbor, and vice versa.
To help steer you in the right direction when decorating—whether you're making a big change or small one, we asked a handful of designers for their thoughts on the least-livable design trends. Even though a lot of these styles are popular, you might consider skipping them if you aren't in for the cleaning, cost, or upkeep these trends may require now and even more so down the road. However, if none of that bothers you, you do you—our pros also weighed in on some strategies for making them a little bit easier to live with and maintain. But here's what made the least-livable trend list for 2020.
Wall-to-wall carpeting is popular with home builders because it tends to be cheaper than hardwood floors, it's comfortable, and it can help with sound absorption. The problem, is carpeting is very susceptible to getting worn down, dirty, and stained over time. "Carpeting collects dust and dirt no matter how much you vacuum, and it can't be taken outside and shaken or switched out easily," says designers Johanna Vente Anderson and Fiona Burr of Saffron + Poe.
For that reason, the designers recommend area rugs instead. "Area rugs really warm up a space and can be switched out any time you want to change your look," says Anderson and Burr. Another strategy? Keep wall-to-wall carpeting installs to lower traffic, private spaces like bedrooms, where you typically aren't eating or entertaining. The cozy and sound absorption factors that wall-to-wall carpeting offers are also more relevant in these types of rooms, and you can always put an area rug on old wall-to-wall carpeting if it has become dingy over time.
A stark white room might look Insta-worthy, but for many people, this trend is completely incompatible with everyday living—white finishes are dirt and stain magnets, especially if you have young kids or pets. "All white decor is cold and uninviting," says designer Becky Shea. "I don't know about you, but I want to relax when I'm home and not be nervous that my jeans are going to ruin the sofa."
​If you like the airiness of an all-white room, try working with similar light tones for your furnishings and sticking to true whites for your washable pieces. "Layer in light tones that hold up better to everyday use like ivory, cream, and light gray," suggests Shea. "Try a cream or light gray sofa and then layer in white throw blankets and pillows." Performance fabrics and washable slipcovers are other options, if you really want a white sofa, for example. And you can still rock white walls: Just avoid stark white, which has a tendency to show each and every scuff—or make good friends with your Magic Eraser.
You might love the look of marble countertops, but when it comes to high traffic areas like the kitchen, unfortunately, marble is not that practical. "Marble is a relatively soft material and can scratch, etch, and stain easily," says designer Justin DiPiero. "It's worth taking the time to really weigh the pros and cons before investing in marble countertops."
Make sure you consider your lifestyle before choosing marble. "If your kitchen is more decorative than functional, they will look beautiful and hold up well," says DiPiero. "But if you're an amateur chef who's hard on the kitchen, it might not be the best choice."
In lieu of marble, DiPiero suggests looking into solid surface counters like quartz. "Quartz is a much harder and less porous material but can still have a natural look and feel like you'd get with marble," he says. It's also worth looking into darker stone varieties, which may not show as much wear as, say, a slab of white Carrara (though porousness and softness can still be issues).
All-white kitchens are super popular for their light, bright aesthetic. But if you're not one to want to thoroughly clean after every meal—or aren't okay with visible signs of wear and tear in your cookspace, this might be a look to skip. "Not only do all-white kitchens show splatters and spills, but they are in need of some major depth and texture," says designer Marie Flanigan.
Still want a large feature in your kitchen to be white? A subway tile backsplash could be the best compromise, since tiles are easy to wipe clean. Flanigan also suggests white cabinetry, as long as you paint your island or cabinet bases in a saturated tone that will warm the rest of the room up and camouflage things like fingerprints and such better. Introducing furnishings in metal or glass finishes can also give you some of the airiness of white without as much worry about staining.
Area Rugs Under Dining Tables
Area rugs can help ground a room and add comfort, but putting one right below where you dine isn't the most practical move. "While an area rug can be a great look, it's not ideal for everyone, especially if you entertain or have younger children," says architect Sybille Zimmermann of Studio Zimmermann.
Fortunately, this design dilemma is an easy solve. You can either skip the carpet altogether, or if you really love how an area rug defines a space and adds a hit of color and pattern, try carpet tiles from a company like FLOR. "They're easy to clean and as they fade or stain, you can replace one problem tile at a time versus the whole rug," says Zimmermann. Vinyl or washable rugs are other options here, too.
Whether permanent or temporary, wallpaper is a great way to dress up your walls. But for Thomas, the risk isn't worth the reward, at least when it comes to a full bathroom. "It's impractical to put wallpaper in master baths and other full bathrooms," says designer Lance Thomas of Room Service. "It looks fantastic for a while, but there is just too much moisture in these spaces for it to last long term, and the paper will start to curl at the edges."
If you love this look, go for a budget option and understand that you might incur additional costs removing and replacing the paper later. You might also want to consider wallpaper only for the "dry" places in your home.
Crisp lines, clean surfaces, slick finishes—minimalism certainly has its allure. But when minimalism means editing your possessions down to so few things and only buying pieces that fit a certain design profile, this trend isn't totally practical for those who want a cozy space where their quirky, personal artifacts and objects can shine. "Minimalism may look perfect on Instagram, but when it looks out of place to even have a family photo in your space, minimalism has gone too far," says designer Courtney Aleksa, who works with Decorist. "A home should still feel lived in, even if it is highly refined."
You can still have your space feel modern and minimal—the trick is the stick to light tones and to find functional, stylish storage pieces for hiding excess items. "Streamline your accessories so they feel thoughtful and cohesive and invest in practical storage pieces to house the clutter," says Aleksa.