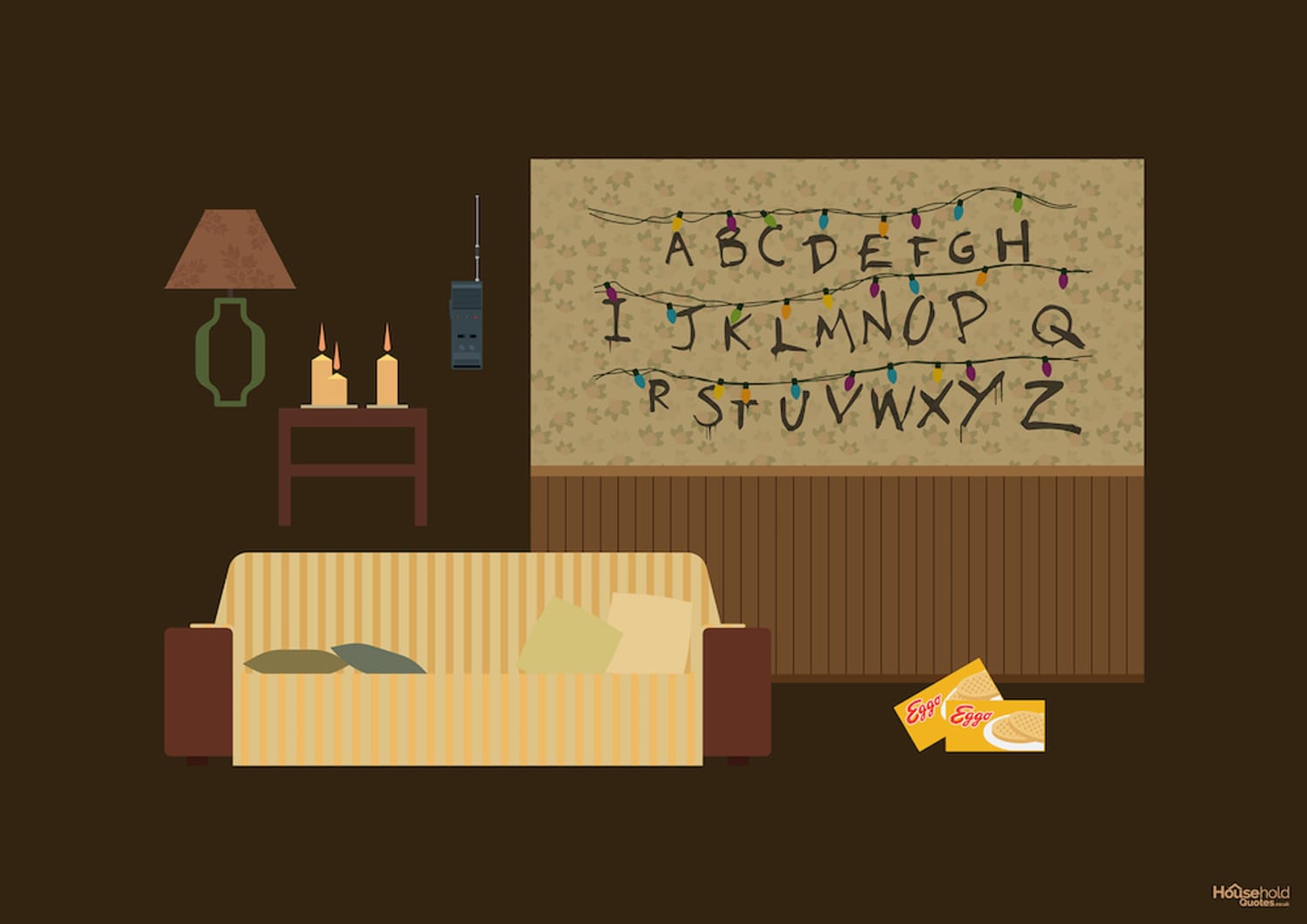 Home decor and furniture are essential components of a TV show—and HouseholdQuotes.co.uk, a website that helps homeowners and tenants save money on household jobs, is well aware of that. The U.K.-based website released a series of minimalist posters complete with renderings of key pieces of furniture and decor items from beloved TV shows. The posters—which range from "Friends" to, well, we won't spoil the rest—highlight the backdrop and interiors that make each show distinct and recognizable.
Would you be able to identify a TV show from set design and furniture alone? HouseholdQuotes.co.uk created minimalist posters of 15 iconic shows, and we've compiled just a few from that list below. Test your pop culture knowledge by examining the decor items and furniture, complete with descriptions and hints. An answer key can be found at the bottom of the article.
The One With the New Yorkers
Let's start with an easy one: teal cupboards and shelves, a purple front door, mixed tables and chair sets, and a fridge with notes, pictures, and magnets make up this New York apartment.
A disco ball, a podium, a judge's table with score cards, a trophy, bright lighting, and a glitter backdrop make up this ballroom in 1980s New York.
Wicker sofas with pink cushions, green circular pillows, a bamboo coffee table, a beige rug, and a large fig tree make up this living room in Miami Beach, Florida.
Everyone's Favorite Mother-Daughter Duo
Wooden stools, a "no cell phones" sign, a coffee machine, a specials' board, and a blue backwards baseball cap make up this diner in Stars Hollow, Connecticut.
Things Are Pretty Strange Around Here
Fairy lights over painted alphabets on the wall, a floral lamp shade, patterned wallpaper, a striped sofa with blankets, a wooden half-wall, and boxes of Eggos make up this home in Hawkins, Indiana.
Elaborate tiles, a wooden throne, ornate side tables, big ceremonial vases and urns, and an orange velvet sofa make up this water garden located in a palace in Dorne.
Answer key: "Friends," "Stranger Things," "Pose," "Golden Girls," "Gilmore Girls," and "Game of Thrones." Explore more minimalist TV interiors on HouseholdQuotes.co.uk's site.