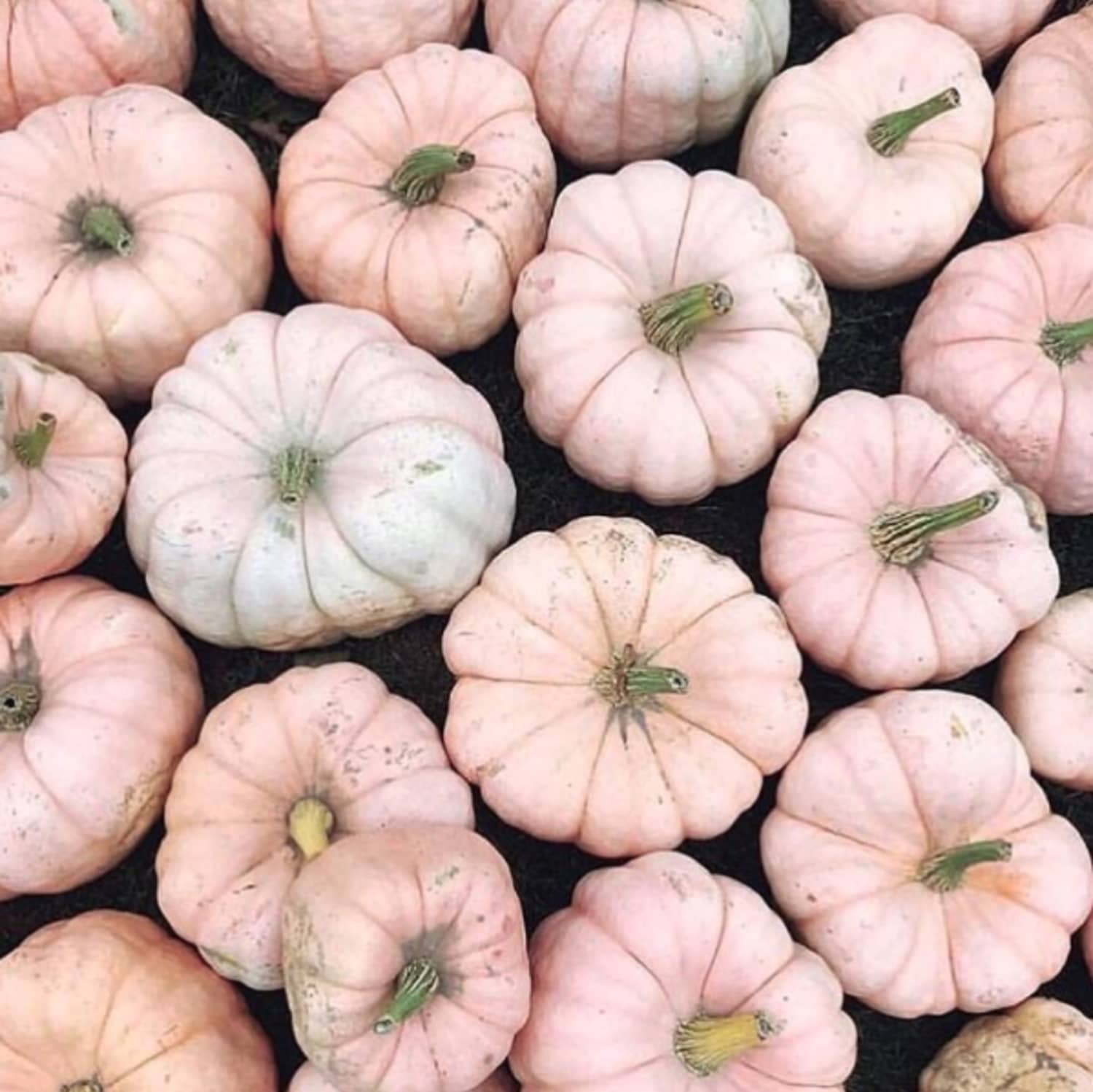 We independently select these products—if you buy from one of our links, we may earn a commission.
For the past few years, orange pumpkins have kind of been old news. Don't get me wrong—you'll never regret decorating for fall with them, and I personally wouldn't want to carve a jack-o-lantern out of anything else. That said, designers, home decor brands, and bloggers alike have been branching out when it comes to what an autumnal color palette looks like, and this year it's all about the pink pumpkin.
White and sage green pumpkins came on strong a few years back, but the light blush "Porcelain Doll" or "Porcelain Princess" varietal are my prediction for what Trader Joe's—or your local patch—might have a run on this year. Designer Emily Henderson was decorating with them a few years back, and I actually ran into a bin of them myself this past weekend and bought one.
What's particularly beautiful about "Porcelain Doll" pumpkins is their collective nuance of shades. Even within a single pumpkin, you see pink, peach, cream, and light green patches, which gives their skin a beautiful, faded out, vaguely tie-dyed look. Plant and seed company Burpee notes that these pumpkins are fairly petite, ranging from about 7 to 10 pounds in weight with diameters of 7 to 8 inches.
If you can't find "Porcelain Princesses" in the flesh this year, don't worry. You can sort of fake 'em with pink paint or find a similar readymade faux option in a blushy-creamy hue. Any of these seven pumpkin picks will bring this kind of look to your doorstep, mantel, or table, and they'll last long after fall and Halloween have passed. Next year, you can even consider growing your own!
Princess Pumpkin by Ashland
Just add acorns and wheat stalks to this creamy faux pink pumpkin, and your vignette will be all set for some tonal, subtle fall feels. This style is probably your best bet for mixing in with real "Porcelain Dolls" if you can find them, as it's the closest option out there on the market in terms of size, color, and texture.
Shiraleah Medium Pumpkin Pillow
Okay, so you're not going to fool anyone into thinking this is a real "Porcelain Doll," but that's not the point. This pink velvet pumpkin can actually be used as a pillow, and one would be a fresh, fun way to dress up your sofa for the season.
Use these tiny felted wool pumpkins as dinner table decor. For maybe the easiest ever place cards, set one on each plate and use them like pin cushions by attaching a name written on a slip of paper to each pumpkin with a straight pin.
Artificial Gold Brush Pink Pumpkins
Seven pumpkins come in this sweet set, which features decorative gold brushstroke accents. Group them together on your porch or in front of your fireplace to create an festive "pumpkin patch" or your own, or split the pieces up to bring a little bit of fancy Halloween flair to every room in the house.
Bet you didn't think pink pumpkins could get any more glam than gilded brushstrokes, but they can. Enter these rose-colored mercury glass styles, which are available in three sizes. Pair a couple with lit candles, and they'll sparkle and glow.
2″ X 3″ Glass Pink Pumpkin Cup
If you'd prefer your pink pumpkins to hold candles instead of be displayed alongside them, these little votive holders are for you. At less than $2 a pop, you can afford to use them to line your whole mantel, dinner table, or even windowsill.
Buy: 2″ X 3″ Glass Pink Pumpkin Cup, $1.43 each from G&G Distributors
If you want to paint your own pink pumpkin that'll last forever, all you need is a ceramic design. At 7 inches tall and 6 inches in diameter, it's a nice size for a centerpiece.