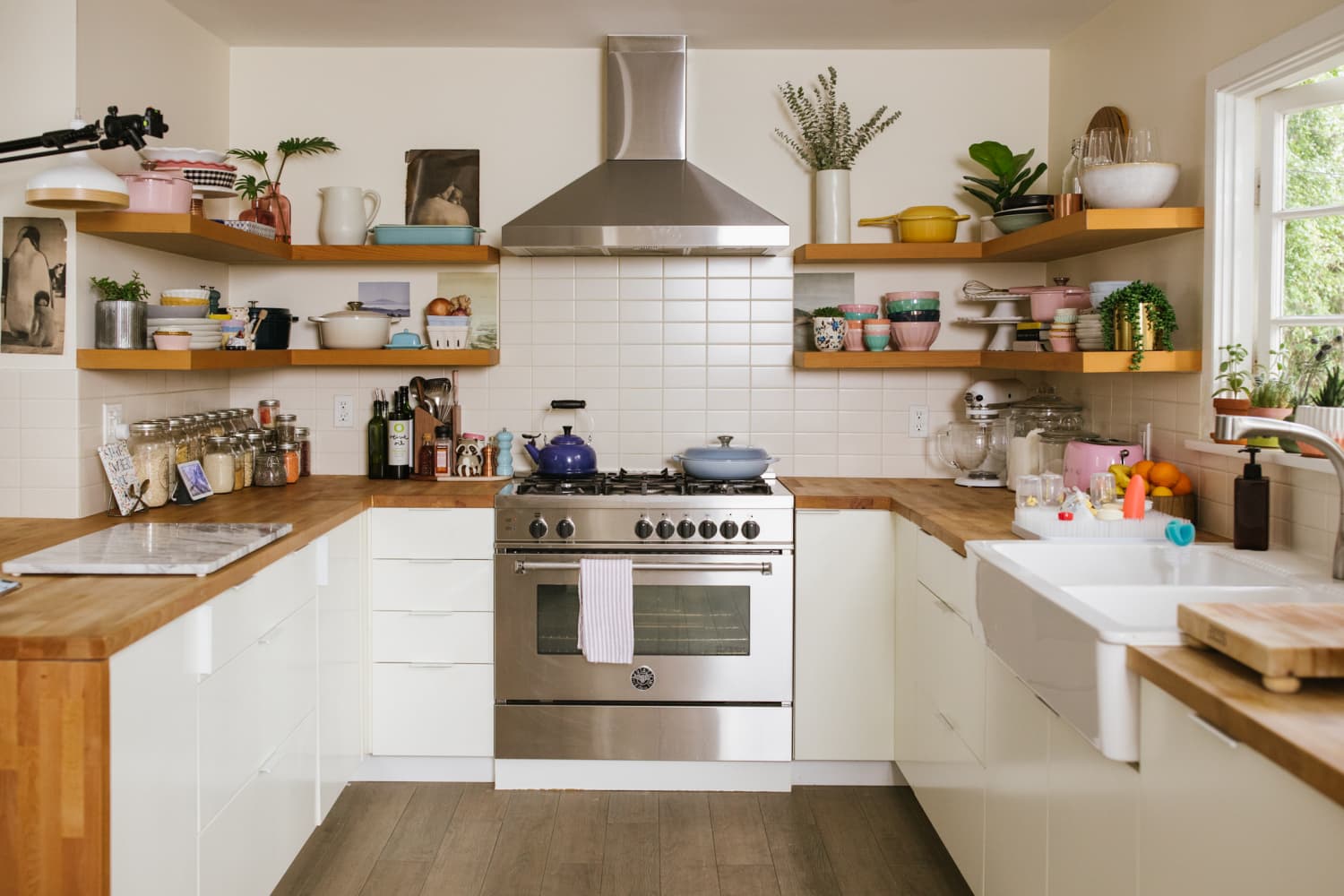 We independently select these products—if you buy from one of our links, we may earn a commission.
While shooting "The Honeysuckle Cookbook," YouTuber and recipe developer Dzung Lewis realized it was time to revamp her kitchen. The space had good bones and warm, airy finishes—a subway tile backsplash and farmhouse sink as well as open slab-style shelving and butcher block counters from lKEA. On the whole, though, the decor was kind of an afterthought, and all of Lewis' cooking tools were taking over the space. Far too many pots, pans, and serving dishes were crammed onto the shelves, and all of the multi-colored pieces made the space feel a little chaotic and cluttered.
"When I first decorated, more was definitely too much," says Lewis. "I wanted more design and style in the space." So she began putting together a mood board to create a kitchen that would shine in her cooking videos and food photography alike. These five styling tricks got Lewis to her end goal of a more deliberate, personality-packed cookspace—and they can get you there, too.
Pick a palette that makes you smile
In perhaps maybe the best occupational hazard ever, Lewis had amassed dozens of cake stands, Dutch ovens, prep bowls, dishes, and countertop appliances from shooting recipes for her YouTube channel, website, and various social accounts. None of these items fully matched or even remotely hung together color-wise, however, when she placed them on the open shelves in her kitchen. When it came time to restyle, the first thing she did was hone in on a tight color palette that she loved—candy-colored pinks and blue-greens with hits of sunny yellow and white peppered in for some visual relief. "I didn't want to go with all neutral colors because that can sometimes be bland and boring—I wanted the backdrop to our cooking videos to still look colorful and fun," says Lewis.
Lewis pared back her cookware and serving collection and any important pieces that didn't fit the chosen color scheme were stored out of sight in her base cabinets. Sticking to a defined palette for functional accent pieces helped her infuse the kitchen with a little bit of a retro look, and it also made the space more visually cohesive and calming on the whole.
Designers and pro organizers alike agree on decanting dry ingredients and frequently used pantry items the same way you would spices. It's important, however, to be strategic about what you choose to put things in and how to best set up a system that works for your individual needs. Lewis went with inexpensive clear mason jars, which help her see exactly what she's looking for as she's cooking.
As great as spice racks can be for maximizing vertical space, Lewis' walls were already full of open shelving for larger pieces, so she decided to forgo a wall-mounted solution for all of her bulk items. "Take your time and really think through how to make the space functional for you," says Lewis, even if what you arrive upon isn't the norm for other kitchens. Since she has ample counter space, Lewis could easily form rows with her bulk items using three different sizes of containers. This less-formal but still visually organized arrangement works for her, and she doesn't have to worry about heavy items weighing down her open shelving, either.
Work a waterfall counter—and oversized cutting boards—to make simple finishes feel special
Lewis' plain-front white drawers and base cupboards might read a little cold if it weren't for the warm, butcher block counters from IKEA sitting atop them. This pairing softens the contemporary lines and starkness of the cabinetry. Furthermore, extending the counter down the sides of the cabinetry with a waterfall feature gives the kitchen a custom look, even if the counters themselves are made of a more utilitarian option.
As far as accessorizing goes, anchoring key appliances on large marble cutting boards, like the espresso machine above, gives a favorite piece pride of place and ups the luxe factor of the space by introducing another material to the mix. Lewis put another large marble cutting board on the counter opposite her sink for visual balance. It's also a great background that's always at the ready for shooting beauty shots of finished dishes.
Bring in art that inspires you
To put a personal stamp on her kitchen, Lewis turned a small stretch of blank wall space (over the area where she keeps dishes, glasses, and mugs that her family uses everyday) into a makeshift mood board. She pins up photos, clippings, and other ephemera that she loves here, and the colors work with the calming shades that run throughout the rest of the space. Don't be afraid to mix temporary snapshots with framed pieces. Both add dimension to Lewis' setup.
Use plants for color and decoration
Lastly, Lewis added in houseplants to freshen up the space and inject it with a little bit of life. Her windowsill already housed a little succulent garden, so she focused her attention on the open shelving. "The greenery added a nice pop of color and interest," Lewis says. It may be tough to tell from her photos and videos, but some of the plants are actually fake. If you don't think a plant will get enough light in a certain area, go faux. Mixing fake plants in with your real ones is often the trick to making yourself look like a true green thumb.
tinyurlis.gdv.gdv.htclck.ruulvis.netshrtco.detny.im
آموزش سئو