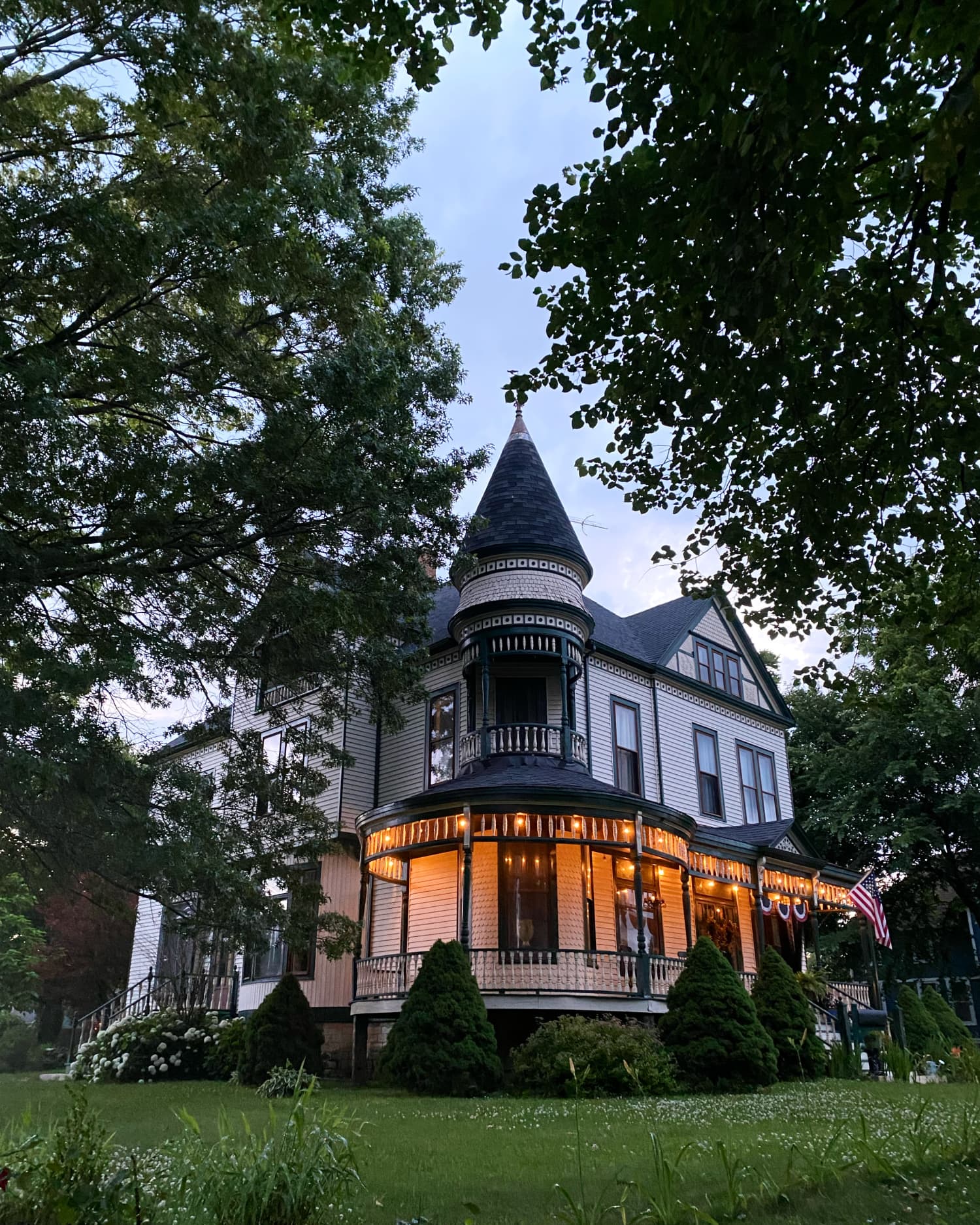 We independently select these products—if you buy from one of our links, we may earn a commission.
Name: Kyle Jensen-Jimenez, my husband, Large Marge our dog, our two cats Chicken and Templeton, and currently our baby foster daughter!
Location: Chicago, Illinois (an hour south in a tiny historic town)
Type of home: House
Size: 4000
Years lived in: 3 years, owned
Tell us a little (or a lot) about your home and the people who live there: My husband, Mike, and I bought this home specifically to start a family. It's a large, gaudy Victorian built in the 1890s with so much original everything intact! Stained glass throughout the main level, the wood trim was painted very early on and possibly forever, turret, rounded walls, etc.! (Very Victorian, you get it!) We've renovated it mostly cosmetically and it is forever evolving.
We have a huge love for horror and Halloween. I do some fun, cheap, and unique decoration come Halloween! You can creep my Instagram around last September and October if you're interested to see the creepy ambiance and atmospheres I've created. We want our home to feel atmospheric, while being comfortable and family friendly. We want everyone to feel welcome and at home. Our style is definitely inspired through antiques, moody deep, saturated colors, and a little kitschy fun too. I'm also an artist so a lot of the art throughout our home are originals, done by me for fun and usually specifically for each space.
Describe your home's style in 5 words or less: Eclectic, moody, creepy, vintage, Victorian
What is your favorite room and why? The parlor would be my personal fave! It's very antique, a bit mysterious, and comfortable. An eclectic gallery wall, including past owners, palmistry, odd vintage and antique photos. We have a built in turret seat where a round antique table sits, perfect for simple meals and enjoying rain storms as cliche as that may be lol! Almost everything is second hand in the parlor and throughout the home. It's been so fun slowly collecting and enjoying our found treasures in this room!
What's the last thing you bought (or found!) for your home? The most recent is actually our Article couch. We'd been searching for over a year and ended up with the Sven Sofa in Black. It's amazing and a dream! I can't believe it! Usually we buy second hand from thrift shops and antique stores, so I guess you're in luck lol. You very well are probably already familiar though.
Any advice for creating a home you love? Select items you love. I am such a believer that you can make essentially ANYTHING work with the right groupings, color palette, etc. Our home is extremely eclectic and I don't think I could have it any other way. I have a love for so many different eras and styles. I just find ways to make it work! Treat yourself to the items you fall in love with and indulge every once in a while on pieces you normally would *allow* yourself to have. Chances are those will be pieces you love for a lifetime. There is no worse feeling than going hunting for treasures, not buying an item you've fallen in love with… then going back a few days later to find it's gone. I've had a few items that have haunted me for years for not snatching up lol!! The ones that got away…
This submission's responses and photos were edited for length/size and clarity.
tinyurl
is.gd
v.gd
v.ht
u.nu
clck.ru
ulvis.net
shrtco.de
tny.im