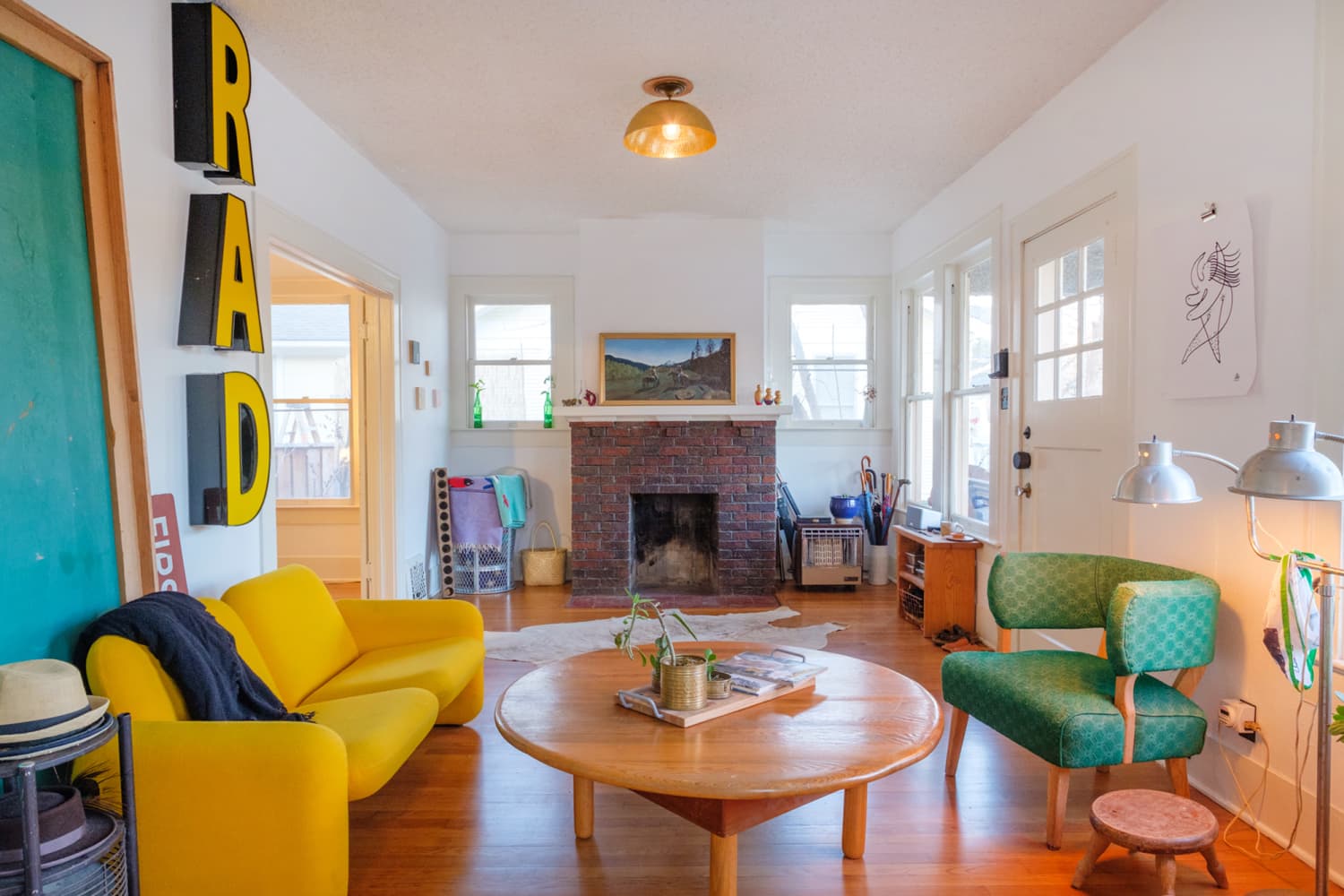 We independently select these products—if you buy from one of our links, we may earn a commission.
Name: Noah Marion
Location: Alridge Place just south of Hyde Park in Austin, TX
Size: 2,500 square feet
Years lived in: 3 years, owned
Have you ever put on an old pair of shoes and a sense of calm just pours over your body as you stand to take your first step? That's how this old 1926 charming bungalow feels for me. Every night after work when I turn left on my street and glance over the park and see the University of Texas at Austin Tower lit up, I feel a sense of calm flood over me. I walk up the steps and always take a moment to look out on the park, which is basically my front lawn (super lucky, I know), and then take off my shoes before going inside. It took a lot of elbow grease and love to get this house to feel like a home. I even remember a friend telling me I was making a huge mistake before I moved in. Oh was he ever so wrong! But with some help from about four friends, we power washed, painted, scraped, replaced light fixtures, fans, appliances, toilets and voila, its bones were polished and could truly shine.
If I had to pick a favorite part about this house, which is hard to do, it would have to be the view from my bed, past the sunroom and out over the park while watching the sun rise. I can easily tell you my least favorite part; no central air or heating, which in Texas is NOT a luxury, let me be clear! However, this house brings me peace; it's very old, very quirky, and very interesting. At the end of the day, there's no place I'd rather be; listening to some music, sitting on my front porch, having friends over for dinner or just reading on my little green chair. Oh and also, just watching people hang out and walk in the park every day is really friggin' special.
Apartment Therapy Survey:
My Style: Collected, thoughtful, and full of stories and art from friends.
Inspiration: I am always inspired by the way things used to be. My grandpa's time, the way way back.
Favorite Element: The sunroom. I almost never actually sit in it, but sitting in the living room or in my bed looking past it like a painting is genuinely joyful. And it is the reason my house stays cool in the summer by creating cross ventilation! And getting to test out all my prototypes for Noah Marion.
Biggest Challenge: Repainting, power washing, and stripping the floor of old linoleum in order to bring out the beauty that had been hiding under nasty yellow walls and broken fixtures and about two million cobwebs. It was all worth it.
Proudest DIY: Well the kitchen did not look or function the way it does now when I moved in. There was a miniature apartment fridge, a gnarly old white stove, and no place to prep. So I redid it and built the spice shelf and now it's so functional and lovely and happens to fit within a millimeter, which was my proudest moment.
Biggest Indulgence: I would say the Boos block table in the kitchen because I could've done without it, but then where would I create all the yummy food!?
Best Advice: Never be afraid to try something wacky; you can always go back if it's a disaster. And don't buy everything at once; wait and search and only bring in items that spark joy or have a memory attached to them.
What's your best home secret? I am an organizing machine; my best home tip is getting one of those old clicker tape labelers, it's so satisfying and looks so good when you obsessively label everything.