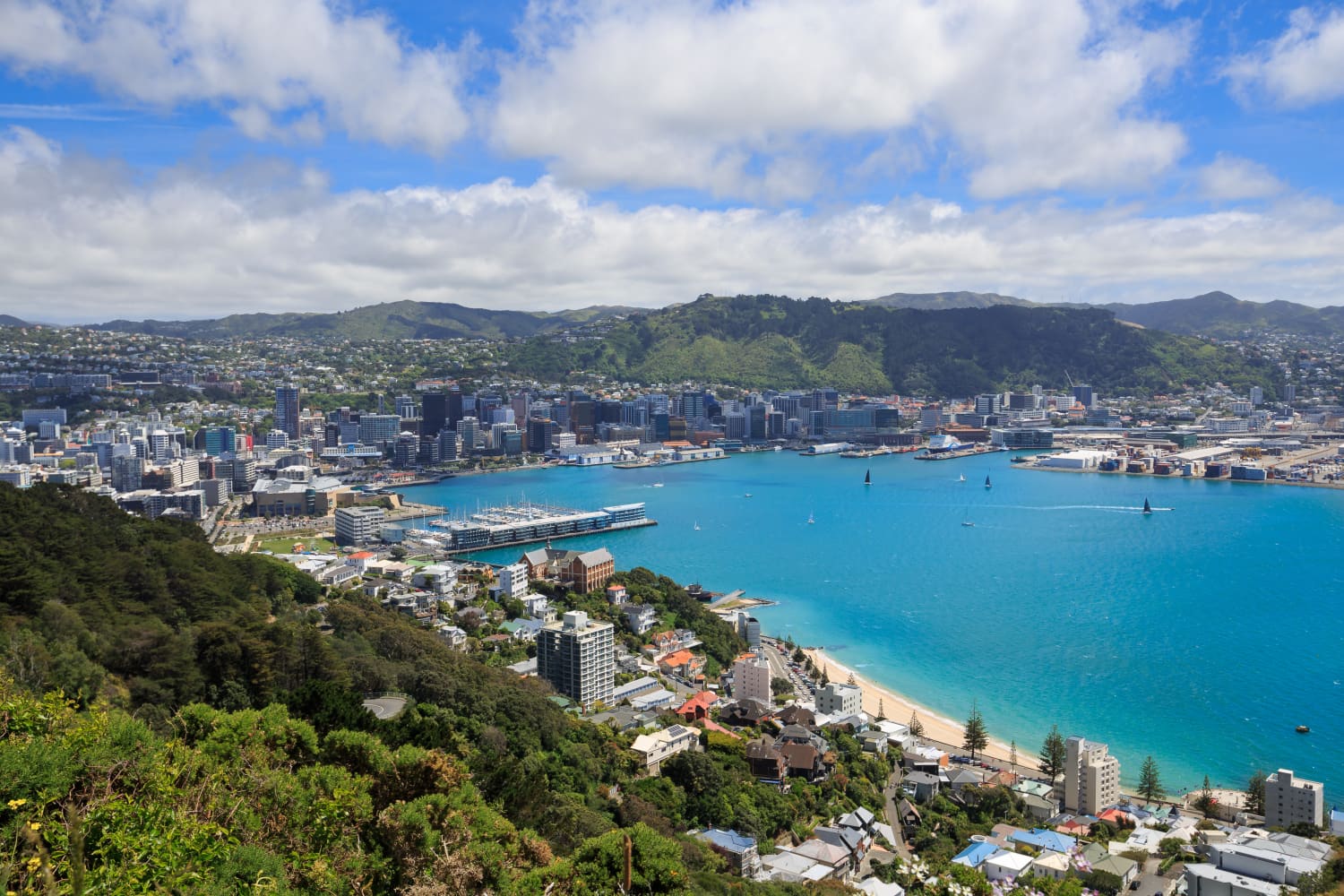 Whether you've been dreaming about moving to New Zealand ever since you first laid eyes on the otherworldly landscapes in "The Lord of the Rings," or you've been flirting with the idea of immigrating to another country recently, this island nation's pristine mountain views, small, easygoing population, subsidized healthcare, and its rising superstar prime minister Jacinda Ardern all make becoming Kiwi look pretty good right about now.
But with COVID-19 immigration restrictions, a somewhat complex process to gaining residency, and constraints on real estate transactions for foreigners, moving to New Zealand is, unfortunately, not as simple as trading in your stars and stripes for a New Zealand ensign. Interested in making the move to the South Pacific? Here's what you need to know.
First things first, COVID-19 is halting immigration and travel
If you're thinking about moving to New Zealand, unfortunately due to travel restrictions, your relocation plan will likely remain a fantasy for the foreseeable future. According to Immigration New Zealand, the country's borders are closed to anyone but residents and citizens as well as their immediate family members in order to stop the spread of COVID-19. (Through a heroic and coordinated effort, the Kiwis have largely crushed the disease and aim to keep it that way.)
What about moving to New Zealand when the pandemic is over?
Assuming immigration policies pick up right where they left off pre-pandemic, there are a few ways you can legally reside in New Zealand once it is deemed safe to do so. There are a couple of temporary visa options—a working holiday visa, which allows younger visitors (ages 18 to 30) to reside and work in the country for up to a year, and an essential skills visa, which is for those who have been offered a full-time job with an employer.
Interested in staying longer-term? You can achieve that through a work to residence visa, which is a two-year program where you work full-time for an accredited employer and then apply to gain residency. You can also get residency through a skilled migrant visa, which is a bit trickier to achieve, and involves qualifying through a points system—the more points you earn, the likelier it is you'll gain residency. The immigration office favors things like an advanced degree, an offer of employment from a company based in the country, youth (55 years or younger), and solid work experience. If you're curious how attractive of a candidate you are, you can actually do a preliminary calculation on their website.
Renting and buying a home in New Zealand isn't cheap
Living life as a Kiwi is extraordinary—kayaking on turquoise lakes, exploring the geothermal activity on the Pacific Ring of Fire, attending your first Maori hāngī (a traditional New Zealand-style barbecue where food is cooked on hot stones)—but it's also costly to put down roots there.
"I would say in Auckland, buying a house is around the cost of San Francisco Bay Area suburbs. It's getting a bit better, but renting is still more affordable than buying, like in San Francisco," says native New Zealander and permanent U.S. resident Anna Rider, who also has a food blog where she often discusses dishes from her homeland.
Loren Lopez, an agent for REMAX in Warkworth who is originally from Hawaii, says that the real estate market is not only expensive, but the inventory is also quite a bit different than homes in America—namely that they're not as large and don't often include things like large convection ovens, granite countertops, or even washers and dryers. (Many Kiwis, no matter their income level, will usually hang out their laundry outside to dry.) You also won't often find air conditioning, as the climate is temperate enough not to need it.
"When we watch American [real estate TV] shows here, my partner, who is Kiwi, always comments on things like the granite countertops or things of that nature," Lopez says. "She's like, 'Why the hell do you need two sinks?'"
As far as the logistics of purchasing a home as a foreigner—you essentially can't, per new government laws, unless you establish residency. If you do establish residency, the real estate transaction process is also a bit different than it is here in the states: Agents work primarily with sellers, but will assist the buyer with showings and guide them through the negotiations, according to Lopez.
Another thing that might surprise Americans? Rent is due in weekly installments, not monthly, and the deposit is typically four weeks' worth of rent, according to Lopez. Rents can range depending on the city you choose to live, but in Auckland, the rents are rising to about $600 per week.
Kiwi culture is open, friendly, and environmentally conscious
Beyond the expenses and the hoops you have to jump through to gain a visa or residency, once you make it to the island nation of less than five million, you'll find that things are a bit slower (and perhaps a bit friendlier) than in America.
"Even people in Auckland—in the biggest city—people are smiling and so neighborly. People take you into their homes, no question. It's a small place, and we're happy to meet new people and visitors," says Lopez.
Kiwis are also more environmentally conscious, says Rider, who grew up having "rubbish duty" and learned about water conservation and recycling in school.
"We learned to take care of things more and to fix things or patch broken possessions instead of buying things new. I think partly because things are super expensive. My friends shop for second-hand household items more than Americans typically do. Many of us know basic sewing to patch our clothes," she says.
You also won't find many lawns with perfectly trimmed green grass, says Lopez.
"You just won't see a manicured lawn with the sprinkler system. It rains a lot here, but when it doesn't, you'll see people not minding if their yard is bare," she says.
New Zealand is fairly isolated
As beautiful as the landscape is, and as many outdoor opportunities as there are to explore—surfing at Raglan, cruising Milford Sound—New Zealand is fairly isolated, which means longer flight times if you want to travel, more expensive shipping for shopping online, and less consumer choice compared to America.
"There's no Apple store, so when my laptop broke I had to go to an Apple-approved third-party repair shop," says Rider. "No Genius bar!"
"Be open minded and enjoy life. It's different. It's not America, so just be open to a totally new way of living life. People here just enjoy it a little more," says Lopez.