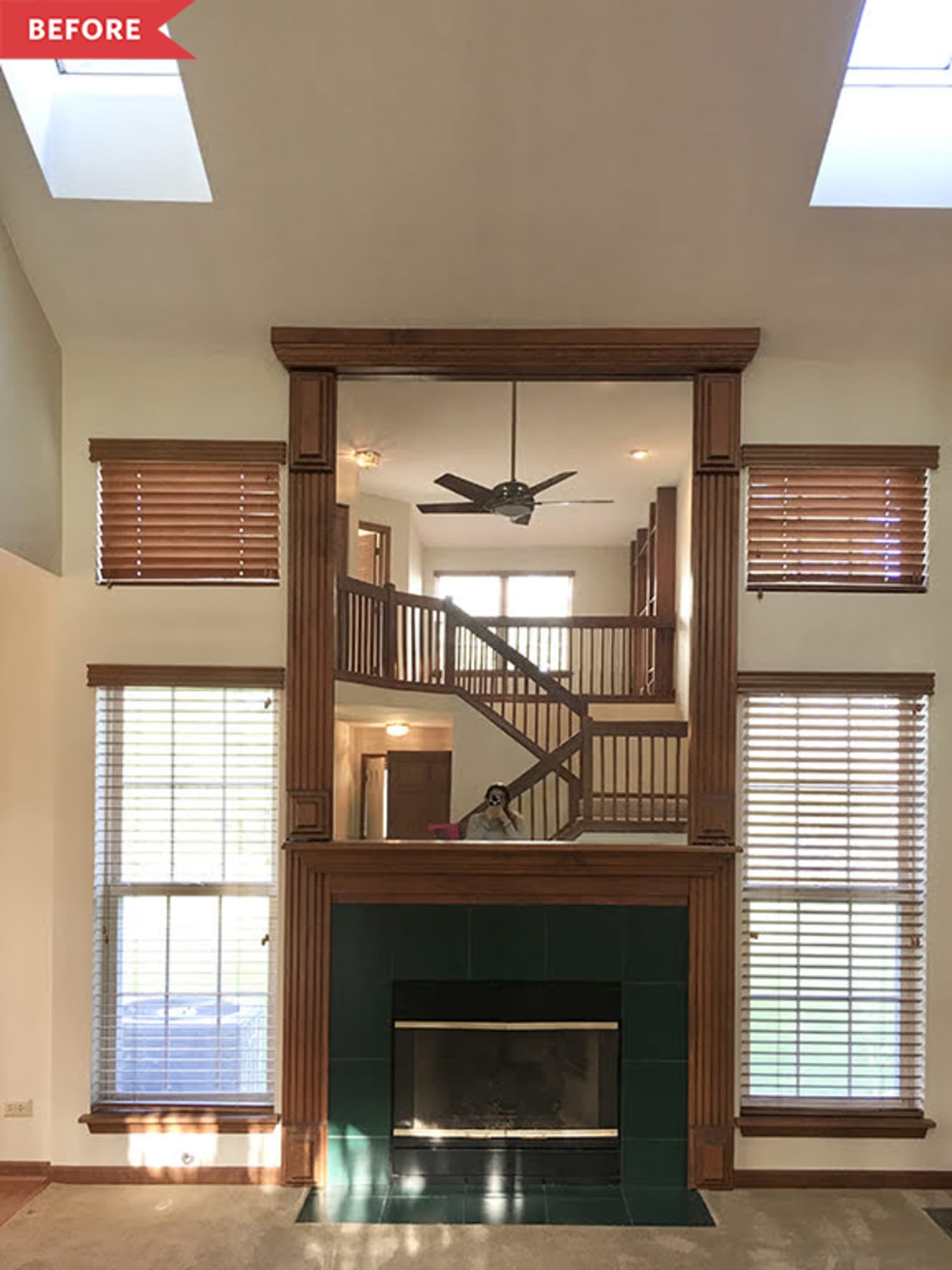 Decorating with mirrors is a great way to make rooms look bigger and brighter—but mirrors can sometimes work a little too hard. When Richa Bista (@richa_bista_) and her husband Kalyan Kandel moved into their 1995 townhouse, their living room was full of mirrors. Like, really full. "The two-story living room had mirrored walls including one above the fireplace. It created an illusion of more space, but it looked way messier," Richa says. "Don't get me wrong, I like mirrors, but these gave me a scare every time anything moved, including my own reflection."
Not to mention, the rest of the living room was lacking brightness. The dark 1990s oak looked dingy and dark, and the green tiles around the fireplace "stood out in an ugly way," says Richa. But the space had high ceilings and open sight lines going for it, so Richa and Kalyan wanted to play both of those up. "The fireplace is a focal point of the living room and had so much potential. It screamed it needed some TLC," says Richa. And, she adds, "after completing our first DIY renovation project of our kitchen, we were confident in our abilities to tackle other renovations in the house by ourselves. The fireplace seemed like it was a quick project without breaking our bank!"
Rather than replacing the fireplace altogether, Richa did magic with paint. She painted the brass accents on the face of the fireplace with a heat-resistant back paint, then used white and black paint plus a star-patterned stencil to cover up the green tile surround and hearth. "It requires patience and precision," Richa says. "If you are not careful, you will end up with paint bleeds and touch-ups." White paint totally transforms the trim and baseboards, making them look bright and fresh. Total cost for the fireplace was just $149, but it looks brand new.
"I loved the idea of having mirror above the fireplace. But the existing mirror was too big for the space and my goal was to replace with smaller size," says Richa. So she and Kalyan removed it—and hired pros to remove the ones on the other wall, for safety—then patched the drywall behind it. (Pros replaced the old carpet, too.)
Once the drywall was patched, Richa and Kelyan cut plywood into boards and nailed them up to fake the look of shiplap, both over the fireplace and on the wall where the rest of the mirrors used to be.
"We now have a bright, fresh and clean space that we use a lot to sit by the fireplace in chilly Illinois nights and watch our favorite TV shows," Richa says. "Also, it gives us a sense of satisfaction and accomplishment in creating a beautiful space with just plywood, paint, and a nail gun."
Inspired? Submit your own project here.