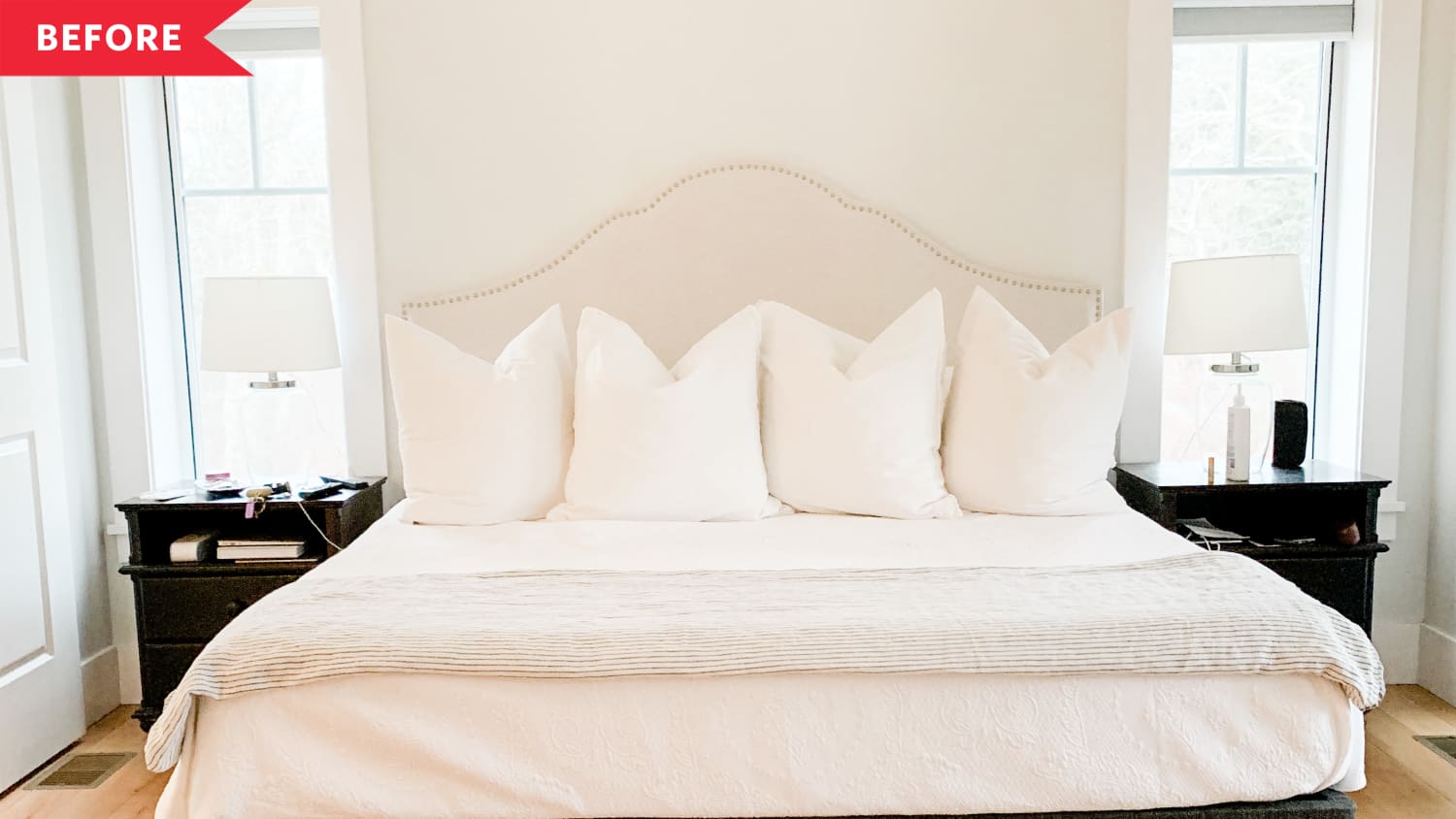 We independently select these products—if you buy from one of our links, we may earn a commission.
Big, empty walls can feel like a drag, especially in a space that's already minimally furnished and mostly white. But they also offer plenty of options: gallery walls, giant statement artwork, or dramatic wainscoting.
Deena Knight originally had art in her bedroom, leftover from the previous owners. "When we purchased this home, the previous owners described it as furnished," she says. But really, that just meant partially furnished, and included just a piece of artwork and two nightstands in the bedroom. "When I purchased a new headboard the artwork was too low and I didn't really love it do I took it down, leaving a big empty wall—and with the vaulted ceiling, it felt even more so," Deena says.
Since this wall was visible from the kitchen, it felt especially important to make sure it wasn't just a boring blank space. "It felt like the perfect place to add some interest, so I decided to create an accent wall," Deena says.
Deena chose a couple favorite inspiration photos and polled friends on Instagram; when it came in at an exact tie, she picked the easier design of the two. After some practicing on grocery bags to get the feel for the size and arrangement she wanted, she set to work.
Deena was able to use leftover paint in an ocean-y blue (Benjamin Moore's Water's Edge) to create her geometric accent wall, so the only cost was for the new paintbrushes, which were just $2 each. As for the layout, Deena was brave: "I didn't use any guide marks or rulers. I relied on rhythm to keep it straight," she says.
The freeform style makes the pattern feel more handmade and artistic, and turns the entire wall into a focal point. "I love the visual impact! People think it's wallpaper whenever I post a picture of it," Deena says. And if you're thinking about playing around with some paint leftovers, Deena says, "Go for it! Have fun! It's just paint. If it doesn't work out, you can always paint over it."
Inspired? Submit your own project here.