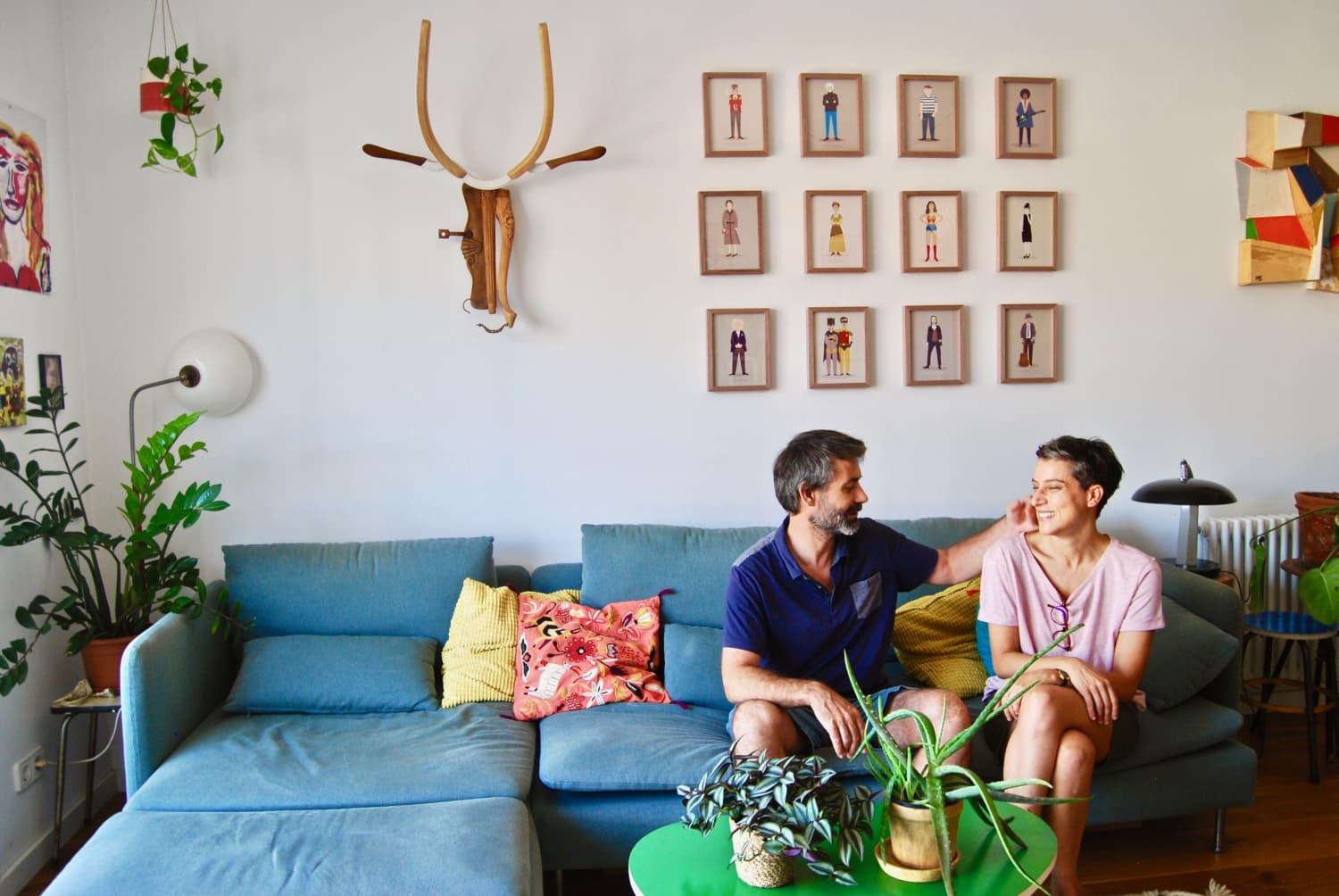 We independently select these products—if you buy from one of our links, we may earn a commission.
Judy and her partner Marc instantly fell in love with this apartment when they first saw it. "We had searched for years and we saw too many so when we entered this one for the first time, we had no doubt that this was the place," she says. "We like the light that comes in, the open space and since we are both foreigners, we love having a good place for all the visits we receive. What we enjoy the most is the time we spend having breakfasts together, and the nights with friends in our small terrace."
Judy Kaufmann is a Barcelona-based illustrator who's worked with clients all over the world, and publications like the New York Times, New York magazine, and more. Her colorful and cute work is also seen in children's books, like "Camouflés, cherchés, trouvés!" and "Mon quartier". Marc Sparfel is a sculptor, and his work features bold colors and interesting shapes (one is hanging on the wall in the photo above). Together, they've designed a fun, creative space.
Apartment Therapy Survey:
My Style: Eclectic, colorful, and cozy
Inspiration: Flea markets from all over the world, art and objects made by friends, and many wonderful things found on the streets.
Favorite Element: Chairs. We've many more chairs than necessary, but they are our favorite objects. We even brought one from Tel Aviv and another one from San Sebastian. Both found on the street.
Biggest Challenge: We love so much collecting, finding, and remembering our trips with objects; we find it difficult to stop filling the house.
Proudest DIY: We've a few ones!
Biggest Indulgence: The distribution [layout]. We love to live in a place that we can share so easily with all the visitors we receive.
Best Advice: That the place, whatever it is, always has natural light.
What's your best home secret? One thing we wanted to do was not put high [cabinets] in the kitchen. We preferred to leave it open and leave what we use every day in sight and easy to reach.