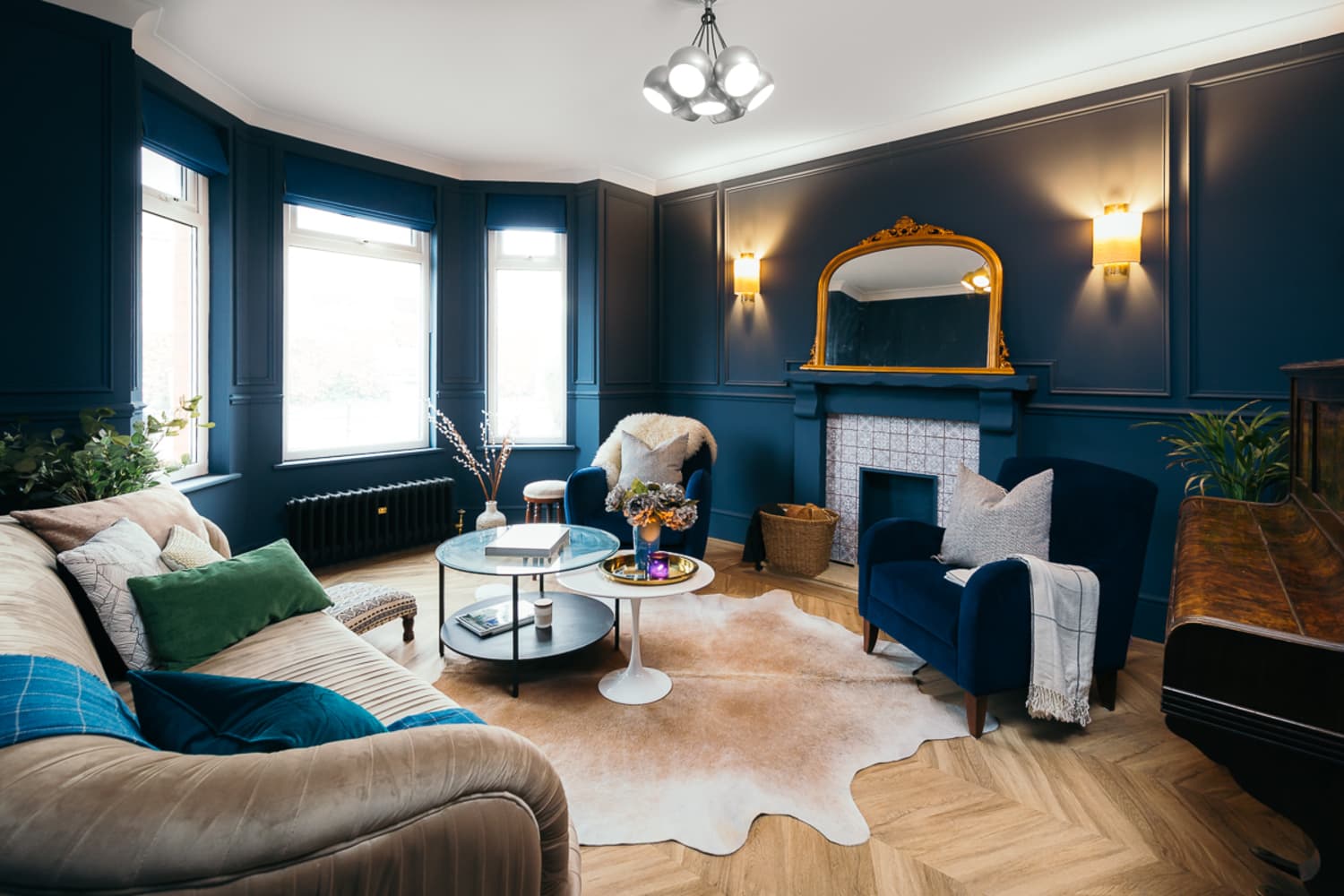 We independently select these products—if you buy from one of our links, we may earn a commission.
Name: Angie Barron and Carl Graham
Location: North West England
Size: Three bedroom, semi-detached house with a loft conversion and two out buildings
Years lived in: 1 year, owned
I am an interiors stylist with a penchant for bold and colorful interiors. My home is a shade of blue feast, which I share snippets of and other lifestyle bites over on my Instagram page called Something Blue Home. My eclectic style mixes the house's Edwardian Period heritage with bold color, beautiful artwork, and traditional elements. I eat, breathe, and sleep interiors and I've just launched my virtual interior styling and e-design support service, having previously worked with a large international interior design studio. My home is a burst of bold color, patterns, and print. I love to keep things refined by playing around with the tones and hues of the color blue whilst mixing it with pops of accent colors here and there. I have no rules when it comes to decorating, just find it, buy it, and style it!
As soon as you walk in, you're greeted by the vibrant splash of color on the banister! I chose to paint the banisters yellow as I like the idea of having something unusual and unexpected in a space. I do that a lot with color and I think it's a great and fun way to experiment with your decor. When we first moved in, it was all beige and I couldn't wait to put my own stamp on it. We entertain a lot, and we don't go out as often as we'd like due to busy working schedules, but we love to have our friends over. I wanted to create a cozy home that we can entertain, dine, and also just relax in.
For as long as I can remember, I've always been drawn to blue. I love the classic combination that you see in blue and white export china. I also like to wear a lot of navy blue. I wear navy like most people wear black. There is just something so delicious and enchanting about blue. I took a holiday to Mykonos in Greece some years back and I was just bowled over by this Cyclades island… the blue and white houses, the gorgeous color of the Aegean Sea, and the blue of the Greek sky! Divine! I guess for me there's just something very uplifting and alluring about the color blue.
The thing is I love color, not just blue, but all colors. I find color incredibly effective in creating different moods in the home. In my home, I have gone for the darker, richer, inkier blues because they create the most beautiful and cocooning atmosphere, which is always the look I want to create in a room! When we first moved in, all the walls were magnolia and I could not wait to get the paintbrush out to transform them. I DO like neutrals—it's just that I need to feel a certain way when I am in my home and I create that feeling through bold color, mood lighting, and lots of texture!
Apartment Therapy Survey:
Our Style: I would describe our style as an eclectic cocoon. When decorating, I believe you should always start with how you want to feel in that room. So that's what our style is; we don't subscribe to one style in particular but we like to blend and mix pieces from different eras. I guess one thing that is always constant is color; we must have color in our home as we find it very comforting and a great way to have fun and express your personality.
Inspiration: I get inspired a lot by my surroundings, the outdoors, and color I see in nature as well as in photographs and magazines. I think there is a lot of inspiring content online and it can be easy to get overwhelmed with. I love the classic collections and sensibilities of Ralph Lauren Home and the way Tory Burch uses color. However, I always say to clients when trying to find your style, always remember that it is your house, your space, and it doesn't matter if it is too dark or too bright for your neighbors or friends/family. Don't worry about that. Focus on what brings you joy and makes you happy. Focus on how you want to feel in your home. Yes, there are trends but try not to be led completely by trends as these will eventually get swapped out when the trend fades. Your home is your sanctuary and safe place so it is important that you feel comfortable and you choose colors and features that make you happy. I still get a buzz of joy whenever I see our yellow painted banister!
Favorite Home Element: Definitely the blue-paneled room! It feels very grand but yet it still feels quite laid-back. We have a 125-year-old piano and our formal dining table—which folds down completely when it's not being used. It doubles up as a music room, dining room, and even a games room sometimes. It has modern as well as antique pieces that blend well together. The curved sofa is a bespoke piece that I love—its sleekness and smooth velvet pops against the very dark matte blue walls. I like to blend different styles as I feel this is what makes a house a home and gives it character.
Biggest Challenge: I oscillate with wanting to keep countertops clear all the time to wanting to get more stuff to style in the space! It's a tough one… so every so often I pack things away in a box for some time and then bring them out again! It seems very odd but it works!
Proudest DIY: Absolutely will have to say our IKEA hack/KALLAX unit. It was left here by the previous owners and my plan was to turn in into something more stylish and impactful.
Biggest Indulgence: I'd have to say our kitchen was a big splurge. Being able to have bespoke joinery and designing every little inch of it has been a real joy and expense!
What's your best home secret or advice? Hone in on the feeling that you want to create in a room first, then start from there. Pick your fabrics first! Paint is always the last thing!
What do people most get wrong about using color in their home? I think they get scared, they're afraid of getting it wrong and it means they never push themselves out of their comfort zones and I believe this is where the magic is—experimenting and being brave and bold with color.
What are the biggest tricks/secrets to using color in decor? Paint the skirting boards [baseboards] out in the same color! Game changer! Makes the room look higher too… and if you want to go further, do the trim and the ceiling if you dare!
Favorite wall paint color of all time: Ohh… this is so hard… too many to list here, I have at least 20! Okay I'll pick one: I'd say Farrow & Ball's "HAGUE BLUE!" It just gets me every time I see it… the jeweled tone green undertones are divine!
tinyurlis.gdv.gdv.htu.nuclck.ruulvis.netshrtco.de
آموزش سئو