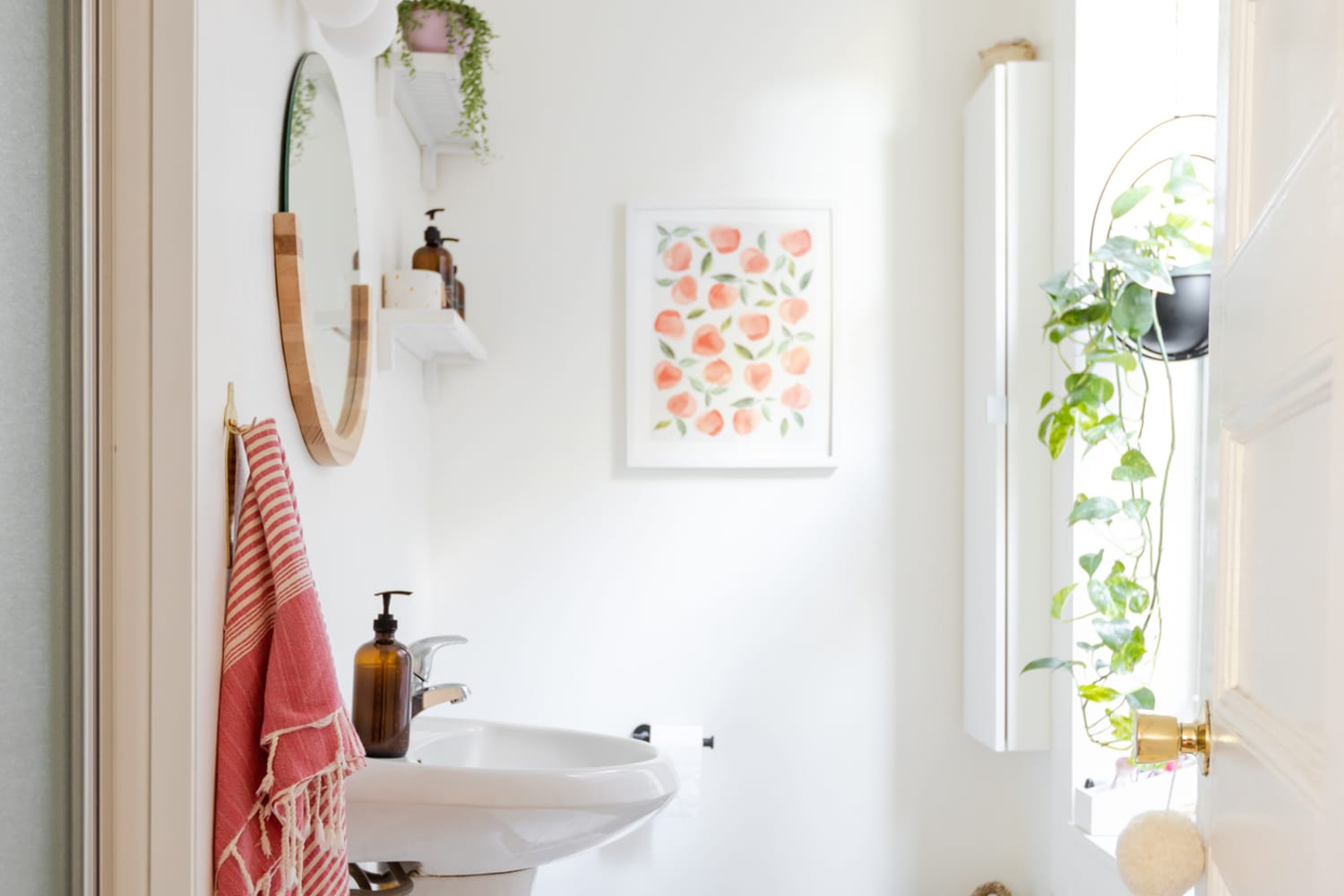 We independently select these products—if you buy from one of our links, we may earn a commission.
Let's have a round of applause for all the tiny bathrooms out there, because they don't always get the credit they deserve. Here's to you, petite powder rooms, little lavatories, and teensy toilettes, for doing more with less.
Maybe there isn't room for an enormous clawfoot tub or enough counter space for your ever-expanding collection of skincare items in your own bathroom, but that just means there's something to strive for in your next space. In the meantime, the internet is bursting with IKEA hacks to help you squeeze every last drop of function out of even the smallest of spaces.
There are inventive new uses for kitchen shelving, a makeup organization tip that walks the perfect line between form and function, and a genius (and space-saving!) laundry-sorting method. And of course, all are brought to life with wallet-friendly pieces from the Swedish retailer, some of which you may already have lying around. So read on for eight clever IKEA hacks to make the most of your small-yet-mighty bathroom.
Think vertically by hacking a towel ladder
Create some floating storage
So your bathroom didn't come with built-in storage for your everyday items. Don't let it get you down! Instead, make like Jordan and Brittany Griggs, who equipped the bathroom of their 276-square foot camper with floating storage. The FINTORP series is technically designed for the kitchen, but the couple installed a slender rail over their bathroom sink instead, adding a catchall cup for toothbrushes, toothpaste, and other toiletries.
Install a space-saving laundry system
Julie Christiani of IKEA Hackers was determined to keep her laundry-sorting system in her small bathroom without sacrificing precious floor space. So she mounted two slender TRONES shoe cabinets to the wall, topped them with a sanded and stained slab of oak, and labeled each (in German) with the type of clothing it should contain—delicates, hot and cold wash, and colors. It's a hack that's not only space-saving but also time-saving—what could be better?
Repurpose picture ledges for small-goods storage
When you're working with a shrunken space, every centimeter counts, which is why Instagrammer Alyssa opted for picture ledges as bathroom shelving for her Milwaukie home. Thinner and sleeker than a standard shelf, the MOSSLANDA Picture Ledge is just as perfectly suited to small items like perfume, cotton balls, and adorable little succulents as it is to keeping your framed photos upright.
Or make use of spice racks for slender shelving
Also expanding minds in the bathroom storage department is the BEKVÄM spice rack. It's great for your trusty dried herbs and spices, but the rail makes it an excellent choice for securing nail polishes as well. Depending on your design aesthetic, give it a bright coat of paint for a pop of color, or leave the raw wood as Instagrammer Ricarda did in her neutral-toned bathroom.
Keep a bathtub tray out for permanent storage
There's no need to save your tray for soaks—just as Carrie stored her shoes in the oven on "Sex and the City," you can use your swanky bathtub tray for more permanent storage. Think of the HAVERN bath rack as shelf space you can scoot around when it comes time to shower, just as Instagrammer Kerrianne does in her South Manchester home.
Reclaim forgotten above-the-door real estate
If ever you find yourself stumped on space, simply look up. The above-the-door area is some of the most underutilized real estate in bathrooms of any size, and in small spaces, making the most of it can be a game changer. Install a set of stainless steel BROGRUND wall shelves above the door, and the ENUDDEN hanger over the back of it, and presto! You've doubled, if not tripled, the area you have to work with.
Choose multipurpose items
When you have barely enough space to turn around in, bringing in a furniture item is a big commitment. So make sure you choose one with multiple functions. Instagrammer Rhian chose the bamboo RÅGRUND, a combination chair and towel rack that also serves brilliantly as a display for plants or candles, and provides under-seat storage for backup rolls of toilet paper. This is especially great for renters with strict landlords—you can get the extra functionality without any holes in the wall.