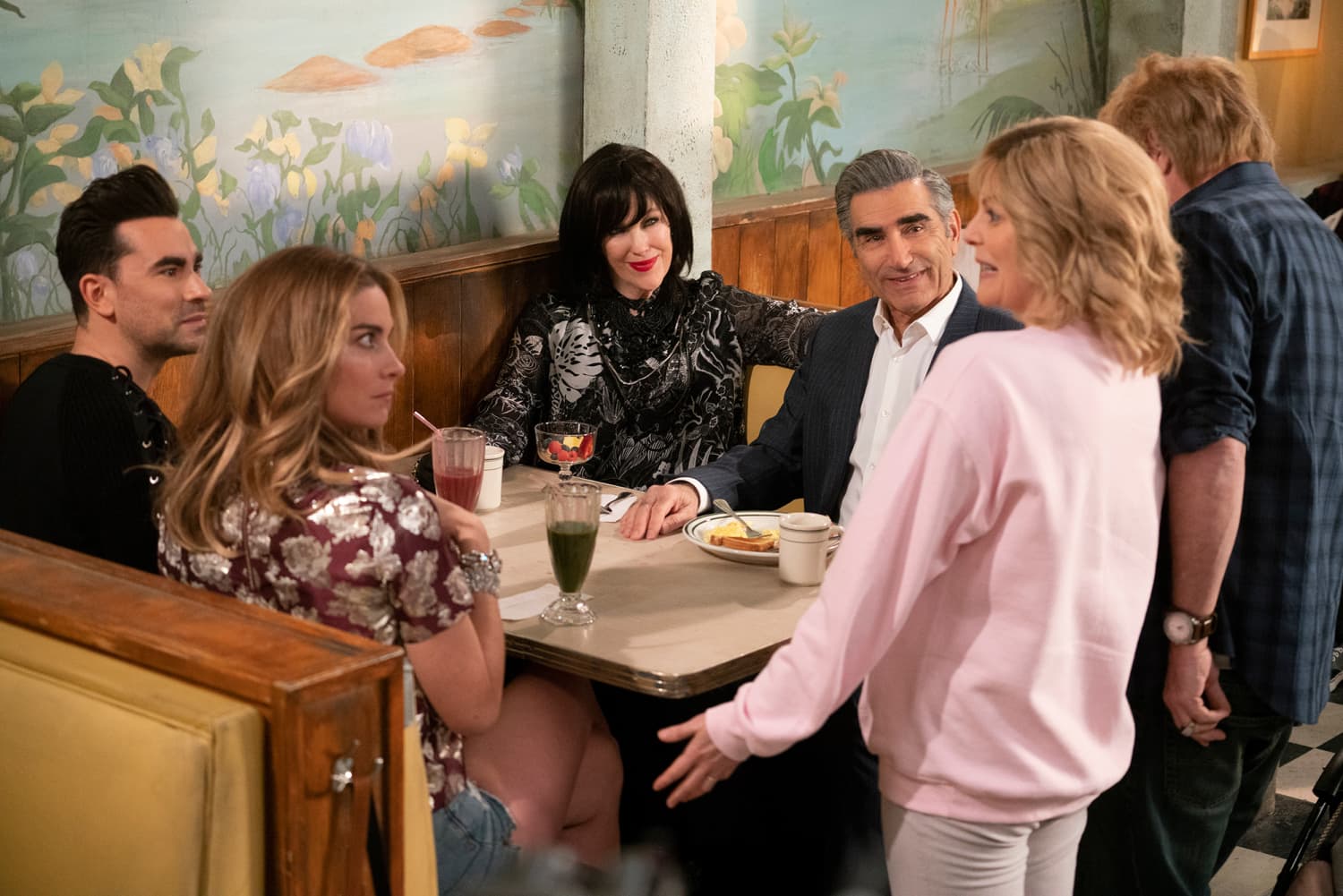 We independently select these products—if you buy from one of our links, we may earn a commission.
After completing its six-season run in April, "Schitt's Creek" has received 15 Emmy nominations at the upcoming 2020 Emmy Awards. The (virtual) ceremony is set to take place on September 20 and will be hosted by Jimmy Kimmel. To commemorate the sitcom's Emmy accolades—such as Outstanding Comedy Series, Lead Actress in a Comedy Series (Catherine O'Hara), Lead Actor in a Comedy Series (Eugene Levy), and Outstanding Supporting Actress and Supporting Actor for Annie Murphy and Daniel Levy, respectively—we've rounded up some whimsical "Schitt's Creek" coaster sets to celebrate awards season this year. (It's Moira Rose's favorite season, after all.)
The Canadian sitcom, created by real-life father-son duo Daniel and Eugene Levy, follows the wealthy Rose family who suddenly find themselves broke. With one remaining asset left (a small town called Schitt's Creek, which they initially purchased as a joke), the family must leave their lavish lifestyles behind and move into a motel in the small town filled with eccentric locals. Over time, they find a sense of real home in the town and among the beloved townsfolk. The sitcom premiered in 2015 on CBC, but after its addition to Netflix in 2017, it received a larger following of fans and became a cultural behemoth.
Daniel reflected on why he believed the sitcom resonated in a GQ interview last November. "It's been amazing to track the political climate with the shift in why and how people are watching television," he said. "I've been able to learn and watch as people who had originally watched our show saying, 'This is very funny! Catherine's accent! The clothes!' Over the years, in direct alignment with what was happening in American politics, the reactions went from 'This is very funny' to 'I need this.'"
Just like we need the sitcom, we need more "Schitt's Creek" apartment merch. Below, shop five "Schitt's Creek" coasters to use with those glasses filled with fruity wine from Herb Ertlinger Winery.