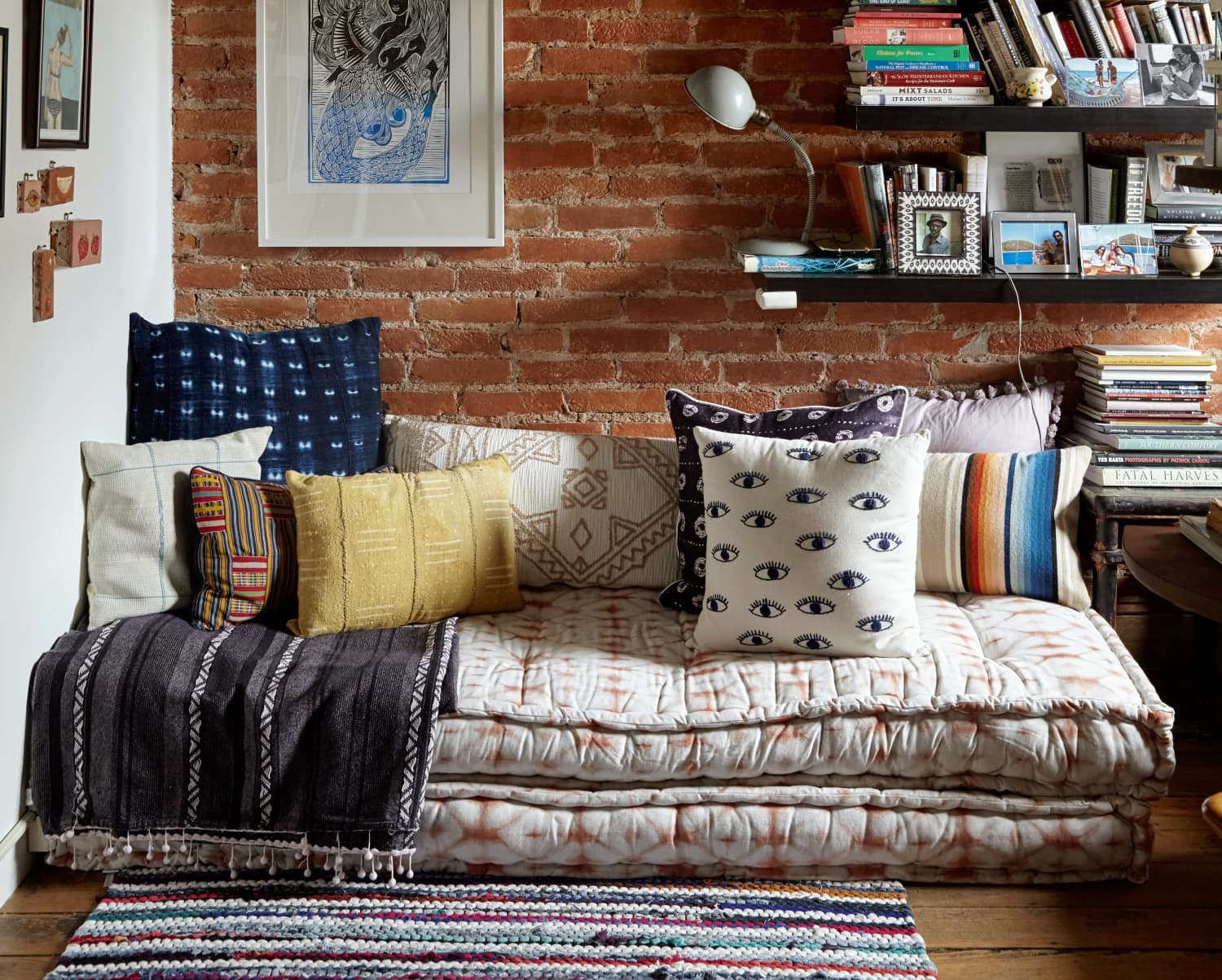 We independently select these products—if you buy from one of our links, we may earn a commission.
There's just something about peeking into someone else's home life that is so appealing—maybe a bit voyeuristic, sure, but there's also a lot to be learned from observing how others go about their day and set up their spaces. From the colorful living room of an interior designer to the wow-worthy kitchen of a chef, peeping a pro's home environment is kind of like looking behind the curtain in Oz.
Case in point: these reading nooks and creative spaces that authors use and work in. These spots are where a few of your top-shelf reads might have been penned (or at least dreamed up)—and more than a few books have certainly been devoured in these areas, too. Get ready to be inspired to carve out a special place for your favorite at home activity, even if you live in the smallest of spaces, and it's no more than just a chair and tiny table.
Who: Lauren Billings (known along with her writing partner Christina Hobbs under the pen name "Christina Lauren"), who is about to release "In a Holidaze" (out Oct. 1, 2020), a charming rom-com-meets-groundhog-day read set in the snowy holiday mountains of Utah.
What she says about her space: "I adore my office, but I absolutely cannot read for pleasure there, so I've made this corner of my living room into my favorite reading nook. I love the light that streams in through the wisteria vines, and I love that I'm able to look up and see my kids and husband moving around the house. The number of times I have completely lost myself in a book in this corner cannot be counted."
The design takeaway: Um, everything—Billings is recognized, along with her writing partner Hobbs, for playful, quick-witted novels like "Twice in a Blue Moon" and "The Honey-Don't List, "and this happy, mid-century modern leaning space feels perfectly suited to her on-page personality. My favorite part? The amount of color packed into this corner, thanks to a cheery teal sofa and bright throw pillows. I'm forever team colorful couch.
What she says about her space: "My two favorite things are books and my yard, so if I'm not at my desk, you can usually find me outside. From this spot I can get lost in a story and have the sounds of my fountain and the buzzing of bees as my soundtrack."
Who: Yaa Gyasi, author of "Transcendent Kingdom," a novel about an immigrant family from Ghana living in Alabama while grappling with addiction, depression, and loss.
What she says about her space: "There are few things I find more blissful than sitting at this desk, laptop at-the-ready, as I plant the seed of an idea, hoping that it will grow to bear fruit."
The design takeaway: Gyasi resides in Brooklyn, so it's no surprise that her writing desk is a genius solution for small-space dwellers. The leaning ladder design boasts a small footprint but offers plenty of shelf space to house a laptop, book collection, and well-earned accolades (including several awards for her debut novel, "Homegoing"). Inspired to create a tiny-by-mighty workspace of your own? Try one of these desks on for size.
What she says about her space: "I read in the bathtub every night; it's my dedicated reading time of the day. It's when I can turn off everything else and dive into a book, and I treasure the time so much."
What we love: Guillory's wind-down routine sounds blissful and looks plenty stylish—I'm definitely crushing on the sunset colors in those vintage tiles on her shower surround. If your tub seems like the perfect spot for a little end-of-day reading session, then channel these soothing, spa-like vibes with these affordable (and delicious-smelling) candles.
What she says about her space: "When I finished my MFA, I splurged on this desk and computer even though I deeply couldn't afford them; having a little writing office made me feel like a 'real writer.' That computer finally died a couple of weeks ago—I like to think she hung on just long enough to see the publication of my first novel."
The design takeaway: Bold art can make any space sing. Stayman-London has a super interesting background (before publishing her first book, she wrote for notable figures like President Obama, Hillary Clinton, and Malala Yousafzai), so it makes sense that she loves art as striking as her career path. Inject a bit of inspiration into your own workspace with a budget-friendly art pick or a large-scale stunner. It's also a good idea to set up shop next to a window if you can for an optimal natural lighting situation. You can always supplement whatever sun you don't get, during the day or after dark, with a table lamp, as Stayman-London has here.