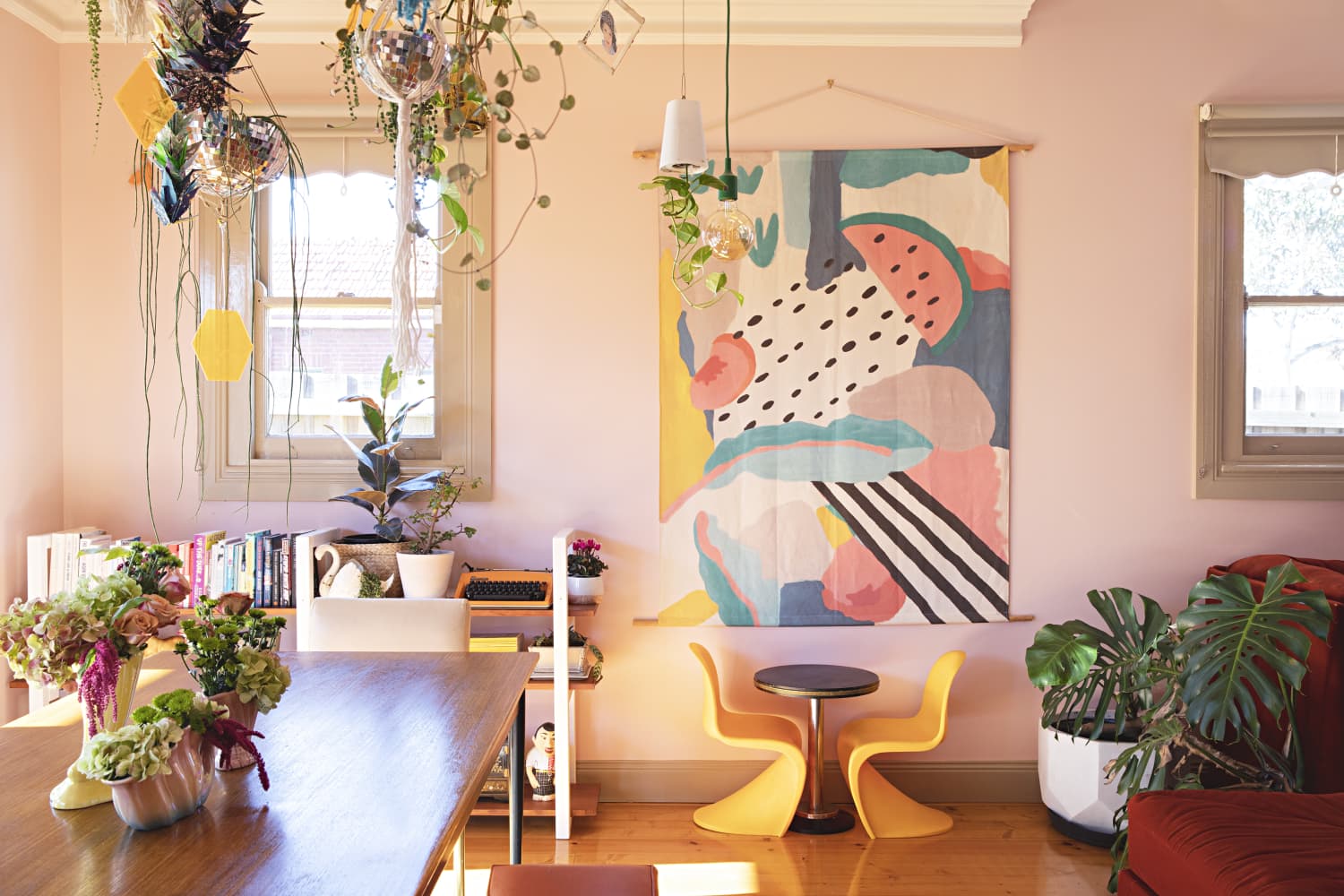 We independently select these products—if you buy from one of our links, we may earn a commission.
Like many things in life—wine, cheese, a particularly cozy sweater—your design skills only get better with age. Whether you've relocated and redecorated more times than you can count or rely on your favorite websites, magazines, and Instagram accounts to keep you inspired for the moment you can truly carve out a space of your own, you're bound to discover new tricks, ideas, and brands as you grow up and hone in on your aesthetic.
Your interior design education and evolution is a process; you can always find new ways to spruce up your surroundings. That said, there are certain things—the nuts and bolts of your space, so to speak—that you might want to have in some kind of working order. If you find yourself ready to get rid of your college furniture and start investing in yourself and your space, you've come to the right place.
I've gathered 30 different ideas that can help to create a "grown up" space. Feel free to chip away at this list over time or to totally disregard the items that you know won't work for your lifestyle (sometimes breaking the "rules" is the most stylish of all). From product recommendations to interior designer tips and inspiration from some seriously stylish house tours, you're just a few clicks away from a more well-considered, glown-up home.
Just because a bedroom is designed for sleeping doesn't mean it can't look good, too. Adding a headboard—or something above your bed—is a great way to tie the room together. In this Australian abode, a simple headboard and floating shelf gives this bedroom an adult air. Be mindful of where you live before you add anything heavy above the bed though—a woven textile or tapestry is a great universal solution for this spot.
2. Dial up your dinnerware
When you reach a certain age, a hodgepodge of plates, bowls, and silverware doesn't always cut it. Not only will matching dinnerware come in handy for your next dinner party… someday, but a set can also elevate those leftovers from last night's takeout order. Same for fabric napkins—they're environmentally-friendly and can make mealtime feel a little more colorful and less mundane.
Buy: Rigby Stoneware Dinner Plate Set, $64 from Rigby
In case you didn't get the memo, houseplants have a lot more to offer than their looks. Studies show indoor plants can improve your home's air quality, take your productivity to the next level, and keep stress at bay. That said, it takes a certain level of maturity to keep your leafy greens in full bloom. Start out with some low-maintenance succulents, and your space will look like a Hilton Carter-inspired plant paradise in no time.
"Many of us are renting throughout our 20s, which can make it hard to feel like your space is yours," says Elizabeth Rees, founder of temporary wallpaper company Chasing Paper. "But it's your home that you'll be living in, so even if moving is in the future, near or far, it's worth personalizing your space to reflect your lifestyle and style."
Naturally, Rees recommends peel-and-stick removable wallpaper—you can even take it with you into your next space, should you choose. "It's great in a not-so-ideal bathroom or for adding an instant backsplash to your kitchen," she adds.
As a stylish adult, you are very busy. The last thing you want to waste your time on is searching your apartment to find a set of keys. Simply add a catchall tray or dish near your front door, and you'll have somewhere to store loose change, hair ties, and, of course, those keys.
Buy: Cloud Trinket Tray, $98.00 from Jonathan Adler
6. Protect your furniture and flooring
Very few things can cramp a home's style like unnecessary glass rings all over the tables. Pretty coasters will keep your furniture finishes intact and add a pinch of personality to your surfaces. If you are worried about floor scratches when rearranging your things or pieces moving around and scratching your floors while using them, consider placing felt furniture pads under your heavy items.
Buy: The Vintage Vogue Sunrise Coaster Set, $29.00/Set of 4 from West Elm
If you ask me, there's something about getting older that makes me want to host my friends and family at home rather than go out (at least when it feels safe to do so again). So why not make everyone feel comfortable by doubling down on seating? This Paris-inspired space in San Francisco is decked out with a couch, armchairs, and a multipurpose ottoman. The more options you can have at the ready, the better equipped you'll be when hosting comes back into the picture.
"When you just use overhead lights, the effect can feel harsh and sterile," says Heather Goerzen, design and creative lead at Havenly. "Every well-styled room should always include two to four additional lighting sources because they create an ambiance and establish a more cozy and intimate vibe." Consider adding table lamps, wall sconces, and even floor lamps to your mix in all areas of the home. Bonus points if you put them on dimmers for extra ambiance.
10. Splurge on luxurious bed sheets
11. Strategically dress your windows
Curtains will make your space feel instantly sophisticated, but they're pretty practical, too. After all, nobody wants to have their nosy neighbors peering into their space, and it's easier to sleep in on weekends when you're blocking the sun from streaming into your space. If you want to invest in drapes but are nervous they'll overwhelm your space, take a cue from this Chicago house tour and opt for sheer, airy panels instead. Save the heavier blackout options for your bedroom.
12. Round it out with a rug
Never underestimate the power of a great rug. Not only can carpeting tie a room's design together, but it can also make your space feel cozier, more comfortable, and more mature. While one rug will get the job done, this Brooklyn home has mastered the double rug setup. This layered look adds extra visual interest to a space, and it's also a good tactic for making a rug that may be a little too small appear size-appropriate.
"When you hit a certain age, unframed posters no longer cut it," says Roxy Te Owens, founder and creative director of Society Social. "Artwork is a great category, as there are a variety of high and low options on the market, which make it easy for you to upgrade and find a stylish, adult-approved alternative."
14. Break out the bar cart
"A beautiful bar cart in a living room can serve double the function," Te Owens adds. "They're great to stock with your favorite spirits and glassware, so when guests are over, they feel welcome to refill, and you don't have to play host all night." Not to mention, Te Owens says they can also be a stand alone statement furniture piece when styled out with decorative accessories. If you want to stay ahead of the trend curve when it comes to at-home bars, you might consider a bar cabinet, which provides closed storage for a more streamlined, sleeker look.
15. Beautify your home with fresh blooms
If you're looking for an easy and affordable way to up the style quotient of your space, add a bouquet of fresh flowers to your coffee table. While a full-fledged arrangement will give your home a photoshoot-ready vibe, a simple bud vase will suffice. Let this floral designer's home tour show you how it's done, and don't be afraid of dried or faux flowers. They'll last longer, and today's fakes are plenty convincing and never need their water changed.
Give your bathroom the spa treatment with ultra-plush towels and a cushy bath mat. This soft, absorbent set from Brooklinen will look just as good as they feel. If white isn't your thing, there are five other soothing colors to choose from—mix and match the shades of each piece to create your ideal look.
Buy: Super-Plush Towel Move-In Bundle, $138.00 from Brooklinen
17. Create order with floating shelves
Is it just me or does every grown-up home seem to be organized to perfection? If you want to keep your home tidy, try adding some floating shelves to your mix as a first step. They'll help you create a place for everything so you can keep everything in its place.
18. Upgrade with upholstered pieces
"Every stylish adult living room has quality upholstery," says Zandy Gammons, co-founder of The Warehouse Interiors. "Well-made upholstery offers comfort without sacrificing style. The frame and cushions may last longer than your current style. If that's the case, reupholstering the piece is always an easy option that's eco-friendly, too."
19. Deck out your home with a proper dining setup
You can only eat dinner over your kitchen sink—or coffee table—for so long. Whether you have a formal, dedicated dining room or space for just a cute breakfast nook a la this East Coast crib, a proper dining table and comfy dining chairs are a must for every stylish adult home, even if it's only a table for just one or two.
20. Make magic with a fancy mirror
It might be time to ditch that basic over-the-door mirror and opt for something a little more stylish. In this Los Angeles rental, the sunburst mirror is the perfect place to go for last-minute touchups when you're heading out the door—not to mention that brass look super fancy and fun.
21. Set the mood with candlesticks
You probably have an impressive candle collection, but do you have a holder to match? Raise your tablescape game by investing in a gorgeous candlestick holder like this gold sculptural style from Anthropologie. If this overall look seems a little too traditional for you, try adding colored tapers to the equation.
Buy: Cursive Candlestick, $22.00 from Anthropologie
22. Invest in a coffee table
"A stylish coffee table with the right shape and scale can work wonders," says designer Christina Kim. "Bonus points for great coffee table books that reflect your interests!"
23. Embrace accent and occassional furniture
"Get adult accent furniture such as a coffee table and side tables," says Alessandra Wood, vice president of style at Modsy. "Think: Where would one want to set down a drink if I were entertaining them in my living room?" Make sure you have plenty of places for drinks and snacks to rest—even if you're the only one eating and drinking in your place for now.
24. Give your sofa the throw pillow treatment
There's something about moving into a grown-up place that makes me want to fill my home with as many throw pillows as possible. While throw pillows are an easy way to perk up your space, it's important to choose them with care. Let this dreamy Brooklyn loft act as the ultimate source of inspiration. Mix smaller scale patterns with larger ones and look for designs in colors that are echoed elsewhere in your room. That way, your assortment will look curated.
25. Spruce up your space with a table runner
Deck out your dining area with a patterned table cloth or runner. Even if you're not having a fancy dinner party, it's a great way to make your home-cooked meal feel a little more colorful and special. Even better, tablecloths make clean up easy and protect your actual table from potential stains and damage.
Buy: Hockney Table Runner, $58.00 from Pepper
You don't have to be an avid reader to add a bookshelf to your space. As this New Orleans house tour proves, it's a staple for every well-considered space. If you don't have enough tomes to fill an entire bookcase, you can always fill your shelves with personal touches until you build out you dream library.
While we're on the topic of personal touches, it's important to add 'em to your space. One of the best things about growing up is collecting memories—and items—along the way. I love how this shelving unit is filled with books, framed pictures, and vintage decorative accessories. Want to recreate the look in your home? Follow this step-by-step shelf styling guide.
To give your bedroom a sophisticated, five-star hotel feel, all it takes is a nightstand of some sort. Of course, a nightstand doesn't only ooze an adult appeal; it's also super practical. Where else would you place your phone charger, book, and glass of water? If you're looking for design inspiration, take a look at this cheery, California home. Something with closed storage is probably best. That way, you can hide all your odds and ends, so when you go to sleep at night, the last thing you see isn't clutter.
29. Select a signature scent for your home
Anyone who wants to turn their home from childish to charming will want to add a signature scent to their space. Choosing the right scent can make your home appeal to all the senses. Need help? Follow these pointers for choosing a fail-safe fragrance.
Of course, a stylish home is only as good as its maintenance plan; pretty decorative accessories can't solve every problem. That's exactly why you need to add a simple tool kit to your e-cart (if you don't own one already). The ability to build basic furniture—and perform routine small fixes around your space—will help keep your home in in tip-top shape for years to come.
Buy: Cartman Orange 39-Piece Tool Set, $18.99 $17.99 from Amazon.
tinyurlis.gdv.gdv.htu.nuclck.ruulvis.nettny.im
آموزش سئو